How Efficient is Solar Power?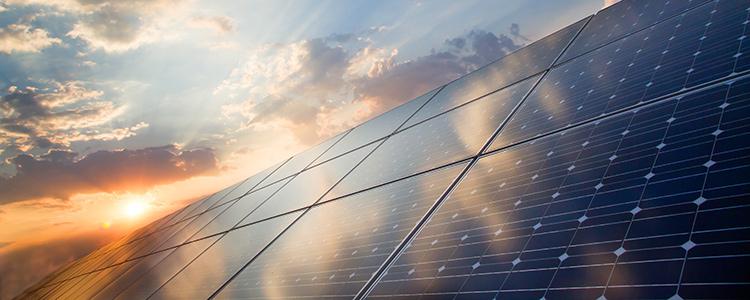 Layering solar cells
Engineers can increase solar panel efficiency by adding layers to solar panels. These layers are made of materials that absorb other parts of sunlight that convert to electricity while, at the same time, allowing a good portion of sunlight to reach silicon layers underneath. This makes the overall construction of the panel more efficient without sacrificing the basic silicon panel. Materials work in tandem with each other to create more electricity from more parts of sunlight.
One material showing promise is perovskite, a type of crystal that absorbs the blue and yellow portions of the sunlight spectrum. Perovskite uses its portion of the spectrum on top of traditional solar panels while passing nearly three-fourths of the rest of the sunlight down to the basic silicon elements. These crystals form a football-shaped structured with just 61 carbon atoms. When these patterns, called polycrystalline structures, spread over the top of a solar panel, they look nearly invisible to the naked eye.
The cost of manufacturing perovskite panels could, eventually, make the industry switch to tandem-style solar cells. Silicon panels require a high temperature to make, whereas perovskite collectors form at room temperature, which makes them easier to manufacture. Although tandem solar cells may not see widespread commercial acceptance until sometime between 2021 and 2026, these small perovskite crystals represent a promising way to increase solar efficiency.
Choose and control your home energy
Pay $6 for 6 months
Limited time offer*
Nanotechnology helps
As shown with very small perovskite structures, nanotechnology helps improve the efficiency of solar panels. Nanotechnology means engineers create very small structures that perform a specific function. Scientists at Stanford University created nearly invisible wires made of very thin columns of silicon that go between layers of the solar cells. The silicon goes from the outer portion of the solar cell down to the conductive metal grid underneath. This innovation could improve the efficiency of silicon-based solar cells from 20% to 22%, which is significant in terms of electricity generation.
Cost to go solar continues to decline
The cost of these systems continues to come down, because manufacturing silicon panels has become the industry standard. Widespread use on rooftops has created a vibrant solar power industry that continues to expand every year in the United States. Researchers keep making breakthroughs in new materials, many of which are still in the design stages that can make solar panels more efficient and less expensive in the coming years.
Energy cost savings are abundant. When you choose to go solar with Sunrun, you only pay for the solar power, not the solar panels. See if you qualify today.