You deserve a resilient energy system. Through local partners in Puerto Rico, Sunrun is now offering clean, reliable power that will be there when the grid goes down. As the island continues to rebuild after the longest power outage in the United States, Puerto Ricans have the opportunity to lead America into a better, stronger, and more reliable energy future.
With Brightbox, a home solar and battery service from Sunrun, the national leader in residential solar and one of the top home solar companies in Puerto Rico, we can help you make this a reality.
Home Storage and Solar-as-a-Service Puts Puerto Rico In Control
In the aftermath of Hurricane Maria, we distributed rooftop solar and battery systems to local fire stations aiding first responders in emergency communications.1 Not only did these systems power critical infrastructure in the direct aftermath of the hurricane, but they have continued to provide uninterrupted service to this day. Now, Puerto Rican households can access the same technology that's powering fire stations' vital operations in San Juan and beyond.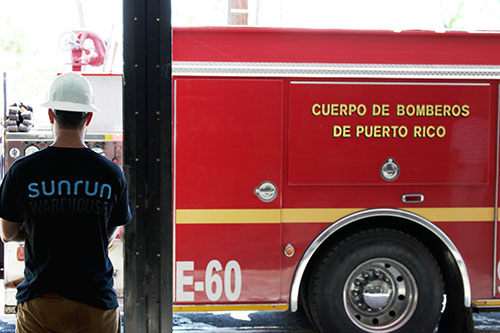 Brightbox allows Puerto Ricans to create solar power and store it for when they need it most for a low, upfront cost. Our high-quality systems are built to last and constructed to withstand the harshest conditions. They're also serviced by our team of solar experts and local partners, so that you'll always be prepared before, during, and after the next storm strikes.
Power Your Home on Your Terms

By installing solar battery storage in Puerto Rico, you will have the freedom to create your own energy and power through blackouts.

If you live on the island, you know better than anyone that sunshine is abundant in Puerto Rico. With Brightbox, you can finally bask in the benefits of this natural, available resource.




Solar-as-a-Service Puts You First

We know that you'd pay anything to be protected during a disaster, but you shouldn't have to. That's why our solar-as-a-service and home battery is available at a low upfront cost through BrightSave™ Monthly, our comprehensive solar lease.

BrightSave is more than just a way to store power. It's a superior solar battery storage service that comes with proactive maintenance, ongoing monitoring, and a 25-year service agreement that puts you first. In Puerto Rico, creating and saving solar power can now be hassle- and worry-free.




Backup Power You Can Rely On

No matter what happens in the future, Sunrun plans to be there before, during, and after the storm. Brightbox gives Puerto Ricans peace of mind during emergencies, while ensuring optimal performance during extreme weather.

Using high quality solar panels, Sunrun helps you harness the sun's power through your roof. This solar system charges a powerful lithium-ion battery, using Brightbox intelligence to switch to backup power durings an outage. For 10 hours or more at a time, it can keep your lights on, your food cold, and your home connected.

This simple system repeats itself daily when the sun comes up, providing reliable clean energy for your home for days at a time. Without the need for constant refueling, Brightbox can also be more affordable and reliable than generators, which can be costly to refuel and maintain.2
The Freedom to Create Your Own Energy Starts Here
By investing in affordable solar panels and battery storage, Puerto Rico has the potential to be an example of solar at its best. That means building up resilience, powering communities, and ultimately, preserving the planet. Together, we can make it happen.
We're here to help you every step of the way.