Arizona Tops Charts Thanks to Solar Incentives
As one of the sunniest states in the country, Arizona is a paradise when it comes to solar power.1 So it's no surprise that it consistently ranks in the top ten solar states in the U.S. While generous sun is of course the biggest factor, Arizona's solar incentives plus the federal solar tax credit help to contribute to its leadership credits.2
Arizona Solar Incentives, Rebates, & Tax Credits
| Solar Savings Types | Value of Savings |
| --- | --- |
| Residential Solar Energy Credit | 25% the cost of the system3 |
| Sales Tax Exemptions | Solar System Sales Tax Exemption 4 |
| Property Tax Exemptions | Property Tax Exemption on Added Home Value from Solar System5 |
| Federal Solar Tax Credit (ITC) | 30% of the total system cost 6 |
| Other Programs | Variable (Net Metering) |
Residential Solar Energy Credit
Arizona offers a Residential Solar Energy Credit that helps homeowners save more on their solar system. You can get back 25% the cost of the system at a maximum of $1000. If the credit exceeds the taxes you owe, you can continue to carry it over for up to five years.3
Sales and Property Tax Exemptions
If you purchase a home solar system, you'll also be exempt from the sales tax.4 That's a pretty big deal, considering buying your solar system outright comes with a hefty price tag. You'll also be exempt from paying additional property taxes, so that the value added to your home when you go solar is subtracted from the assessed value of your property.5
Federal Solar Tax Credit
On top of all of Arizona's state solar incentives, you'll also be eligible for the Federal Investment Tax Credit, otherwise known as the ITC, if you buy your own solar system outright. The tax credit amounts to 30% of the cost of purchasing your solar system, but only after deducting the value of your state rebates. However, ITC credits will begin stepping down from 30% at the end of 2019. The tax credit for systems in service after 12/31/19 will drop to 26%. After 12/31/20, it'll drop even further to 22%.6 That's why the time to go solar is now. But not to worry—we can help you maximize on all the solar savings available to you.
Own Your System and Your Savings
Our BrightBuy™ and BrightAdvantage™ plans give you the chance to buy your own solar system outright or through a hassle-free loan. We'll create a customized agreement based on your individual needs. You'll also get a free, custom solar design that meets the unique needs of your home and lifestyle.Whichever one you choose, we'll help you take advantage of the Arizona solar incentives that might be available to you. We'll even handle the paperwork. All you have to do is sit back and soak up the savings.
See why other customers have chosen to go solar with Sunrun. Want to see how much you could save? Get your free quote today.
Energy Resources
Solar resources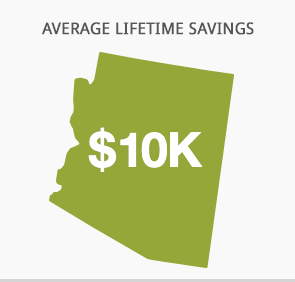 SOLAR SAVINGS ARE BIG
See if you qualify
Go solar in 3 easy steps