Save with Solar Panels and Battery Storage in Gilbert, AZ
Gilbert is not only a very family-friendly community but a solar-friendly one, too. This land has nearly 300 days of sunshine per year1 — which is a mammoth amount of sunshine Gilbert solar companies like Sunrun can help you harness to generate your own energy at home and save thousands of dollars on your electric bills.*
Recent data has shown electricity costs in Arizona have increased 9% over the last five years.2 Yet, since Arizona is a top state for solar installations in the nation,3 you now have the opportunity to say goodbye to rising electricity costs, hidden fees and surprise hikes on your utility bill once and for all.
We Have a Solar Plan for Almost Any Budget
If you're wondering how to go solar in Gilbert, rest assured that as the largest dedicated residential solar, storage and energy services provider in the U.S., we'll work hard to hear you say, "Sunrun is the solar company near me who offered the ideal solar plan for my unique energy needs to save big."
Since 2007, hundreds of thousands of Americans have chosen Sunrun to electrify their homes with clean, affordable, reliable energy. 
Sunrun Solar and AZ Solar Incentives Equal Even More Savings
On top of all the savings you'll generate from the panels on your roof, as an Arizona resident you're also eligible for some excellent state and federal benefits to save even more money with solar. Benefits include the nation's leading solar property tax exemption, great net metering programs, and a fantastic 30% federal solar Investment Tax Credit if you purchase a system.5 Add in low, predictable energy rates for the next 20 to 30 years, and you'll understand why going solar in "The Grand Canyon State" is a no-brainer, indeed.
Sunrun Brightbox™: The Future of Stored Energy
Brightbox is not just solar battery storage in Gilbert. It's a holistic service with a battery unit, charged by the panels on your roof, with the capacity to keep your devices and appliances running on solar in the event of an outage, or at night.
And since Brightbox lets you store energy when electricity rates are low and use it when they increase, you'll optimize your system usage and savings further — even with a Time-of-Use (TOU) rate plan. That's why we love to say; the Arizona sun never sets with Brightbox.
Pay for the Power, Not for the Panels
Lease a brand-new set of Gilbert solar panels for as little as $0 down with BrightSave® Monthly, and get the same dependable power as full ownership. With the added benefits of professional maintenance, monitoring and predictable rates for the next two decades. 
Want to ditch the monthly solar bills? With BrightSave® Prepaid, you'll enjoy the worry-free benefits of a lease and lock yourself to decades of power at today's prices by just making a simple, one-time upfront payment. It comes with bumper-to-bumper coverage for the life of the system, as well. Solar doesn't get much simpler than this.
Experience the Pride of Ownership, Today
Make the system, the savings and the power yours with BrightBuy™ or BrightAdvantage™, and boost your property's value. Regardless if you choose to purchase your system upfront — or for $0 down and fixed, monthly payments — with both plans, energy independence will be yours for the taking!
Don't Let the Arizona Sun Set on Your Chance to Save
Our solar advisors are ready to work on your complimentary quote. 
Local Solar Office
123 Office Address Blvd
City, AZ 12345
Phone No: 480-676-2899
Energy Resources
Solar resources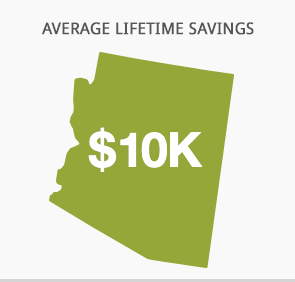 SOLAR SAVINGS ARE BIG
See if you qualify for solar