Turn Peoria, AZ Sunshine Into Savings with Solar Panels & Battery Storage
Peoria receives almost 300 sunny days per year.1 But aside from helping you enjoy some epic hiking, fishing,and camping adventures, did you know you can also use this sunshine to offset your electric bills?
According to studies, electricity costs in the state have increased 9% over the last five years.2 Yet, since Arizona holds the third spot in the "Top 10 Solar States" for solar installations,3 teaming up with a Peoria solar company like Sunrun is one of the smartest moves you can make to produce your own energy, and control your future utility bills.
How to Go Solar in Peoria Arizona
As the nation's largest dedicated residential solar, storage and energy services provider, it's our goal to hear you say, "Sunrun is the solar company near me that created the ideal solar plan for my unique budget and energy needs." And regardless if you lease, prepay, finance or purchase your panels — or solar battery storage system — rest easy knowing switching to solar will help you keep more cash in your pocket.
Since 2007, hundreds of thousands of Americans have chosen Sunrun to electrify their homes with clean, affordable, reliable energy. 
Save More with Sunrun Solar Panels and AZ Solar Incentives
On top of all the savings you'll generate from the panels on your roof, as an Arizona resident you're also eligible for great state and federal benefits to save more money. Such as the nation's leading solar property tax exemption, excellent net metering programs, and a fantastic 30% federal solar tax credit when you buy a system.5 Add in low, predictable energy rates for the next 20 to 30 years, and you'll understand why going solar in the Grand Canyon State is a no-brainer.
Sunrun Brightbox™: Arizona's Solar Battery Storage Service
Brightbox is not just solar battery storage in Peoria. It's a holistic service with a battery unit, charged by your panels, capable of maintaining your home devices running in the event of an outage, or at night, for approximately 8 to 12 hours.**
Brightbox comes with professional maintenance and monitoring as well. Two actions which may prolong your battery's life. Besides, you'll forget about being tied to your utility's Time-of-Use (TOU) rate schedules to save money. Welcome to the future of stored energy.
Lease Your Peoria Solar Panels for Little to $0 Down
Go solar with BrightSave® Monthly for little to $0 down, and get the same dependable power as full ownership. With the added benefits of a professionally managed and maintained system along with predictable rates for decades to come.
Want to maximize your savings and forget about monthly solar bills? BrightSave® Prepaid offers you the worry-free benefits of a lease and years of power at today's prices by making a simple, one-time upfront payment. It includes bumper-to-bumper coverage for the life of the system, too. This plan is solar made simple.
Your Home, Your System, Your Savings
Purchase your system up front with BrightBuy™, or for $0 down and fixed monthly payments with BrightAdvantage™, and own your panels and savings for life while building equity in your home.
Plus, with solar payback times slightly above seven years in Peoria6 and solar systems designed to last 30 years or longer, you bet serious long-term savings will be yours for the taking.
Prepare for the Future Today
 Request your free, customized quote so you can start your solar Peoria journey today.
Energy Resources
Solar resources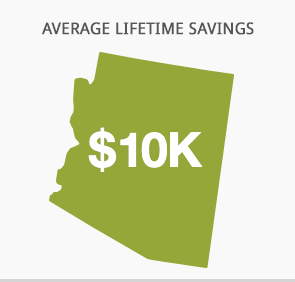 SOLAR SAVINGS ARE BIG
See if you qualify for solar