Beat Rising Rates & Outages with Sunrun Solar Panels & Home Battery Storage
Arizona Update: There is still time to go solar in Arizona
APS is Taking Away Your Energy Freedom
Tuesday, December 20th, in a 4-1 vote, the Arizona Corporation Commission (ACC) voted to end the current net metering (NEM) program that allows homeowners to sell the power produced from their solar panels back to the utility at the price they buy power from the utility. The good news is that if you go solar before the rates change July 1, you are grandfathered in under the current NEM program for the next 20 years.
Lock In Solar Savings
You can protect your home from ever increasing energy bills and lock in solar savings by acting now and qualifying for the current NEM program. Don't let the opportunity to save money on your electric bill for the next 20 years slip away.
You Are Your Own Power Company
The ACC has committed that all customers under the current NEM policy are protected for the next 20 years if you act before July 1! Also, keep in mind that the energy generated from your panels and you use in your home doesn't involve the utility. When you go solar as long as the sun is shining you are your own power company!
So what are you waiting for? Call 1-844-321-6937 or sign up for a free quote today and lock in your rates before it is too late.
Phoenix is as one of the fastest-growing cities in the nation. A land where a beautiful desert scenery engulfs its vibrant culture. And it has almost 300 days of sunshine per year.1
Due to its sunny weather, you can enjoy most activities all year-round. So go ahead, take a hike at Camelback Mountain, catch remarkable sunsets, or harness the sun's power by going solar.
Find More Savings with SunrunTM Solar & AZ Solar Incentives
Arizona residents are eligible for state and federal benefits that could help you save more money each month. The benefits include the country's leading solar property tax exemption, solid net metering programs, and the 30% federal solar Investment Tax Credit.2 Add in low, stable energy rates for up to 25 years, and you'll understand why going solar in The Grand Canyon State is a no-brainer for Arizonans.
Choose a Solar Plan and Stop Worrying About High Energy Bills
In Phoenix, you do not have to stress about getting out of your car to enjoy delicious Thai, Mexican or Greek food. So why should you stress about finding the ideal solar plan? With Sunrun, you can purchase, finance, prepay or lease your solar panels with confidence because a custom-fit solution for your unique budget and home needs is precisely what you will get.
Since 2007, hundreds of thousands of Sunrun customers have chosen to electrify their homes with clean, affordable and renewable energy.
Sunrun Brightbox™: Your Premier Home Solar Battery Storage Service
Brightbox is a holistic service with a home solar battery unit, powered by your solar panels, that can keep your home's most beloved devices and appliances running on solar energy during a power outage. It also uses Time of Use (TOU) to ensure you continue saving money as rates change during the day. Welcome to the future of stored energy.
Go Solar for Little to $0 Down
Sunrun wants to help you get your slice of the savings. That is why with BrightSave™ Monthly, you can save big on your total electricity costs for $0 down. Lease your system and lock in long-term savings, while protecting yourself against rising utility prices for the next two decades.
Or, you could make a simple, one-time upfront payment to receive up to 25 years of worry-free electricity if you pick BrightSave™ Prepaid. See, when you prepay for your power, there is no monthly bill and no hidden costs. Plus, this plan also comes with bumper-to-bumper coverage for the life of the product. Go prepaid and save big!
Own Your System and Your Savings
With BrightBuy™, the system, the savings, and the 30% federal tax credit will be yours. This plan will help you build equity in your property, too, and with systems designed to last 30 years, you are looking at some serious long-term savings here.
Or, with BrightAdvantage™ you can get a system of your own for $0 down and low, fixed monthly payments. That is right! You will enjoy all the benefits of solar — and the savings that come with it — as well as that 30% tax credit for your system cost. Phoenix's epic nickname fits it well, and proof of this is that this city is one of the best in America for solar energy.4 Put the power back in your hands with Sunrun solar and see if you qualify today.
Local Solar Office
4219 E. Broadway Rd., # 102
Phoenix, AZ 85040
Phone No: 480-565-2783
Energy Resources
Solar resources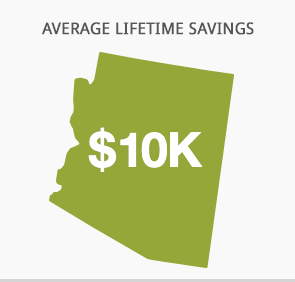 SOLAR SAVINGS ARE BIG
See if you qualify for solar