Peace of Mind When You Need It Most with Sunrun Home Solar Panels & Battery
Cities like Carlsbad,1 Del Mar,2 and Encinitas3 in North County, CA see an average of 260 sunny days year-round. That's a lot of energy that a North County San Diego solar company such as Sunrun can help you harness to put you in control of your home electricity. In case you didn't know, electric rates in the North San Diego area are now almost 38% more expensive compared to cities in other parts of the country.4
Besides, if you choose Sunrun to start your solar journey in North San Diego, you'll also protect your home from outages and reduce your carbon emissions. Solar is as reliable as the sun itself.
Interested in a Home Solar Installation? CA Solar Incentives Are on Your Side
On top of the solar benefits you could get from your roof, people living in North San Diego County are eligible for some great solar incentives. Some include local rebates depending on the performance of the home solar system, and a 30% federal tax credit if you decide to become a solar owner in California.5
How to Go Solar in North San Diego County
As the #1 home solar installer in the U.S.,6 at Sunrun, we offer you the choice to lease or purchase a brand-new set of North San Diego solar panels — with or without a home battery — in the simplest and most affordable way possible.
This way, we can ensure you'll get the most solar benefits possible during the next couple of decades according to your unique budget and energy needs.
Plus, since California's Net Energy Metering (NEM) policy allows you to earn bill credits for the excess solar energy you produce,7 you'll have better control over your home electricity and the price you pay for it.   
Why Choose Sunrun?
Since 2007, hundreds of thousands of Americans have chosen Sunrun to power their homes with clean, affordable, renewable energy. Helping them take control of their home energy and get outage protection while preventing 2.7 million tons of carbon emissions from entering the atmosphere.8 Yes, choosing to install a home solar system benefits you, your community, and the environment in more ways than one.
Stay Prepared for Power Outages with A Home Battery
As energy demand increases and extreme weather events make power outages and related wildfires more common in California. Now, and more than ever, American families deserve access to cleaner, safer, and more reliable energy solutions.
Studies have proven solar panel systems with a home battery can provide continuous electricity to meet community needs at times when the electric grid fails or needs to be turned off for safety reasons.9
Brightbox™ Home Battery: Clean Backup Power You Can Count On
Brightbox is more than a solar battery in San Diego's North County. Brightbox is a holistic service with a battery unit, powered by the panels on your roof, that lets you keep your devices and appliances running on solar during an outage, or at night, for approximately 8 to 12 hours.*
Meaning, with Brightbox you'll stay in control even during California's Time-of-Use rate spikes. Plus, Brightbox includes professional maintenance and monitoring for 25 years, two actions which may prolong your battery's life. Brightbox is here to put the power in your hands.
Little to $0 Down Can Be Your Solar Journey's Starting Point
With BrightSave™ Monthly, you can lease a brand-new set of solar panels for as little as $0 down, and enjoy the same dependable power as full ownership. But with the added perks of professional maintenance, monitoring, and predictable energy rates for 25 years. BrightSave Monthly is such an affordable solar plan; it's far too bright to look the other way.
Prefer the worry-free benefits of a lease without monthly solar bills? BrightSave™ Prepaid might suit you better. With our full amount solar lease plan, just make a simple, one-time upfront payment, and you'll forget about rising electric rates and hidden fees on your bills for decades to come. BrightSave Prepaid also comes with bumper-to-bumper coverage for the life of the system. Truth be told, solar plans don't get much simpler than BrightSave Prepaid.
Buy a System, Get All the Benefits
Want to become a solar owner in California? At Sunrun, you have the choice to pay for your home solar system upfront with BrightBuy™, or for $0 down and low, fixed monthly payments with BrightAdvantage™.
Regardless of the solar ownership path you take, both will put the system and the power under your name — for life. While helping you build equity in your home.10
And as a California solar owner, you'll be eligible for a 30% federal tax credit and a nearly $11,000 property tax exemption, too.11 On top of that, since home solar systems are designed to last 30 years or longer, and solar payback times in North San Diego County average at around 4.5 years,12 we're sure you'll be proud of being a CA solar owner for decades.
North San Diego Is a Perfect Place to Harness the Power of The California Sun
Choosing to create your own clean, renewable power in North San Diego County is a move that will put you in control of your home electricity for the next 25 years.
So if you're curious about solar in North County, our team is here for you. You can get started by requesting a free, personalized solar quote, today to see if Sunrun is a good match for your home. Knowing this won't cost you a thing.
Utility Resources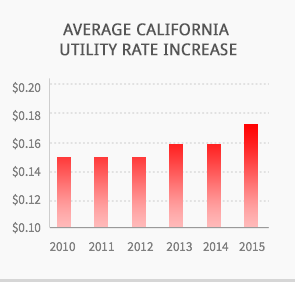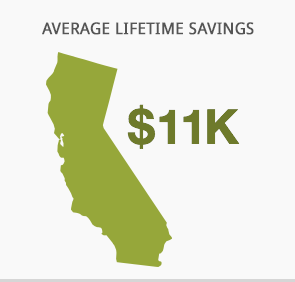 SOLAR SAVINGS ARE BIG
See if you qualify for solar