Learn More About SMUD and Your Net Energy Metering Bill
Sacramento Municipal Utility District (SMUD) began serving Sacramento in 1946 and is now the sixth largest community-owned electric utility in the U.S.1 To date, SMUD provides affordable and reliable electricity to most of Sacramento County as well as some parts of Placer and Yolo Counties.2
SMUD's service area covers approximately 900 square miles with a population of more than 1.5 million, which translate to over 600,000 residential and business accounts. Download SMUD's Most Recent Annual Report.
How to Read Your SMUD Net Energy Meter Bill
We have created a quick and easy way to read your SMUD Net Energy Metering Bill. See our PDF for more details!
1. How Do I Read My SMUD Bill Once My Solar System Is Running?
SMUD will install, at no cost to you, a single meter capable of measuring the difference between the number of kilowatt-hours (kWh) your solar system produces and the amount of kWh you draw from the grid. This difference is called Net Energy Metering (NEM), and SMUD uses it to calculate your NEM or solar bill.3
If your panels produce more energy than you need in any regular billing month, SMUD will issue a retail-valued credit for the excess electricity your system exported back to the grid.4 Plus, SMUD lets you choose between receiving these type of credits as cash back or as a kWh credit towards the power their supply to your home during the next 12 month settlement period.
As a SMUD solar customer, you're also able to choose how and when you want to pay for your residential electricity. By default, SMUD will reconcile the difference in the amount of kWh you use and produce once a year. Yet, you can opt to pay your solar bills each month, too, and avoid a potentially hefty bill after a 12-month period.5
Since SMUD gives you the option to pay your solar bill each month or once a year, depending on the option you select, your bill will look different. Still, some elements on both monthly and annual solar bills are the same, like your fixed customer charges to keep SMUD's infrastructure in top shape, as well as any county taxes. View samples of SMUD's monthly and annual solar bills.
2. What Are Time-of-Use (TOU) Rates?
TOU rates, dubbed as "Time-of-Day (TOD) rates" by SMUD, are variable pricing structures that change depending on the time of day and the season you use electricity at home.
SMUD's TOD 5-8 P.M. rate offers you lower prices during off-peak periods (morning and evening) when people are already asleep or have gone to work or school, and higher prices during peak periods (afternoon) as the demand for electricity increases because most people are at home using their devices and appliances or blasting their air conditioners to stay comfortable.6
SMUD's TOD 5-8 P.M. Rate Periods
Time Period
Non-Summer

October 1 - May 31
Summer

June 1 - September 30
Peak
All Week

5:00 p.m. - 8:00 p.m.
All Week

5:00 p.m. - 8:00 p.m.
Mid-Peak
N/A
All Week

Noon - 5:00 p.m.

8:00 pm - Midnight
Off-Peak
All Week

8:00 p.m. - 5:00 p.m.
All Week

Midnight - Noon
See the following TOU chart for further explanation on peak rates.
TOU Visualized: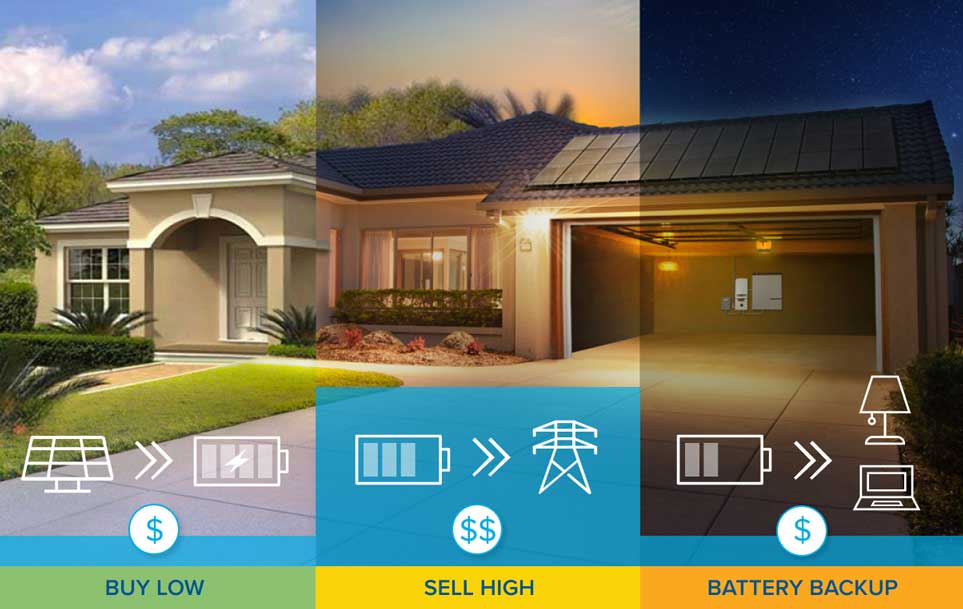 3. Am I Eligible for SMUD'S TOD 5-8 P.M. Rate If I Have Solar Panels?
Yes, SMUD's TOD 5-8 P.M. rate is the standard rate for residential customers approved for solar panels and battery storage installations after January 1, 2018.7 And while SMUD solar battery storage system customers cannot opt out of it, the good news is, the TOD 5-8 P.M. rate is approximately 4% lower compared to the residential fixed rate most SMUD non-solar customers are usually on.
However, since SMUD's TOD 5-8 P.M. rates change throughout the day, please keep in mind that if your solar system produces excess electricity its value will be variable. For example, one kWh of solar electricity exported to the grid at 10:00 a.m. (off-peak period) will be worth less than one kWh sent back to the grid at 6:00 p.m. (peak period).
4. What Happens to My Solar Service If I Move?
If you decide to move, we Sunrunners have a team of Service Transfer Specialists standing by to help you sell your home and transfer your solar contract to the new owner. As soon as you notify Sunrun you're selling your property; you'll be assigned to a Service Transfer Specialist who'll work with you exclusively through the entire process.
From educating realtors and potential buyers to working with home inspectors, escrow officers, title agents, and anyone else who should know about your system or solar contract, at Sunrun we have your back. Learn useful solar contract transfer tips.
Start Your Solar Journey with Sunrun, Today
To evaluate your solar options as a SMUD customer, sign in to your SMUD account. And if you're all set to switch to solar with Sunrun, just request your free, customized quote. Our solar advisors are ready to get you started so you can save thousands on your future electric bills.8* Some of our solar plans let you go solar for little to $0 down.
DISCLOSURE:
*Estimated savings based on a projected annual utility rate increase of 3.16% over the life of the system. Actual savings will vary. Savings depends on several factors, including product type, system production, geography, weather, shade, electricity usage, full utilization of the 30% solar Investment Tax Credit by the system owner, and utility rate structures and rate increases. Analysis based on customers who enrolled with Sunrun between October 15, 2014; and October 15, 2015.
Sources:
Energy Resources
Solar resources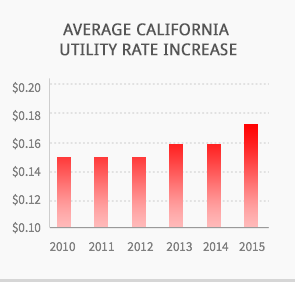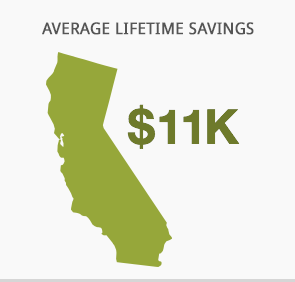 SOLAR SAVINGS ARE BIG
See if you qualify for solar