Salt River Project (SRP)
SRP Bill Too High? Take Control with Sunrun in AZ
Learn How To Lower Your SRP Bill & Beat Power Outages with Solar Panels & a Home Battery
Electric rates in Arizona are unpredictable, and that's a concern for many households.1 Luckily, the cost of creating solar energy in the U.S. is dropping fast2, and starting a home solar journey, today is one of the most efficient ways to control your electric bill and increase your energy savings by the thousands3* — while reducing your carbon emissions.
Before we discuss how solar energy can benefit you and your family, let's go through who SRP is, as well as the things they're doing to keep communities and the environment in Arizona cleaner, healthier, and safer.
Who's SRP and How Many Customers Do They Have?
Salt River Project is one of the largest public electric companies and one of the largest raw-water suppliers in the U.S. To date, SRP delivers electricity and water to approximately 1 million customers living across three Arizona counties, including most of the Phoenix metro area.4
Not an SRP customer? Find your Arizona electric company here.
5 Simple Ways SRP Customers Can Save Energy at Home


During summer, set your air conditioner's thermostat between 78 to 80 degrees when you're home and up to 85 when you're away.5 During winter, set your AC's thermostat between 68 to 70 degrees when you're home, and 65 or lower when you're away.6 Or better yet, upgrade to a smart thermostat so it can adjust your cooling and heating patterns automatically depending on if you're home or not.
Use ceiling fans to move the cool air inside your home during summer and to pull the warm air down during winter. This way, your home will stay comfortable year-round while saving you money on your energy bills. Just remember fans should rotate counter-clockwise in the warm months and clockwise in the cold months to do the trick — so make sure your fans' switches are in the right position during each season.
Seal your doors and windows to prevent drafts and air leaks. If you think your home is losing energy, a DIY home energy checkup may help you pinpoint some of the easier areas to address before contacting a professional. Check out this simple guide for a DIY home energy audit.
Replace your light bulbs with LEDs. LEDs last up to 10 times longer than regular bulbs, and although they cost a little more, LEDs pay for themselves by potentially saving you hundreds of dollars during their lifetime.7
Plant shade trees to protect your home from heat gain during summer and to create a wind-break during winter. SRP customers can get two free shade trees to protect their home. You could also shade your windows with protective screens and cut down your cooling costs by up to 25%.8Get your SRP shade screen rebate.
Get more energy savings advice from SRP.
There's no question all these energy-saving tips are cost-effective ways to save on your electric bill, yet, studies have shown installing solar panels with a home battery in Arizona, today can give you a greater financial and environmental advantage.
How Solar Benefits You, Your Arizona Community, and the Environment9
At Sunrun, we work hard to make solar plans affordable to more Arizonans day after day, because we believe having access to clean, renewable energy improves people's lives in more ways than one. Here are our top 10 reasons to go solar:
Solar could end up saving you thousands of dollars on your future billing cycles.*
Solar protects you against rising electric rates in Arizona for years to come.
Solar reduces carbon emissions, a contributing factor to extreme weather events.
Solar is a free and renewable energy resource, unlike coal and natural gas which are fossil-based.
Home solar systems work year-round — yes, even on cloudy days!
Solar power can be stored for later use with a home battery service like Brightbox™, to keep your devices and appliances running at night or during an outage for approximately 8 to 12 hours.** Besides, with Brightbox, you'll forget about being tied to Time-of-Use rate plans to use your power-hungry at times when there's less grid demand and still save money on your electric bills.
Purchasing a home solar system in Arizona might boost your home's value from 3 to 4%.10
Home solar systems are designed to last 30 years or longer.11
Solar helps creates thousands of good American jobs.12
As an Arizona solar customer, you'll be eligible for some attractive state and federal incentives. Incentives include the country's best solar property tax exemption and money-saving net metering programs to earn bill credits for the excess solar energy you produce; along with a 30% federal tax credit if you choose to buy your solar panels.13
Net Energy Metering (NEM) and Your SRP Monthly Bill
With the help of a second meter, SRP will measure the difference between the number of kilowatt-hours your home solar system creates and the amount of electricity you consume from the electric grid. This difference is called Net Energy Metering or NEM, which SRP uses to calculate your solar bill.
If the energy produced by your system is greater than the energy you used from the grid, the excess will be exported back to the grid and SRP will give you a credit on your current bill.14 Learn how to read your SRP NEM bill.
How SRP Is Making a Difference in Your Community and the Environment
SRP is firmly committed to the conservation of Arizona's natural resources and creating a sustainable future for the communities they serve.15


SRP is continually exploring and implementing new approaches, technology, customers programs and establishing partnerships to improve the air quality in the Phoenix metro area. To date, SRP has invested more than $1 billion to control carbon emissions, effectively reducing their intensity by 80%.16
SRP is committed to cut their carbon emissions by a third by 2035 — a goal they'll achieve by reducing coal-based power stations and increasing the amount of solar they use to power customer's homes and businesses.17
For more than a century, SRP has provided a reliable supply of water to the Phoenix metro area, and as the region grows, SRP has invested millions of dollars on technology and research to stretch existing resources and supported conservation practices to protect this important resource.18
SRP is offering rebates and discounts to home customers who purchase new energy-efficient AC units, smart thermostats, power strips, faucet aerators, and more. See the list of available rebates and discounts for SRP customers.
SRP is boosting the accessibility of electric vehicles to customers by offering lower-cost EV-charging rates when they enroll in their Electric Vehicle Price Plan.19Sign up for SRP's EV Price Plan.
The Time To Go Solar is Now
Sunrun is the nation's largest residential solar and battery storage company providing clean, reliable electricity to households with little to no upfront cost. We're here for you every step of the way from design and installation to maintenance. Plus, you receive predictable pricing and energy security for 25 years or more.  If you would like to go solar, and protect yourself from rising electricity rates and potential long term outages in your area, contact Sunrun today. Get a free quote, see if you qualify. 
Go solar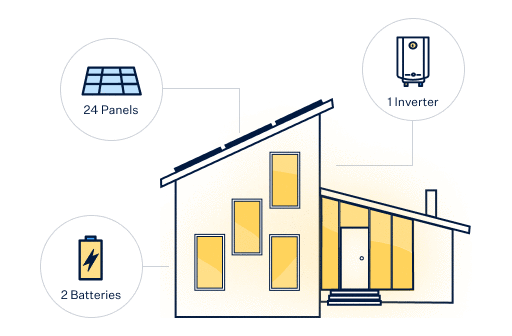 Take control over rising energy costs
Get your system size and battery details
Learn about the incentives in your state