We have 100,000+ happy, money-saving customers!
Go solar and join our community today.
Watch a special "Thank You" video to our customers
America's going solar. How 'bout you?
Imagine locking in low electricity rates for the next 20 years. Sounds pretty good, right? No wonder every six minutes someone installs a Sunrun solar system. That means tens of thousands of happy, money-saving, tree-hugging (well, not really) customers benefiting from lower bills and lifetime support. Together, we're creating a planet run by the sun. Now's the time to go solar and save!
lock in electric rates
With Sunrun, you're protected from utility rate hikes. That's because we offer guaranteed rates that are locked in for 20 years—the life of your solar system. And that means no nasty surprises when you open your utility bill.
How does it work? It's really simple. We buy the system and install it on your roof, and you pay a low monthly fee for electricity and save about 20%. Any questions?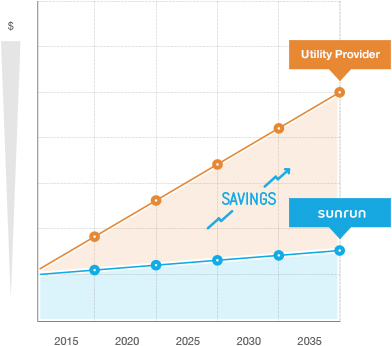 Chart for illustrative purposes only. Actual savings will vary.
Our customers love us
"When we joined Sunrun, we expected help running our household appliances. We did not expect the most exciting part - using solar to power our plug-in car. As fuel prices increase, our savings will surely continue to expand."
Millis, MA
"My appreciation of Sunrun is felt mostly in my checkbook at this time of the year in Tucson. The air conditioner is running 8 hours a day in triple digit temperatures and I'm saving money and helping the environment."
Tucson, AZ
"I base my happiness on the bill that comes in from PG&E every month. That's been beautiful."
Castro Valley, CA
see all testimonials
Find out if solar is right for you!



Electricity rates are skyrocketing but the cost of solar panels has never been lower. Learn why now's the time to switch.




No need to buy. Learn how to get a solar lease or PPA for as little as $0 down.




Solar in 15 states and growing! If we aren't in yours yet stay tuned, we are rapidly growing.
*Based on average Sunrun contract signed in 2014 and an assumed annual utility rate increase of 3.5%. Actual savings will vary. Savings depend on several factors, including product type, system production, geography, weather, shade, electricity usage, and utility rate structures and rate increases. See sunrun.com/save20 for details.