We Make Solar Simple for Home Builders
Sunrun is proud to be the nation's leading residential solar, storage and energy services company and is best suited to partner with new home builders to incorporate solar and storage in new home communities. We help you close sales with compelling financing options and direct homebuyer engagement. You can focus on building homes while we handle the regulatory paperwork and solar specific questions. Finally, you will have the peace of mind knowing that your buyer is in good hands; supported by our exceptional customer service and protected by the Sunrun Guarantee.
We help you close the sale with the home buyer
Does the homebuyer want less cash out of pocket? No problem. We have a zero down option. Do they want to own their own system? Are they looking for the peace of mind that comes with battery backup? We work with you to tailor the solar offering for each new community. Sunrun helps you close the sale with the customer by offering one of the most comprehensive suite of financing options in the solar industry. In fact, we are the only provider to offer a lease option on solar systems with integrated storage.
We make it easy for the buyer to understand these financing options and choose the one that fits their needs by offering both in-person and over-the-phone consultations determined by customer or builder preference.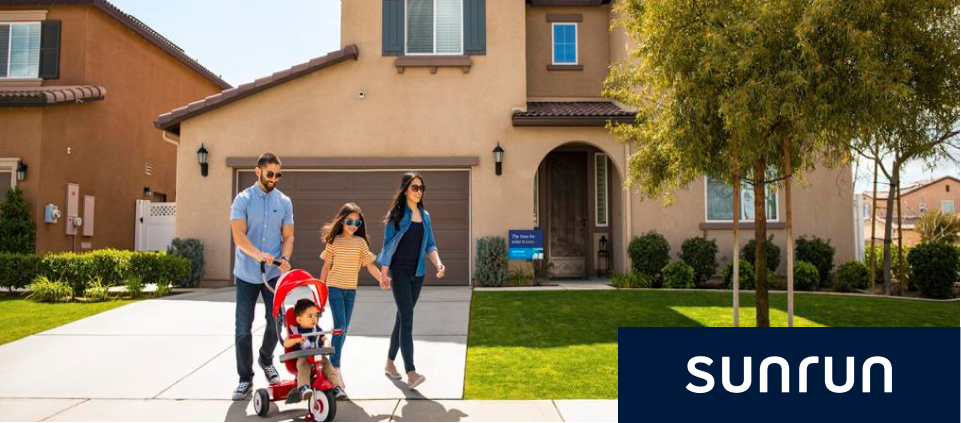 Overview of our best in class finance solutions
Sunrun has one of the broadest residential solar offering in the market. We support our builders with standard cash solutions, premium cash solutions that include maintenance plans as well as third-party-owned financing solutions including Zero Down Power Purchase Agreements (PPAs). Here is a quick overview: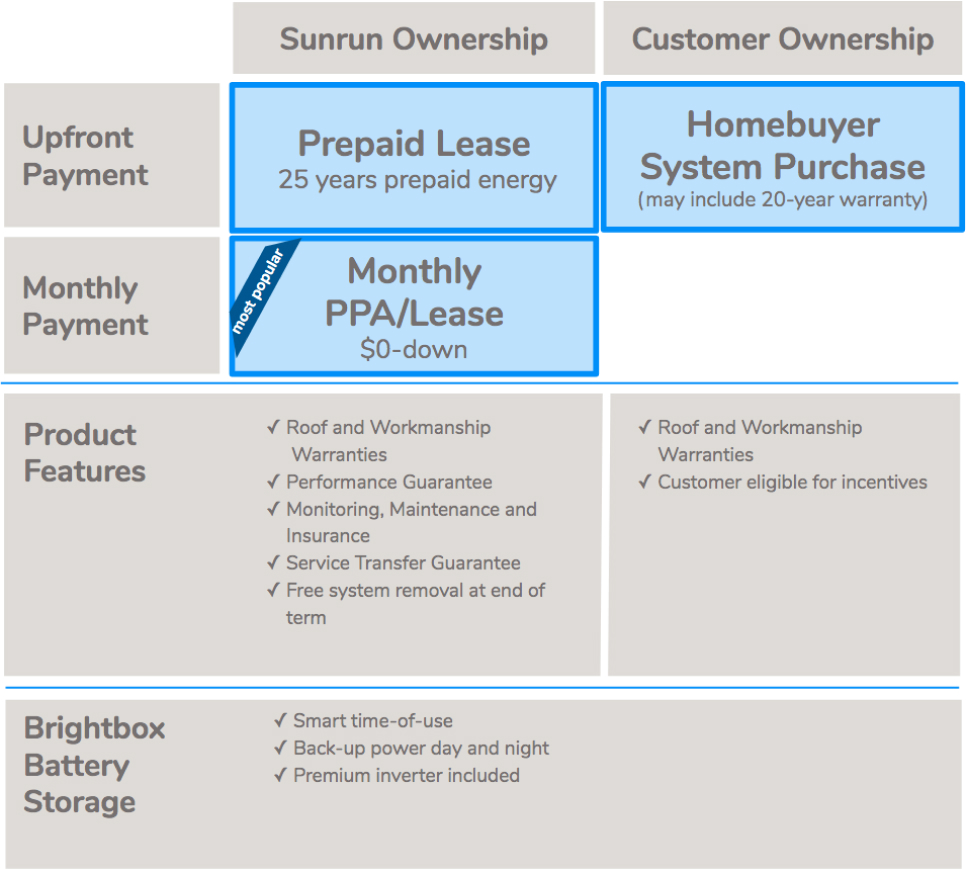 We partner with you and support your unique operational needs
Every home builder has unique business needs and operational preferences. From managing project timelines to coordinating with sub-contractors, each step of the build has its own requirements. Well, we are here to help. With more installed home solar systems than any other solar provider, Sunrun understands the complexities of the business better than anyone. We are here to partner with you through a customized approach that delivers solar while reducing impact on your operations. We will take care of the details and regulatory requirements involved in solar, so that you can focus on building & selling homes.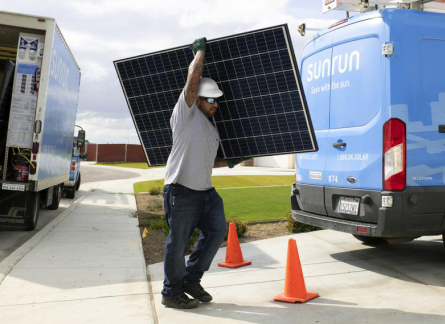 Keep it simple with the Sunrun approach:
BuilderChoice New Homes Program designed and optimized for code compliance credit and home buyer benefits.
We offer A to Z full system installation or can work with your roofers to subcontract the labor.
We are local to your projects with 17 Sunrun warehouse locations and many more build-partner locations across California.
Dedicated team to handle all of the paperwork required to interconnect with the Utility.
Ability to activate the solar system before PTO
Your customers are in good hands
Sunrun pioneered solar as a service in 2007, and is committed to providing exceptional service to home builders and homeowners. 
We work tirelessly to ensure your system is operating at peak performance, partner with the most trusted equipment manufacturers in the industry, and our installation crews have 20+ years of installation experience. Our bumper-to-bumper warranty includes free equipment replacement and system repairs including all parts and labor, and the guarantee that our roof penetrations are watertight for a full decade. See your Sunrun contract for more specifics on your warranty.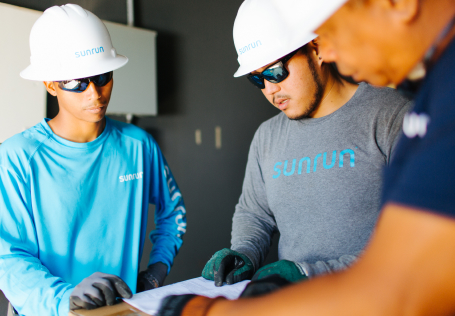 Your home buyers are covered with the Sunrun Guarantee
Our industry-leading guarantee gives your customer peace of mind for the life of Their Sunrun solar system.
Maintenance and repairs for the life of the system included
Bumper-to-bumper solar system warranty
Proactive 24/7 solar system monitoring 
Comprehensive insurance
10 year roof penetration warranty
95% system performance guarantee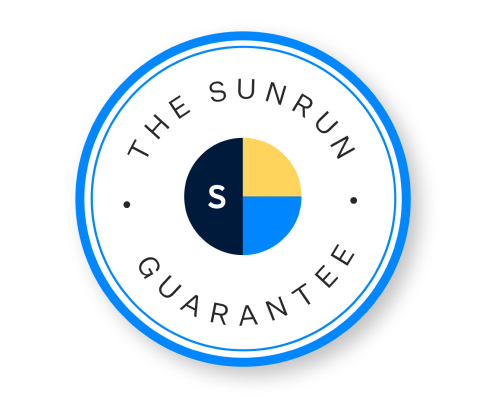 Partner today with the nation's leading residential solar, storage and energy services company
Sunrun has installed more than 285,000 residential solar systems accross the United States, with thousands of households choosing our Brightbox solar and battery product. Sunrun is ready to work with home builder partners to deploy these best-in-class solar systems in new home communities. 
Nationwide Sunrun Locations and Solar Coverage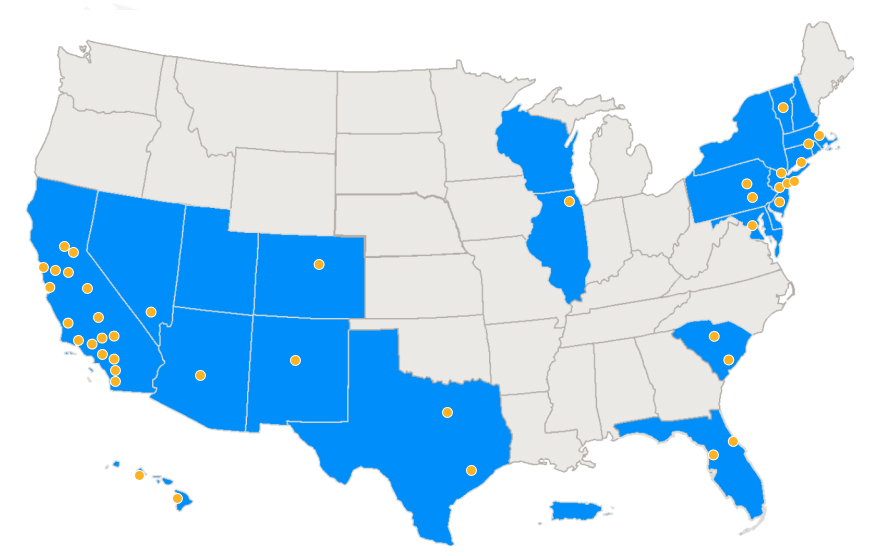 Just a few of our Association Partners: