The Sunrun Guarantee
Sunrun has you covered with an industry-leading, solar service package.
Daily system monitoring, free maintenance, repairs and comprehensive insurance.
Our monthly lease and prepaid lease plans come standard with our best-in-class service package. Customers in select markets can now purchase our service package when they finance or pay for their home solar and battery storage system outright. Compare Sunrun's plans and services.
Available Bumper-to-Bumper Solar System Warranty
You're completely covered with Sunrun's worry-free, warranty. We work tirelessly to ensure your system is operating at peak performance, partner with the most trusted equipment manufacturers in the industry, and our installation crews have 20+ years of installation experience. Our bumper-to-bumper warranty includes free equipment replacement and system repairs including all parts and labor, and the guarantee that our roof penetrations are watertight for a full decade. See your Sunrun contract for more specifics on your warranty.
Proactive Solar System Monitoring
We take your system's performance seriously. When you go solar with our monthly plans or Protection Plus products, we can monitor your system daily to ensure you're taking full advantage of the sun. Our best-in-class monitoring technology proactively informs us of possible issues, so your system is always at peak performance.
Comprehensive Insurance
Sunrun protects your panels with our comprehensive insurance policy. Our monthly lease plans come with full insurance coverage to protect your entire system against theft or damage.
Home solar system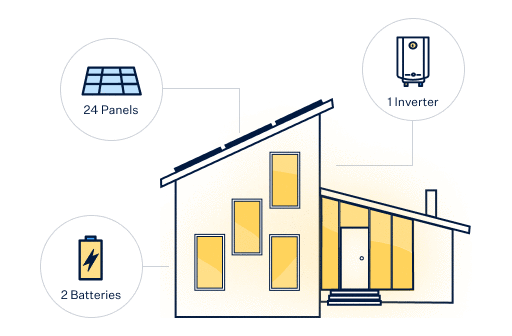 Get your system size and battery details
Find your solar cost and energy usage
Learn about the incentives in your state
Comprehensive Home Solar System Support