Solar Panels & Home Battery Storage Can Help Mitigate Wildfire Impacts
What is the Problem?
As extreme weather events are increasingly common and destructive across the U.S., the impact of wildfires on electricity distribution has become a prominent problem.
In Western states, the wildfire season is noticeably longer. Fires that can forever change public lands and destroy private property occur nearly year-round. Plus, these harrowing wildfires are much more frequent and larger over the past few decades.1,2
In upcoming years, such climate change effects are anticipated to continue disrupting our energy systems more often and on a greater scale.3 For homeowners, businesses and communities, this means longer-lasting power outages, plus service disruptions in critical industrial and technical centers.
During power outages, life as we know it nearly comes to a stop. So, communities are starting to build a more dependable, resilient electrical grid with solar.
A copy of the new report can be found here: Building A More Resilient Grid.
How Did We Get Here?
Today's Grid
We need to rethink our electric grid. We all use it, yet seldom think about it—until it's not there.
Today's electric grid is generally energized by large power lines that transmit electricity across long distances from centralized fossil fuel power plants. Greater than 70% of America's power lines and transformers are over 25 years old.4
This aging infrastructure was not built to withstand extreme conditions. And, its vulnerabilities grow with each storm and wildfire. Sunrun knows there's a better way to power our lives.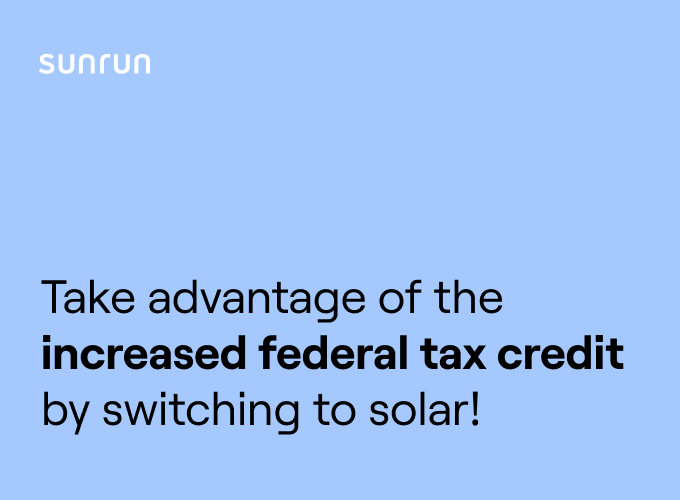 See if you qualify for the
26% federal tax credit
What is the Solution?
Solar Reduces Hazards and Provides Backup Power
Local distributed energy resources (DERs), such as home solar and battery systems, can provide a resilient energy solution in high-risk fire areas currently served by electric lines. The value of DERs is gaining broad community attention and growing government promotion, especially in California due to their recent fire tragedies.
Home solar and battery storage offer reliable energy that keep households running and safer during wildfire threats. Beyond backup power, DERs reduce the chance of electric sparks from overhead lines potentially resulting in wildfires.
How DERs Support the Grid
Our antiquated electric grid is vulnerable to extreme weather and wildfires, which causes power outages and further fire hazards. When electricity flows through circuits, power lines heat up, expand and sag closer to the ground. Too much sag brings circuits near objects or other circuits potentially resulting in sparks. Circuit sag was a known contributing factor in the 2017 California Fire Siege.5
Traditionally, to manage wildfire risk, some circuits are entirely shut down. DERs can take on some network power loads. This keeps electrical circuits within operating limits, maximizes capacity, and reduces sag. Also, during grid outages, DERs can directly power impacted homes.6 Increasing DERs in high risk locations will help protect homeowners and assist electric companies in future wildfires.
Consider a community of 500 homes where each uses five kilowatts of power--roughly equivalent to homes in California's fire-prone areas.7 Typically, all these homes are connected to the grid by a single electricity line creating high stakes for an outage during hot, dangerous wildfire conditions. However, a network of just 50 to 100 homes with solar and storage could return the whole community to electrical stability.
Home Solar Offers Community Solutions
Solar and batteries can maintain a safe power flow level on distribution lines, enabling local networks to carry additional power if there are problems on the grid.8 As an augmenting backup solution, DERs help communities maintain electricity—even if power lines are shut down for prevention by the electric company or due to wildfire destruction.9 A network of rooftop solar and battery installations reduce strain on energy infrastructure by lowering the amount of electricity pulled from the grid. This reduced power load maintains safer circuit tolerances for a longer time, giving grid operators, line workers and emergency responders more time to handle outages and wildfire impacts.
Reducing the Chance of Power Outages
With nationwide dependence on today's traditional grid, cutting electricity transmission is considered a last line of defense because of serious consequences caused by service disruption. In 2018, Pacific Gas and Electric (PG&E) in California faced the difficult decision of when and if to cut off electricity to help ensure community safety during a red flag fire warning. Despite proactively choosing to de-energize power lines in high risk areas, the massive fire may have been caused by an active line.10 DERS can expand the boundaries of a safe, resilient electrical solution in wildfire regions.
Benefits of an Efficient, Clean Grid
DERs offer a flexible approach to supporting grid load versus unpredictable, traditional poles and wires. This new energy infrastructure would also reduce the use of fossil fuel power generators during emergencies. The bottom line is DERs provide safety, quality and financial gains to both electric companies and consumers.
Join the solar revolution. Homes and communities with rooftop solar and batteries can maintain continuous power during emergency events.  Solar regulation progress will inevitably increase the adoption of DERs as a dependable, sustainable, long-term energy solution.11
Community members and policy makers have the opportunity to fundamentally change grid planning in the West and across the country to benefit future generations. With distributed energy solutions, electricity consumers have greater control of their power supply, peace of mind from power outages, and protection from the ravages of wildfires and extreme climate events.
Find Out More
Communities in wildfire regions are hyper vigilant to the dangers of electric lines. Solar and batteries can reduce risk, damage and costs from wildfire destruction and outages. We deserve a clean energy solution that offers a safer, reliable alternative to our hazardous existing grid. Working together, government leaders, solar installers, and electric companies can support homeowners against wildfires.
Sunrun is the nation's largest residential solar and battery storage company providing clean, reliable electricity to households with little to no upfront cost. We're here for you every step of the way from design and installation to maintenance. Plus, you receive predictable pricing and energy security for 25 years or more.  If you woud like to go solar, and protect yourself from rising electricity rates and potential long term outages in your area, contact Sunrun today. Get a free quote, see if you qualify. 
Also, learn more about Sunrun's technical analysis describing the role that distributed energy resources, such as home solar and batteries, can play in providing reliable electricity and reducing the threat of wildfire in California and other wildfire-prone areas.
A copy of the new report, Building A More Resilient Grid can be found here:

Sources:
1. Earth Observatory maps by Joshua Stevens, using data provided by Matt Jolly, USDA Forest Service. Jolly, M. et al, (2015, July 14) Climate-induced variations in global wildfire danger from 1979 to 2013https://visibleearth.nasa.gov/view.php?id=86268
2. Wamsley, Laura, When the Weather is Extreme, is Climate Change to Blame? July 29, 2018 https://www.npr.org/2018/07/29/633203732/when-the-weather-is-extreme-is-...
3. Fourth National Climate Assessment, November, 2018https://nca2018.globalchange.gov/
4. Harris Williams & Co., Summer, 2014https://www.harriswilliams.com/sites/default/files/industry_reports/ep_t...
5. CA Dept. of Forestry and Fire Protection, Cal Fire News Release, October 9, 2018http://calfire.ca.gov/communications/downloads/newsreleases/2018/Cascade...
6. Elia, Dynamic Line Rating, December 5, 2017http://www.elia.be/en/grid-data/DLR, http://www.elia.be/~/media/files/Elia/Grid-data/DLR/Explanatory-note.pdf
7. Circuit current loading calculated with active power demand purely from sum of 500 5kW properties, less 80% for each with solar installation, with 250 kVAr reactive power demand, at 11kV. No change to ambient conditions are considered in this example. Calculations were based on industry standards, such as IEEE 738-2012 (https://standards.ieee.org/standard/738-2012.html), simplified to illustrate a theoretical single span under static weather conditions.
8. Engineers design the transmission grid to work under what is called "N-2 contingencies," as seen here in CAISO's transmission plan. That means they plan the grid to keep everyone's lights on, even when the two worst things happen at the same time. For example, the biggest transmission line could go down at the same time that a big generation plant has a problem and needs to be turned off. For some rural neighborhoods, it can be very expensive to build enough extra infrastructure to support these situations. In other words, solar plus storage could make it easier to meet N-2 standards.
9. CA ISO Transmission Plan, March 14, 2018http://www.caiso.com/Documents/AppendixF-RevisedDraft2017-2018Transmissi... 10. PG&E Public Safety Power Shutoff Report to the CPUC, November 27, 2018
10. https://www.pge.com/pge_global/common/pdfs/safety/emergency-preparedness...
11. Current interconnection conditions require that smart inverters disconnect from external supplies where volts or frequency fall below required levels, such as when the local network is disconnected from the wider network. These would need to be updated to allow for the formation of local grids while ensuring that the wider network is protected and those working on it are kept safe.