Go solar and save 20%
on your electric bill*
BrightBox
ENJOY TOTAL HOME ENERGY CONTROL TODAY
Learn More
BrightBox combines Sunrun's solar power generation with a smart battery solution to provide energy control and savings. Enjoy safe, clean, and reliable backup power to keep your family powering forward in the event of a blackout. Purchase or lease BrightBox from Sunrun today! Read More >
Smart Home Energy Management
Don't be left in the dark when it comes to smart home energy management. Understand how your home solar panels are saving you money and more! With the mySunrun Mobile App you can:
Track your solar system installation process from end-to-end in real-time
Monitor your solar system's production by day, week, month & year
View and pay bills, modify your account preferences
Earn $350 when you refer family and friends
Share fun stats about your solar production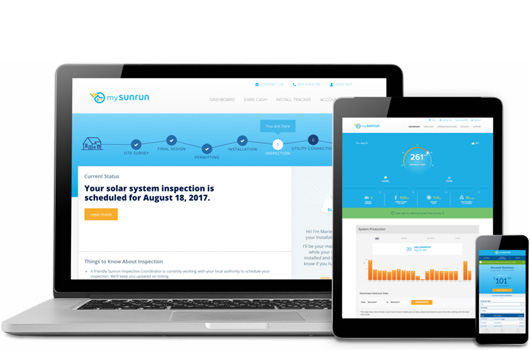 Solar Savings are Big. See if you Qualify now.
Find out if solar is right for you!
* Sunrun guarantees 95% of the estimated output during the initial term of the agreement for BrightSave Monthly (PPA & Lease) and BrightSave Prepaid (PPA & Lease), and BrightBox (excluding HI). Please see https://www.sunrun.com/why-sunrun/your-guarantee for details.