PG&E Customer Utility Bills & Solar FAQ's
Five things you need to know about your utility bill as a PG&E customer, now that you've gone solar with Sunrun.
1. Who's PG&E?
PG&E (Pacific Gas and Electric Company) is a company based in San Francisco that provides natural gas and electricity services to practically two-thirds of North California's households, and all the way up to almost Oregon's border. This broad coverage has made PG&E one of the largest utilities in the United States.1
2. How does PG&E collaborate with Sunrun?
A special net meter (provided by PG&E) measures the difference between the amount of electricity PG&E supplies to your home and the amount of energy your Sunrun solar panels produce each month. The remainder is called net energy, which is used to calculate your sun-infused bill;2 and the good news is, that if your solar system generates more power than you use, it will return to the grid, and PG&E will credit you for it.
3. How do I read my PG&E utility bill now that my Sunrun system is hooked up?
PG&E + Sunrun customers, like you, are automatically placed on a 12-month billing cycle and receive two types of statements:
A. NEM (Net Energy Metering) Statement: which arrives monthly, and it displays your amount due for that billing period including monthly minimum delivery charges (i.e., transmission and distribution) along with a summary of your year-to-date solar charges and credits.3
B. True-Up Statement: which you have the choice to receive monthly or yearly, and it provides your net energy charges and credits over the entire year along with any final balance due.4
At Sunrun, we recommend that our customers schedule their True-Up statements monthly to avoid potentially high year-end costs. So if you're currently receiving these statements every 12 months due to PG&E's initial automatic enrollment, but want to switch to monthly mode, please contact PG&E directly.5
4. How do I read my Sunrun bill once my solar panels are on and running?
As you probably know by now, us Sunrunners love to keep solar as simple as possible — including the way you read your bill. That's why if you've selected to lease or finance your system, all the information included in your Sunrun monthly statement will be as clear as day.
You'll see the basics, like your service address, invoice date, service dates, account number, previous month's balance, the total amount due, due date, and where to send your checks (in case you prefer to make payments the classic way.)
But you'll also see not-so-common elements, such as:
ACH Non-Compliance Charge: This fee will only apply if you haven't signed up for Sunrun's monthly automatic debit program.
Credits/Adjustments: Not applicable to all customers. This element represents the credits applied to your account in the particular month, and any credits will be listed here individually
Performance Guarantee Credit: Applicable to customers who are eligible to receive a Production Guarantee or other credits applied to your account.
Solar Production Start Reading: The kWh of your Sunrun meter on the first day of your billing cycle.
Solar Production End Reading: The kWh of your Sunrun meter on the last day of your billing cycle
Solar Electricity Produced in Month: The total kWh that your system produced during your billing cycle.
Average Monthly Production: If applicable, this represents the average production that your system produces on a monthly basis. The number will vary month to month depending on what your annual production has been.
Average Annual Price/kWh: The average monetary value that you're charged by Sunrun for each kWh the system produces. Since your monthly charges are fixed, this will be an average of the total kWh that your system generates so you can compare Sunrun's and PG&E's kWh rates.
Fixed Monthly Charge: The total monetary value that Sunrun charges you each month for the electricity that your system produces.
Performance Guarantee: This element is listed when Sunrun owes you credits for energy production. If applicable, it means that the system isn't producing the amount of electricity we initially estimated.
Solar Electricity Refunded: Measured in kWh, this element will show the number of cumulative kWh when your system was producing less energy.
Refund Rate: The rate at which Sunrun is paying you for those missed kWh.
Total Performance Guarantee Refund: The total monetary value that Sunrun will recoup you for the missed production, which will be allocated to you via a credit to your account on your next bill or via a check mailed directly to your home.  
5. Electricity is astonishing with solar, especially, because it costs you less.
At Sunrun, we believe saving money with solar is something that all Californians deserve to experience. If you have more questions about how PG&E manages its NEM Program, it might be a good idea to sign in to your PG&E account.6
For additional solar resources, please visit our Go Solar Center. However, if you're yet to start your wallet-planet-saving journey, simply contact our solar consultants to lease, purchase or finance a solar system or a Sunrun Brightbox™ solar battery. With some plans you can even go solar for little to zero down. See if you qualify today!
Made-to-fit solar solutions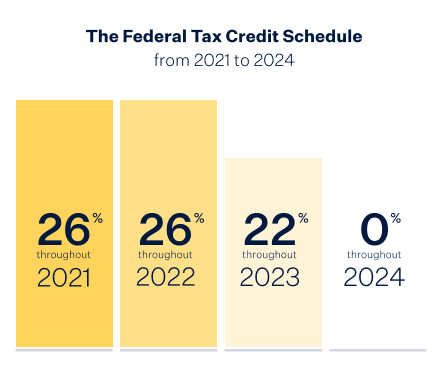 Learn about the 26% federal tax credit
Find your system size and battery
Get your energy usage and solar cost