Texas, Here We Come! Sunrun Expands to the Lone Star State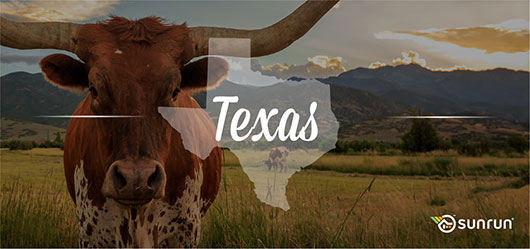 There's more to Texas than cowboys and cattle. The state is also known for its bustling music scene, strong agriculture industry, and deep independent streak. With Sunrun's expansion into the Lone Star State, Texans can declare their energy independence by taking control of their energy costs. Read on to learn about one of Texas' most abundant resources.
Texas currently has 136,000 homes powered by the sun.
That's 136,000 Texas homeowners who have gained control over their energy production and locked in low solar energy rates for the life of their panels. The price of solar energy has decreased 64% over the past 5 years. Compare that to the rising cost of electricity in the state, and it's clear why going solar is a smart investment for savvy homeowners looking to save money long-term.
Deep in the heart of Texas is deep solar potential.
Texas has the second highest solar energy potential in the country, second only to California. That makes a lot of sense, considering Texas gets almost 3,000 hours of sunshine a year. In fact, Google's Project Sunroof estimates that if Texas were to reach its maximum solar potential, it would be the environmental equivalent of taking 12.4 million cars off the road for an entire year.
Texans who go solar with Sunrun could be among the first to enjoy Virtual Net Metering in the state.
Texas does not currently have default net metering policies, which allow homeowners to receive energy credits for solar energy they haven't used. However, Sunrun's partnership with Think Energy by Engie will bring these benefits to Texas homeowners. Our energy buyback program allows homeowners to pull energy from the grid during times of low production and funnel excess energy back into the grid when their solar panels produce more energy than they need. By monitoring the flow of energy remotely, we're able to provide Texas homeowners with the peace of mind and energy savings that come with net metering - without waiting for state legislation to change.
Going solar supports thousands of jobs in the clean energy sector.
The solar industry in Texas currently supports 9,396 jobs - the 3rd highest in the nation. And that number is expected to grow. As more Texas homeowners choose to go solar, even more hard working Americans can benefit from clean energy.
Also powered by the sun: Texas agriculture.
There are more farms and ranches in Texas than any other state in the nation. Covering over 130 million acres, the sun-drenched land produces abundant cattle, cotton, produce, and agricultural commodities. Farming is a family business in the Lone Star State: 98.5% of the agricultural operations in Texas are run by individuals or families.
Go solar with Sunrun.
Are you a Texas homeowner interested in going solar? There's no better time to switch to clean, renewable energy. Sunrun creates a custom solar energy system for each home, and we offer a variety of plans to fit any budget. Click the button below to learn more about going solar with Sunrun in Texas.

---
Sources:

Kenton Warren
Choose and control your home energy
Pay $6 for 6 months
Limited time offer*