Texans have more energy freedom than anyone, Sunrun's Brightbox gives them control over it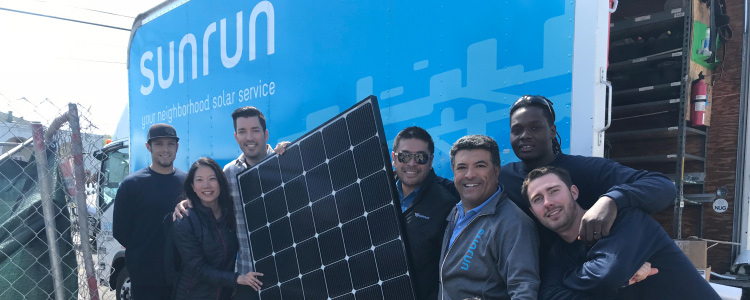 Everything is bigger in Texas, and so are the benefits of a solar powered home battery
Texans have more choice about where their energy comes from than people in nearly every other state. This week, Sunrun introduced our Brightbox home solar and battery service to Houston and Dallas to give people in Texas even more choice when it comes to their power. For the first time, people can have energy security and the peace of mind that comes from being able to keep the lights on and food fresh during power outages. 
So what is Brightbox? Brightbox is a solar powered home battery system. During the day, rooftop solar panels provide electricity to the home and charge the battery. When the grid goes down during a power outage, the battery kicks in with backup power to the home. For a typical household, the battery lasts from 8 to 12 hours and recharges daily after the sun comes up. 
Texas makes more electricity than any other state, but even with all this power, Texans still experience more blackouts than people in every state but California. People in Houston know this all too well: the aftermath of Hurricane Harvey left more than 330,000 people without electricity. 
It's not just happening in Texas. As we've seen recently with power outages in New York, Wisconsin, and California, due to years of neglect and deferred maintenance, our electricity grid is no longer equipped for today's users or extreme weather. It doesn't need to be this way. 
Texas has long been the heart of energy in America, with some of the best solar energy potential in the US. There's simply no reason for people to be out of power when the electric grid goes down. Our energy future lies with utilizing rooftop solar and batteries to build a smarter, more resilient energy system.
For as little as $0 down, people can put solar panels on their rooftops and a battery in their garage. Our customers pay a low predictable rate for 25 years. The best part about this plan is that Sunrun maintains, insures, and guarantees all parts of the system for the lifetime of the service plan and will replace the battery at no cost. 
This is the kind of customer experience that I'm passionate to be able to bring to Texas, and the rest of the country. And there's a very good chance that we'll get the opportunity to do so. Nearly 90% of the country wants more solar power. Going solar can be a big decision for any family, and my number one priority at Sunrun is making sure that people have a simple, hassle free experience. Here at Sunrun we're excited about what batteries will do to help give our customers even more freedom and choice. 

Evelyn Huang
Choose and control your home energy
Go solar for $0 down
See if you qualify