Premium Home Solar Battery Storage in Massachusetts
Are you prepared for when the next storm strikes? Don't be left in the dark with clean, affordable energy that puts you in control. Keep reading to see how Sunrun Brightbox can power you towards a brighter future, whatever the weather.
Sunrun Brightbox Home Battery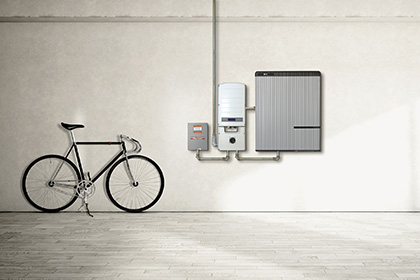 Keep the Lights On with Brightbox
With Sunrun's Brightbox™ home energy storage system, you can prepare for the unpredictable. Our home solar battery system equips you with reliable backup power, energy independence, and peace of mind. So when the next storm strikes, the sun can still power you forward. *Note - Our Brightbox solar battery service is currently only available for new Sunrun customers.
Solar Battery Technology
Energy storage technologies are crucial to a clean energy future. Sunrun's Brightbox includes a powerful lithium-ion battery made by trusted partners like LG Chem to optimize affordability, efficiency, and durability. When fully charged, your battery can provide approximately 8-12 hours of backup power on reserve, storing the solar power produced by your panels so you can use it when you need it most.
4 Ways Brightbox™ Powers You Forward
1. Peace of Mind During an Outage
We well know severe weather storms are hard to predict, not to mention a blackout. With Brightbox, you can rest easy knowing that you won't be left in the dark.
Your home battery will have a constant reserve of power. You'll also be able to choose which rooms and appliances you want to back up. That means you can keep your food cold, your phones charged, and the lights on during a power outage. When the sun's back out, Sunrun's solar panels will recharge your Brightbox home battery so you can continue to get backup power until the grid is up and running again.
2. Superior Service
We do the work so you don't have to. Our flexible solar leasing options come with 24/7 proactive monitoring and maintenance, on us. If we notice that your home battery or solar panels aren't working at their full capacity, we'll send an expert over to fix it. We're always standing by to make sure your home battery is in top condition, so you can keep powering on.
3. Control Over Your Energy
Brightbox puts your energy needs first. Our smart storage technology gives you control over your energy usage. During a blackout, you decide what rooms and appliances stay on. The more you know, the closer we get to putting the power back into your hands.
4. The Clean Alternative to Diesel or Natural Gas
Our home battery storage system is the clean alternative to diesel or natural gas generators. With Sunrun Brigthbox there are no harmful effects, no extra noise, and no gas or diesel.
Since you don't have to refuel Brightbox with gasoline, you'll also be saving on energy costs. Instead, our lithium-ion battery is charged by your solar panels, and has a storage capacity of approximately 8-12 hours of essential electricity. When the sun comes back out, your panels start recharging again. With the sun, you have unlimited power potential.
How Does Sunrun Brightbox Protect Me From Outages?

Throughout the day, your solar energy system powers your home and keeps your battery charged. Now, if there is an outage in the night, Brightbox can power the things you care about most for approximately 8-12 hours or until the sun comes up again.
Keep your food cold, your lights on, and enjoy greater peace-of-mind during a power outage with Sunrun Brightbox.
Stay
comfortable
Keep your
food fresh
Stay
connected
Watch TV
Power your lights
Open your
garage door
Use the
internet
* Backup time estimates are based on a fully charged battery and typical use of standard appliances, lights, and outlets.
Power Through the Storm
Living in Massachusetts, you're no stranger to unpredictable weather and power outages. Over 320,000 homes lost power after last October's windstorm whipped through the Bay State, the most since Superstorm Sandy.1 In fact, there were 106 reported blackouts in 2016 alone.2 That's thousands of families without power every three or four days.
But it doesn't have to be this way. Massachusetts is working hard on moving away from harmful fossil fuels and toward solar energy for a cleaner, more resilient community.3
A Brighter Future for All
As extreme weather events continue to affect the state, the Governor of Massachusetts is exploring opportunities to power the state with solar power and energy storage projects while increasing the reliability of its electric grid.4 Sunrun is hard at work creating a brighter future for our kids powered by clean energy and less fossil fuels. Whenever you're ready, our experienced Solar Advisors are here to help you every step of the way. See if you qualify, receive your free solar battery storage quote today.
Make your home a Brilliant Home with Sunrun Brightbox™
Find out if solar is right for you!
Frequently Asked Questions
Brightbox Solar Battery Storage Articles