Go Solar and Save in The Southwestern State
The Grand Canyon State is rich in sunlight, recording about 300-days out of the year in sunshine. This means clean, low cost, solar energy is at your fingertips. And with Sunrun, going solar has never been easier. Find out why Arizona is a great place to save with the Sun, especially during those high temprature summers. Blast the AC with confidence all year long. 
AZ Solar Panels for Little to $0 Down
With electricity prices headed in an upward trajectory each year, it's time to explore some options.
BrightSave MonthlyTM, our most popular plan, can get you going with solar for as little to $0 down. With BrightSave, you can avoid the hassle of ownership and just pay for the power our panels produce while being locked into a low fixed rate during the length of the agreement. Installation is free, we monitor the system daily and maintenance is included. Getting new solar panels in Arizona has never been easier.
Not interested in month to month payments? No problem. With our BrightSave PrepaidTM option, you can get all the perks of our BrightSave Monthly plan, only you prepay for your energy and get it in bulk. You can get years of low rate electricity today. Amazing? We know. We've even included a Transfer Guarantee with both plans to make sure things go smoothly if you decide to sell your home. Our experts are on standby and ready to help you transfer your contract to the new homeowner if need be.
Arizona Solar Incentives, Rebates, & Tax Credits
Solar Savings Types
Value of Savings
Residential Solar Energy Credit
25% the cost of the system3
Sales Tax Exemptions
Solar System Sales Tax Exemption 4
Property Tax Exemptions
Property Tax Exemption on Added Home Value from Solar System5
Federal Solar Tax Credit (ITC)
30% of the total system cost 6
Learn More About Arizona Solar Incentives
**Customer's ability to monetize rebates, incentives and tax credits depends on several factors, including, without limitation, continued state subsidization of these policies, the applicable Sunrun product type, and whether a customer purchases or leases a solar system from Sunrun.
BrightboxTM Solar Battery Storage Services for Your Arizona Home
We are so committed to bringing Arizona the best possible energy saving solutions that we have incorporated our breakthrough BrightBox product into the Grand Canyon State. Secure longterm savings and financial flexibility, all while keeping the lights on during power outages. 
What is BrightBox? BrightBox is Sunrun's premier solar and battery storage service that gives homeowners maximum control over their electricity bill. We have partnered with LG Chem to bring you this powerful lithium-ion battery that stores excess energy generated from your solar panels all day long. In afternoon / evening, Brightbox powers your home when the electricity costs are the highest; allowing you to maximize your solar savings.
Combining Sunrun's solar power generation with smart inverter technology, this home battery storage system offers homeowners a customized solution that provides clean, affordable energy 24/7. The battery itself has a 10-year warranty with maintenance and repairs that come with our solar agreement. So you can rest easy knowing that at the end of the day, you won't be left in the dark or stuck with high maintenance fees.
Own Your System and Your Savings
We've got you covered. With our BrightBuyTM and BrightAdvantageTM plans, we put the power of savings in your hands. With the many incentives available that go along with purchasing  a solar system for your home, there really isn't a reason to delay! The federal government offers a 30% tax credit to qualifying homeowners, making investment well worth it. This doesn't include the state or local incentives which can also amount to a great chunk of savings.
Don't Wait, Get Your Free Solar Quote Today
Now that you've done some research into transitioning to clean energy, contact us today. With a free quote in minutes, you don't have much to lose other than a few figures off that utility bill. Let us save you money and we promise to do our best to match  you with a system that is a perfect fit for your budget and lifestyle.
Energy resources
Solar resources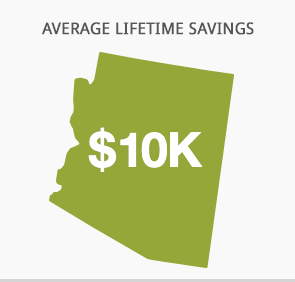 SOLAR SAVINGS ARE BIG
See if you qualify for solar