Sunrun has saved Arizonans over $7,855,311* on their electric bills to date.
Arizona Update: There is still time to go solar in Arizona
APS is Taking Away Your Energy Freedom
Tuesday, December 20th, in a 4-1 vote, the Arizona Corporation Commission (ACC) voted to end the current net metering (NEM) program that allows homeowners to sell the power produced from their solar panels back to the utility at the price they buy power from the utility. The good news is that if you go solar before the rates change July 1, you are grandfathered in under the current NEM program for the next 20 years.
Lock In Solar Savings
You can protect your home from ever increasing energy bills and lock in solar savings by acting now and qualifying for the current NEM program. Don't let the opportunity to save money on your electric bill for the next 20 years slip away.
You Are Your Own Power Company
The ACC has committed that all customers under the current NEM policy are protected for the next 20 years if you act before July 1! Also, keep in mind that the energy generated from your panels and you use in your home doesn't involve the utility. When you go solar as long as the sun is shining you are your own power company!
So what are you waiting for? Call 1-844-321-6937 or sign up for a free quote today and lock in your rates before it is too late.
Find out how easy it is to go solar with Sunrun and save on your electric bill.
Arizona is big on numbers. It has the most boats per capita in the U.S. It leads the nation in copper production. Fountain Hills is home to one of the biggest fountains in the world. In Arizona, the sun rules all. From the Grand Canyon to Phoenix and Scottsdale, every part of Arizona's culture is literally baked in. Now, that doesn't mean that the people of Arizona don't know how to enjoy a good night hike or pool party. In fact, folks in Arizona know exactly how to get out of the sun when they need to. While Arizona does everything big, no one appreciates the enormous energy prices.
That's why solar is so hot. When you consider that AZ has the most sun of any state1 (heck, it's the home of the Phoenix Suns!), plus high power bills and established rebate programs, choosing solar is really a no brainer. 
With home solar panels from Sunrun, you can say goodbye to costly and unpredictable Arizona energy rates. Sunlight is clean, renewable, and efficient. And when you use your solar system to produce power for your home, you can lock in a low rate for the lifetime of your solar system. That's 20 years of savings with clean, affordable energy. That sounds like a whole new sense of financial security and independence from the grid to us. What do you think?
We're making going solar in Arizona affordable
Arizona has lots of things going on, and solar energy is one of them. That's why Sunrun has set up shop here. We're really committed to helping residents of this great state save money on their power bill — today, tomorrow, and in the future. And we have the experience and resources to do it. As the largest dedicated home solar company in the country, we've developed a personalized and simple process that allows you to enjoy the benefits of solar energy quickly and easily.
With just a simple phone call, you'll be well on your way to getting a customized solar design for your home. This design is implemented by one of our extensive network of local partners. By working with them, you can enjoy quick and professional solar installations from certified folks who live near you. They're verified by Sunrun, so you can trust that you're in good hands.
And, with our 24/7 monitoring of your solar system, you'll have a lot less to worry about in the long-run. That's because whether it's an equipment failure or a simple checkup, Sunrun will be on it faster than you can say "solar savings"! The best part is, all of our services are provided under flexible financing, including solar leases and PPA agreements, allowing you to benefit from solar on your own terms and within your budget.
So what're you waiting for? Check out our service areas and see if we can help you make the switch in Arizona today!
Some of our installations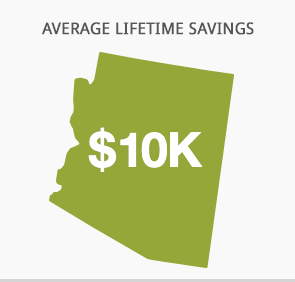 SOLAR SAVINGS ARE BIG
See if you qualify
Go solar in 3 easy steps