Take Back Your Power With Solar Panels and a Home Battery in California
Sunrun: Your Ally Against Power Outages and Rate Spikes
4,297
Blackouts that have hit California in the past decade.1
+29%
California's residential electricity rates vs. the national average.2
#1
California is the best state in the U.S. for solar.3
The Golden State gets plenty of sunshine year-round, and it's no surprise that many California homeowners are choosing to go solar. With the cost of solar panels4 and home batteries rapidly decreasing,5 now is the best time to start creating your own solar power at home with a California solar company like Sunrun.
Your home energy, customized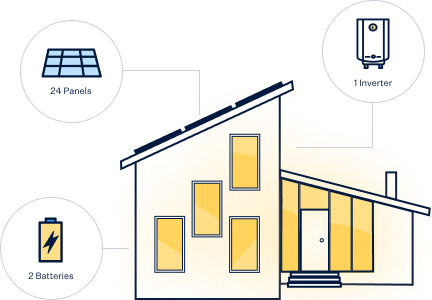 Get your system size and battery details
Understand how solar incentives work
Find out your solar cost & energy usage
Switch to Solar for as Little as $0 Down
Each Sunrun solar plan has unique advantages, but regardless of the one you choose, we're here to make home solar as streamlined as possible for you. We'll even handle the paperwork whenever we can.
California Solar Incentives, Rebates, & Tax Credits
Incentive
Value
Federal Solar Investment Tax Credit** (ITC)
26% federal solar tax credit is available for home solar systems installed by December 31, 2020.
Solar Energy System Property Tax Exclusion
Property tax exclusion from the home solar system.
Self-Generation Incentive Program (SGIP)
Rebate for installing a home solar battery. Varies by storage capacity.11
Single-Family Affordable Solar Housing Program (SASH)
Eligible lower-income homeowners who get their electricity from PG&E, SCE and SDG&E can receive $3,000 for every kilowatt (kW) of solar power installed.12
Local Utility Company Rebates (San Francisco and Sacramento only)
Cash incentives for installing a home solar system. Varies by utility.13
Learn More About California Solar Incentives
†Customer's ability to monetize rebates, incentives, and tax credits depends on several factors, including, without limitation, continued state subsidization of these policies, the applicable Sunrun product type, and whether a customer purchases or leases a home solar system from Sunrun.
Brightbox™
Wildfires and their resulting California power outages have impacted millions of homes.
Electric companies are rolling out Public Safety Power Shutoffs (PSPS), which leave families without electricity for hours or days at a time.7
Brightbox can keep your devices and appliances running through blackouts for up to 12 hours.*

Time-of-Use (TOU) rates tie you to specific usage schedules if you want to cut down on your home energy costs.8
Electricity is significantly more expensive during times of high demand, such as weekday evenings.8
Brightbox powers your home when rates are highest, so you can control your electricity bills without changing your lifestyle.
Control Your Energy during TOU (Time-of-Use) Electricity Surge Prices
Grid Only
Solar
Solar +
Battery
Brightbox is more than a solar battery in California. It's a comprehensive energy storage service that puts you in control.
Brightbox monthly plans include 24/7 proactive monitoring and maintenance to ensure your system is working smoothly.
Brightbox Home Solar Battery is a Better Choice Compared to These Typical Fuel Options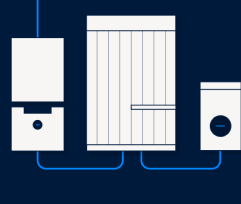 Home Solar Battery

and refueled by the sun
Provides backups automatically
No emissions
Quiet
Clean and renewable
10 or 25 year warranty
Reliability
Safety
Noise
Environment
Warranty
Generator
Requires gas
Emits hazardous gasses
Noisy
Dirty and polluting
3-5 year warranty
Be on the Right Side of California's Future
100%
State electricity generation that will come from clean energy sources by 2045.14
80%
California's cut in greenhouse gas (GHG) emissions below 1990 levels by 2050.15
When you go solar in California, you won't just reduce your carbon emissions by creating and storing renewable energy. With Pacific Gas and Electric (PG&E), Southern California Edison (SCE), San Diego Gas & Electric (SDG&E) and other utilities' net energy metering (NEM) programs — you can earn bill credits for the excess solar energy you produce.16Net metering credits credits give you better control over your electric bills.
See if Sunrun is a good match for your home by requesting a free, personalized solar quote. Together, we can keep California clean and vibrant for generations to come.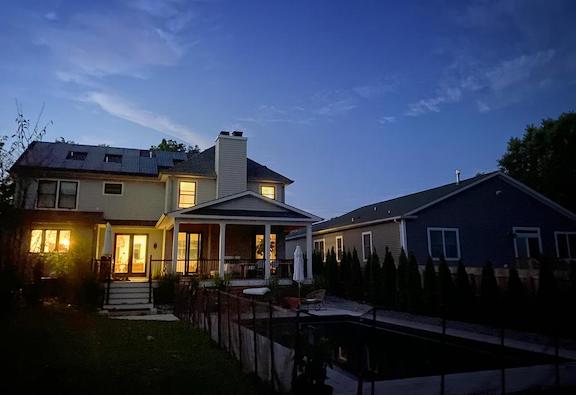 As the nation's leading residential solar, storage and energy services company,6 we've helped hundreds of thousands of people protect their homes from outages, control their electric bills, and reduce their carbon footprint.
If you're a Californian curious about gaining energy independence, we have a solar plan for almost any budget. Find out which Sunrun solar plan, with or without a home battery, works best for you and your family's energy needs.
DISCLAIMERS:
* Hours reflect a full battery with a minimum 20% capacity held in reserve.
**We recommend contacting a tax professional to most accurately determine the impact of the solar Investment Tax Credit (ITC) on your federal taxes.
Sources:
California Solar FinancingCalifornia Solar Incentives