Maximize Savings with Solar Solar Financing in California
If you've started your search for home solar power, you're probably trying to figure out how to finance solar panels. Thankfully, your search for California solar financing companies stops here.
With Sunrun's flexible solar financing options, you can stop settling for some of the highest electricity rates on the West Coast.1 Instead, combine California's generous helping of sun2 with simple solar plans that maximize your solar savings. When you go solar with Sunrun, you could cut your electricity bill by half (or even more), protect yourself from power outages, and commit to a brighter future for you and your community.
Brightbox™: Backup Power, Maximum Savings
Wondering how to finance a solar battery? Brightbox™, Sunrun's premier solar power and storage service, is eligible for all of our CA solar financing options covered here. To maximize your solar savings with smart solar storage for $0 down, keep reading to learn more. For more on California Brightbox, click here.
BrightSave™: Solar Leasing in California
We offer two easy solar leasing options:
Go solar and save on your monthly electricity costs for as little as $0 down with BrightSave™ Monthly.
Lock in the best value Sunrun has to offer with a one-time upfront payment through BrightSave™ Prepaid.
BrightSave™ Monthly: Go Solar for $0 Down
Pay for the power, not the panels. When you choose BrightSave™ Monthly, you could go solar with Brightbox™, our premier solar power and storage service, for as little as $0 down and reduce your utility bill by 50% or more. We handle the equipment and installation, and in return you pay a low, fixed rate for the power your panels produce.
BrightSave™ Prepaid: No Monthly Payments
Looking for a solar lease with maximum savings? BrightSave™ Prepaid is as simple as it gets. With a one-time upfront payment, you're locking in years of electricity— and years of savings. No monthly bill. No hidden costs. Just pure solar savings.
For both BrightSave Monthly and BrightSave Prepaid, you'll enjoy years of peace of mind with free installation, daily monitoring, maintenance, repairs, insurance, and 10-year roof coverage.
And if you ever decide to move? For both BrightSave Monthly and Prepaid, we've got a whole team standing by to help you easily transfer your contract to the new homeowner. Trust us, we've thought of everything.   
Own Your System and Your Savings
If you're committed to saving more, BrightBuy™ is the way to go. With a one-time, upfront payment, you'll be able to own your own system and your savings. You'll also be able to cash in on California solar rebates like the federal tax credit, generous rebates from your utility, net metering, and extra value added to your home.3 To learn more about the incentives you'll be eligible for, see our rundown of California's solar incentives.
Backed by our guaranteed workmanship and manufacturer warranties, our solar systems are designed to last 30 years. Your purchase also includes an industry-leading roof penetration warranty. We'll handle every single detail, from a free custom solar design down to the permitting and paperwork. Yeah, we take simple seriously.  
Ownership with No Upfront Costs
With BrightAdvantage™, you can own a solar system for as little as $0. We'll help you finance your solar system with a hassle-free loan so you enjoy low, fixed monthly payments and a competitive interest rate. That means solar savings and tax credits still go direct to you.
Lock In Long-Term Savings Today
Here at Sunrun, we make solar power financing in California simple. Our solar experts will work closely with you to make sure you get guaranteed savings no matter what solar option you choose.
Want to know how much you could save with Sunrun? Get a free quote today and see why other homeowners like you have already made the choice to go solar with Sunrun.
Energy Resources
Solar resources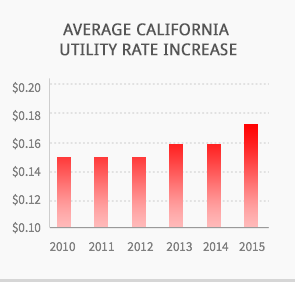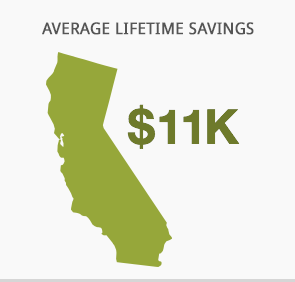 SOLAR SAVINGS ARE BIG
See if you qualify for solar