Los Angeles, California is a mega-city that's continuously evolving. Being bigger than most countries and excelling in cultural, social, economic, and architectural achievements, while holding the nation's top spot in the TV & film industry, it's easy to understand why many see it as the go-to mecca to make dreams come true.
L.A. packs a ridiculous amount of sun-filled days, too — around 285 per year,1 an amount that's good for your health and your home savings. Especially if we analyze that residential electricity rates here are almost 10% higher vs. the national average;2 that's B-movie-budget money! Well, almost. But imagine all the things you could do by holding onto that cash, so why not turn it into a reality starting today?
L.A. has something for everyone.
With Sunrun, it's no different. Venice Beach, The Getty Center, Hollywood, Rodeo Drive, and a smorgasbord of restaurants transform the "City of Flowers and Sunshine" into a powerful human magnet. The truth is, having options is cool, and with Sunrun's solar plans, it isn't any different. Sunrun gives you the opportunity to buy, lease or finance your panels without worries. Why? Because we're here to help you save with the sun.
Since 2007, thousands of Sunrun customers have made the choice to electrify their homes with clean, renewable energy; helping Americans save millions of dollars on their energy bills.*3 Yes, with Sunrun you'll be saving your wallet, and our planet, all at the same time.
We can't save you from traffic, but we can save you from outages.
Sunrun Brightbox™ is the future of home energy storage, a smart battery that loves giving life to gadgets when sudden darkness falls. And this peace of mind goes even further because it uses Time of Use to ensure you continue saving as utility rates change, assuring the lowest payment possible. Sweet!
$0 down is the starting point of your solar-savings journey
With BrightSaveTM Monthly, you can save 20% on your electric bill*, along with professional monitoring and maintenance with predictable rates for the next 20 years.
Or with BrightSaveTM Prepaid, you can buy your solar power in bulk to rejoice in the worry-free benefits of a lease without the monthly payments.   
Your own home. Your own system. Think about it.
BrightBuy™ is waiting for all future owners looking to have a system, savings, and federal tax credits on their side. Plus, by purchasing solar panels, your crib will experience a value boost, too.
Or, if you want to take the sun leap with low, fixed monthly payments; competitive rates, and no upfront cost, just check out BrightAdvantage™
Turn the melting pot into your savings pot
From people to culture, and ideas to food, heterogeneity makes L.A. shine. Our solar consultants are ready to work on your free, personalized quote to get you started. Doing nothing could cost you $36,000 or more in electricity bills over the next 20 years, and we believe that a good Angeleno like you deserves so much better.
Sources:
1. http://www.bestplaces.net/climate/city/california/los_angeles

2. https://www.electricitylocal.com/states/california/los-angeles/

3. https://seekingalpha.com/article/4096139-sunruns-run-ceo-lynn-jurich-q2-...
*Estimated savings based on a projected annual utility rate increase of 3.16% over the life of the system. Actual savings will vary. Savings depends on several factors, including product type, system production, geography, weather, shade, electricity usage, full utilization of the 30% solar Investment Tax Credit by the system owner, and utility rate structures and rate increases. Analysis based on customers who enrolled with Sunrun between October 15, 2014; and October 15, 2015
Energy Resources
Solar resources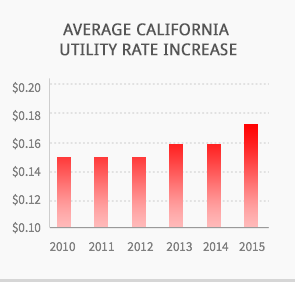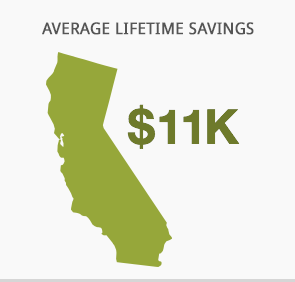 SOLAR SAVINGS ARE BIG
See if you qualify
Go solar in 3 easy steps