Illinois Solar Incentives
Take Advantage of Illinois's Booming Solar Industry
FEJA
The Future Energy Jobs Act (FEJA) boosts Illinois's renewable energy growth and creates thousands of clean energy jobs.1
-45%
Illinois's home solar energy system price drop over the last five years.2
28%
Illinois's decrease in greenhouse gas (GHG) emissions below 2005 levels by 2025.3
With the introduction of the FEJA1 and the cost of rooftop panels and home batteries plummeting,2,4 there hasn't been a better time to make the switch with an Illinois solar company like Sunrun. Illinois offers several incentives that make installing solar panels uniquely beneficial.
Sunrun is the leading residential solar, storage, and energy services company in the nation.5 You can create and store your own Illinois solar energy at home to have more control over your electricity bills, get outage protection, and ensure you get the most out of Illinois's solar power potential.
Discover the Incentives, Tax Credits, and Solar Rebates Illinois Has to Offer*
Incentive

Value

Federal Solar Investment Tax Credit (ITC)**

The 26% federal tax credit is available for purchased home solar systems installed by December 31, 2022.6

Solar Renewable Energy Credits (SRECs)

Compensation per kilowatt-hour (kWh) produced by the system.7

Solar Energy System Property Tax Incentive

Property tax exemption on the added home value from the rooftop solar system.8

Illinois Solar for All Programs

Qualified low-income households can get funding to install solar panels in Illinois.9

Find out If You Qualify for Illinois Solar Incentives
Learn the Details of Illinois Solar Incentives
The Time for Home Solar in Illinois Is Now
On top of the many attractive solar tax credits, incentives, and rebates, our home solar plans in Illinois allow you to start creating your own solar power for as little as $0 down. What's more, Ameren Illinois, Commonwealth Edison Company (ComEd), and MidAmerican Energy Company offer net energy metering (NEM) programs that could let you earn credits on your bill for the excess solar energy you produce.11,12,13 Net metering in Illinois may help you save money on your future electricity bills.
Sunrun is one of the best solar installers in Illinois that you can team up with. To check if our solar and storage services are available in your area, use our Product Selector or request a free quote to get one-on-one service from our expert Solar Advisors.
Go solar today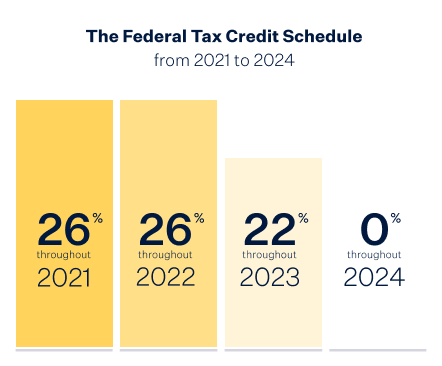 Learn about the federal tax credit
Find your ideal system and battery
Get your energy usage and solar cost
DISCLAIMERS:
*Customer's ability to monetize rebates, incentives and tax credits depends on several factors, including, without limitation, continued state subsidization of these policies, the applicable Sunrun product type and whether a customer purchases or leases a home solar system from Sunrun.
**We recommend contacting a tax professional to most accurately determine the impact of the solar Investment Tax Credit (ITC) on your federal taxes.