Illinois Solar Incentives
Take Advantage of Illinois's Booming Solar Industry with Sunrun
FEJA
The Future Energy Jobs Act (FEJA) boosts Illinois's renewable energy growth and creates thousands of clean energy jobs.1
-11%
Illinois's solar price drop over the last five years.2
28%
Illinois's decrease in greenhouse gas (GHG) emissions below 2005 levels by 2025.3
With the introduction of the FEJA1 and the plummeting costs of rooftop panels and home batteries,2,4 now could be an ideal time to team up with an Illinois solar company like Sunrun.
What's more, Illinois offers several incentives that could help you go solar for less. If you decide to create and store your own Illinois solar energy, you can boost your control over electricity bills, protect your home during outages, and reduce your carbon emissions for decades. As the leading residential solar and energy storage company in the nation,5 we'll work hard to ensure you get the most out of Illinois' solar power potential.
Incentives, Tax Credits, and Solar Rebates in Illinois*
Incentive

Value

Inflation Reduction Act (IRA)**

Qualified homeowners with home solar could be eligible for a tax credit of up to 30% against the cost of the system.

Solar Renewable Energy Credits (SRECs)

Compensation per kilowatt-hour (kWh) produced by the home solar system.7 (Varies by market value)

Illinois Solar for All (ILSFA) Low-Income Community Solar Programs

Eligible low-income homeowners can get access to solar panels in Illinois with $0 up-front costs.8

Find out If You Qualify for Illinois Solar Incentives
Learn the Details of Illinois Solar Incentives
Illinois's Adjustable Block Program (ABP) could let you earn Solar Renewable Energy Credits (SRECs) for every kWh your home solar energy system generates.7
The ABP offers a set price for the purchase of each SREC through 15-year contracts from qualifying home solar projects.7
These programs serve low-income households and communities across the state by funding new Illinois solar installations. All Illinois Solar for All approved vendors are required to offer participants access to solar energy with no up-front costs, whether systems are purchased or leased.8
ILSFA also has a community solar program, where participants can buy or lease a share of the community solar system. Participants are credited on their monthly utility bill for the energy produced by their purchased or leased shares of the community solar system.10
To be eligible for ILSFA's programs, the household's total income must be 80% of the Area Median Income (AMI) or less based on its most recent tax return.8 Visit ILSFA's site to see the income-qualification chart.
The Time for Home Solar in Illinois Is Now
On top of these solar tax credits, incentives, and rebates, Sunrun's home solar and battery plans in Illinois start at $0 down. Ameren Illinois, Commonwealth Edison Company (ComEd), and MidAmerican Energy Company offer net energy metering (NEM) programs that could let you earn credits on your bill for the excess solar energy you produce and send to the grid.11,12,13 Net metering in Illinois could help you save money on future electric bills.
To check if our solar and storage products and services are available in your area, use our Product Selector or request a quote to get one-on-one service from our expert Solar Advisors. Sunrun solar and storage quotes are always free.
Solar made better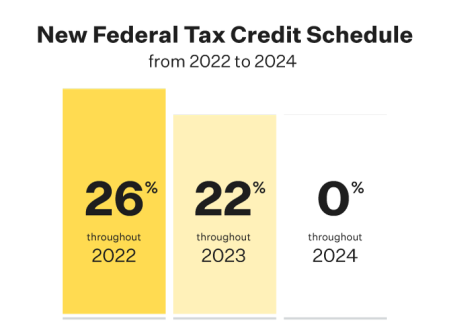 Learn about the federal tax credit
Find your ideal system and battery
Get your cost to go solar today
---
*Customer's ability to monetize rebates, incentives and tax credits depends on several factors, including, without limitation, continued state subsidization of these policies, the applicable Sunrun product type and whether a customer purchases or leases a home solar system from Sunrun.
**We recommend contacting a tax professional to most accurately determine the impact tax credits may have on your federal taxes.
SOURCES: