Massachusetts Homeowners Save More on Their Electric Bills with Sunrun
While you love its iconic fall weather, rich history, and proximity to intellectual and cultural hubs, living in Massachusetts also means dealing with some of the highest electricity rates in the country1—not to mention power that seems to break down at every chance the weather can get.2
But the state is voting towards making big steps towards energy independence3 and we're here to lend a hand. And now with the debut of Sunrun Brightbox™, our premium solar battery service, you can lock in long-term savings and clean energy, whatever the weather.
Massachusetts Solar Incentives, Rebates, & Tax Credits
Solar Savings Types
Value of Savings
Federal Solar Tax Credit (ITC)
30% of the total system cost
Residential Renewable Energy Income
25% Tax Credit (of total system cost) or up to $1,000
Massachusetts Solar Renewable Energy Credit (SREC)
Varies depending on market value
Learn More About Massachusetts Solar Incentives
**Customer's ability to monetize rebates, incentives and tax credits depends on several factors, including, without limitation, continued state subsidization of these policies, the applicable Sunrun product type, and whether a customer purchases or leases a solar system from Sunrun.
Brightbox is A Solar Battery Service for Your Home
When you choose Sunrun Brightbox, you can be left out of the thousands stranded in the dark after the storm.4 Brightbox is an integrated service that includes a home battery unit powered by solar panels.
Your Brightbox battery kicks in during a power outage, keeping your lights on while you stay safely inside and in control. The alternative? Noisy, expensive, and dirty generators that have to be kept outside to avoid carbon monoxide poisoning.5
With Sunrun's battery there are no harmful effects, no extra noise, and no gas or diesel required. LG's lithium-ion battery is charged by your solar panels, and powers on during an outage for up to 10 hours. And when the sun comes back out? Your panels start recharging again. So the next time the lights go out in the neighborhood? Not a problem in your Brilliant Home.
Affordable Solar Power for Little to $0 Down
Our flexible financial options are designed to offer long-term savings. Why pay for the panels when you can simply pay for the power for up to $0 down? When you make the switch to BrightSave Monthly™, we install your Massachusetts solar panels, handle maintenance, guarantee performance, monitor your system for twenty years. WIth solar, you could save up to 20% on your electricity bill each and every month!
Want to get the very best value SUnrun has to offer? Look into BrightSave Prepaid™. Your upfront, one-time payment will offset 90% or more of your energy bill when you lock in a low rate for up to 25 years.
Savings for Life - No Monthly Payments
If you want to purchase your solar system with cash, no sweat. You can own your system and keep all the savings and tax incentives for life with BrightBuy™. And Massachusetts has some of the best solar tax incentives for homeowners who want to own.6
Don't have the cash but you still want the tax credits? You can own with $0 down and still reap the benefits. Check into our BrightAdvantage™ solar option. Finance your system with low, fixed monthly payments.
Go Smart, Go Solar and Lock in a Low Rate
A rise in electricity rates doesn't have to mean darker days ahead.7 Lock in to a low rate and peace of mind by going solar today. No matter what financial option you choose, you are guaranteed to save by locking in at today's energy prices.
Contact us today and we'll handle everything from start to finish. From pesky paperwork on through to the installation—we cover all the nuts and bolts. And we stick around for years, making sure your system performs at its best.
Our customers love us
MA
"When we joined Sunrun, we expected help running our household appliances. We did not expect the most exciting part - using solar to power our plug-in car. As...

Al & Lelo A.

Millis, MA
Energy resources
Solar resources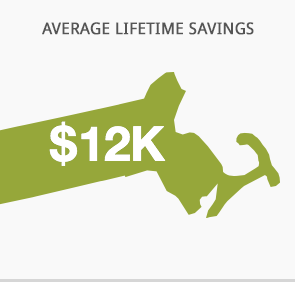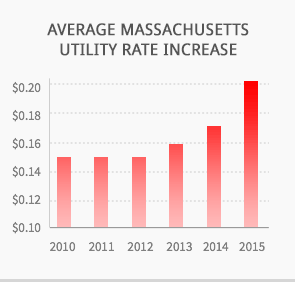 SOLAR SAVINGS ARE BIG
See if you qualify for solar