Massachusetts Solar Incentives
Solar Resources

Energy Resources
Experience the Benefits of Renewable Energy in Massachusetts
#8
Massachusetts is one of the top ten states in the U.S. for solar.1
-38%
Massachusetts solar panel price drop over the last five years.1
80%
The Massachusetts Global Warming Solutions Act's (GWSA) call for a cut in greenhouse gas (GHG) emissions below 1990 levels by 2050.2
Electricity rates in Massachusetts are more than 25% higher than the national average.3 But this isn't the only reason why Bay Staters are choosing to team up with solar companies in Massachusetts like Sunrun to create and store their own solar power at home. Massachusetts also offers some of the most attractive solar incentive programs in the country.
Sunrun is the leading residential solar and energy storage company in the U.S.4 You can gain energy independence and lower your carbon footprint while ensuring you can receive Massachusetts' full solar benefits.
Incentive Programs, Tax Credits, and Solar Rebates in Massachusetts*
| Incentive | Value |
| --- | --- |
| Federal Solar Investment Tax Credit (ITC)** | The 26% federal solar tax credit is available for purchased home solar systems installed by December 31, 2020.5 |
| Residential Renewable Energy Income Tax Credit | The 15% state solar tax credit is available for purchased home solar systems in Massachusetts. (Max. $1,000 state tax reduction.)6 |
| Solar Massachusetts Renewable Target (SMART) Program | Compensation per kilowatt-hour (kWh) produced by the system.7 |
| Solar Installation Property Tax Exemption | Property tax exemption on the added home value from a home solar system.8 |
| Home Solar Project Sales Tax Exemption | 6.25% home solar system state sales tax exemption.9,10 |
| Mass Solar Loan Program | Qualified low-income homeowners can get access to a low-interest loan to install home solar panels.11 |
Find Out If You Qualify for Massachusetts Solar Incentives
Learn the Details of Massachusetts Solar Incentives
Massachusetts Is a Remarkable Place to Create and Store Your Own Solar Energy
Aside from Massachusetts' remarkable solar tax incentives and rebate programs, our home solar panel and battery storage plans start at $0 down. Plus, if you're a customer of Eversource, National Grid, Unitil, or any other utility company in Massachusetts, you can earn bill credits for the excess solar power you produce thanks to their net energy metering (NEM) programs.13 With net metering in Massachusetts, you'll have more control over electric bills to boost your energy savings.
Sunrun is one of the best solar installers in Massachusetts. If you're curious about creating and storing your own Massachusetts solar energy, you can start by requesting a free, personalized solar quote It won't cost you a dime to find out if our solar solutions are right for your energy needs.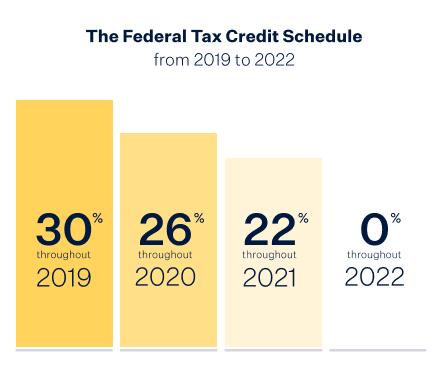 Installing solar is an investment for today, next year and the long term. If you're considering buying a home solar system, act today for a big tax incentive.
DISCLAIMERS:
*Customer's ability to monetize rebates, incentives and tax credits depends on several factors, including, without limitation, continued state subsidization of these policies, the applicable Sunrun product type and whether a customer purchases or leases a home solar system from Sunrun.
**We recommend contacting a tax professional to most accurately determine the impact of the solar Investment Tax Credit (ITC) on your federal taxes.