Find out how easy it is to go solar with Sunrun and save on your NJ electric bill.
Step into the spotlight with NJ solar. It's the home of Sinatra, Springsteen, Bon Jovi… heck, Thomas Edison invented the light bulb in Menlo Park! New Jersey has a unique culture unlike anywhere else. But the high energy costs are no picnic. New Jersey is more than meets the eye, and anyone who lives here knows that all too well — including you. That's why we'd like to make the deal of living in the Garden State even sweeter for you. With solar energy, you can break free from rising utility rates and enjoy a clear conscience to boot.
A lot of NJ homeowners are choosing solar. In fact, New Jersey ranks the 3rd in the country in installed solar capacity—that's enough solar energy to power 228,000 homes1! NJ even has a solar renewable energy certificate (SREC) program2 that allows homeowners to sell credits earned by their solar system. Why wait? Choose Sunrun today and lock in a low rate and big savings for the up to 25 years.
With home solar panels from Sunrun, you can say goodbye to costly and unpredictable New Jersey energy rates. Sunlight is clean, renewable, and efficient. And when you use your solar system to produce power for your home, you can lock in a low rate for the lifetime of your solar system. That's years of savings with clean, affordable energy. And with support from the capitol and local authorities, you won't be alone! So don't wait — join the growing solar community in New Jersey today and see just how good New Jersey solar can be.
New Jersey Solar Incentives, Rebates, & Tax Credits
Solar Savings Types
Value of Savings
Federal Solar Tax Credit (ITC)
30% of the total system cost
New Jersey Solar Renewable Energy Credits (SREC)
Varies depending on market value
Property Tax Exemption
Property Tax Exemption on Added Home Value from Solar System
Learn More About New Jersey Solar Incentives
**Customer's ability to monetize rebates, incentives and tax credits depends on several factors, including, without limitation, continued state subsidization of these policies, the applicable Sunrun product type, and whether a customer purchases or leases a solar system from Sunrun.
We're making going solar in New Jersey affordable
We like New Jersey because it's not afraid to be itself in the sun. That's why Sunrun set up shop here. With all the sun here, we know that we can do our best work. We're really committed to helping residents of this great state save money on their power bill — today, tomorrow, and in the future. And we have the experience and resources to do it. As the largest dedicated home solar company in the country, we've developed a personalized and simple process that allows you to enjoy the benefits of solar energy quickly and easily.
With just a simple phone call, you'll be well on your way to getting a customized solar design for your home. This design is implemented by one of our extensive network of local partners. By working with them, you can enjoy quick and professional solar installations from certified folks who live near you. They're verified by Sunrun, so you can trust that you're in good hands.
The Time to Go Solar is Now
And, with our daily monitoring of your solar system, you'll have a lot less to worry about in the long-run. That's because whether it's an equipment failure or a simple checkup, Sunrun will be on it faster than you can say "solar savings"! The best part is, all of our services are provided under flexible financing, including solar leases and PPA agreements, allowing you to benefit from solar on your own terms and within your budget.
So what're you waiting for? Check out our service areas and see if we can help you make the switch in New Jersey. Get a free solar quote today.
Our customers love us
NJ
"We have as many energy efficient lightbulbs as we possibly can, and still our electric bill is pretty high. Sunrun is a great option for a young couple...

Michael M and Kristin C.

West Orange, NJ
Energy resources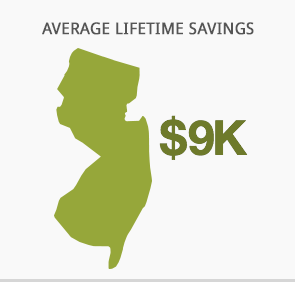 SOLAR SAVINGS ARE BIG
See if you qualify for solar