Peace of Mind for Years to Come with Sunrun Solar & Home Battery
New Jersey has been hit with major blackouts these past years. In 2018 alone, tens of thousands of NJ residents were left without power for days, and many still feel the impacts of these catastrophic power outages as you're reading this.1
But there's a silver lining because NJ is one of the best states to go solar in the U.S.2 And since the cost of home solar installations across the nation has reached an all-time low.3 The time to start planning for a more reliable and affordable energy future is now.
New Jersey Solar Incentives, Rebates, & Tax Credits
Solar Savings Types
Value of Savings
Federal Solar Tax Credit (ITC)
30% of the total system cost
New Jersey Solar Renewable Energy Credits (SREC)
Varies depending on market value
Property Tax Exemption
Property Tax Exemption on Added Home Value from Solar System
Learn More About New Jersey Solar Incentives
**Customer's ability to monetize rebates, incentives and tax credits depends on several factors, including, without limitation, continued state subsidization of these policies, the applicable Sunrun product type, and whether a customer purchases or leases a solar system from Sunrun.
Brightbox™ Home Battery: Clean, Reliable Backup Power When Outages Strike
Blackouts can happen at any time. Some are short, but others can go on for hours or days and may cause significant health and safety risks for millions of New Jerseyans.10 And while it's impossible to know when the power will go down, now you can be better prepared for future outages with a New Jersey solar battery storage service like Brightbox.
Brightbox is a clean, affordable and reliable energy solution that lets you store the excess energy you create to keep your devices and appliances running on solar during stormy days, or at night — for up to 10 hours.*
Brightbox includes professional maintenance and monitoring for 25 years, as well. Two actions to help prolong your battery's life. And because with us Sunrunners you have the choice to lease or purchase solar panels and a New Jersey home battery for as little as $0 down, it's easy to understand why, with Brightbox, energy freedom is at hand.
Start Your Solar Journey in The Garden State for Little to $0 Down
Lease a brand-new set of New Jersey solar panels for as little as $0 down with our BrightSave™ Monthly plan, and enjoy the same dependable power as full ownership. But with the added perks of professional maintenance, monitoring, and predictable rates for 25 years. BrightSave Monthly is such an affordable solar plan; it's far too bright to ignore.
Prefer the worry-free benefits of a lease without monthly solar bills? Just make a simple, one-time upfront payment with our BrightSave™ Prepaid plan, and you'll lock in low electric rates for decades. While also forgetting about rising electric rates, hidden fees, and surprise hikes on your electric bill. BrightSave Prepaid also comes with the Sunrun Guarantee for your full peace of mind.
NJ Solar Owners Can Enjoy More Solar Benefits
If you're interested in purchasing a home solar system in New Jersey, at Sunrun, you can choose to pay for your system upfront with BrightBuy™ or, for $0 down and low, fixed monthly payments with BrightAdvantage™.
Both plans give you access to full solar benefits: Putting your name on the system, the savings, and the power for life — while helping you boost your home value.5 And as mentioned above, New Jersey solar owners are eligible for a 30% federal tax credit**, along with solid sales and property tax exemptions for 100% of your home solar installation's cost.6 Yes, NJ solar panel tax credits make home solar an even smarter investment.
Help Reach NJ's Clean Energy Goal by Joining The Solar Revolution Today
New Jersey has one of the most ambitious clean energy goals in the country. And the Garden State is already on track to having 35% of its energy come from renewable sources by 2020 and 50% by 2030.
Yet, choosing to create and store your own clean, renewable energy with a New Jersey solar company like Sunrun won't just help you lower your carbon emissions. Going solar in NJ could also save you thousands of dollars in electricity costs during the next 25 years.8
Request a free, personalized solar quote, today to see if Sunrun is right for your NJ home. This way, together, we can make a difference in the health and well-being of New Jersey's communities.
Our customers love us
NJ
"We have as many energy efficient lightbulbs as we possibly can, and still our electric bill is pretty high. Sunrun is a great option for a young couple...

Michael M and Kristin C.

West Orange, NJ
Energy resources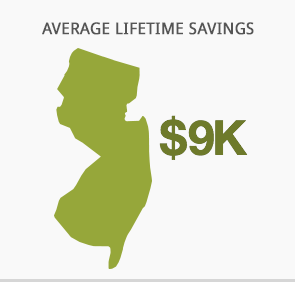 SOLAR SAVINGS ARE BIG
See if you qualify for solar