Solar Panels and a Home Battery in New York: A Smart Way to Gain Energy Freedom
With Sunrun, Affordable Solar Power and Outage Protection Are in Your Hands
1,528
Blackouts that have hit New York in the past decade.1
+48%
NY's residential electricity rates vs. other states.2
#9
New York is in the top ten states in the U.S. for solar.3
The Empire State's sunshine is strong for solar. New York solar panels and home batteries already create enough electricity to power almost 300,000 homes.1 Plus, the cost of solar panels keeps falling.4 Teaming up with a New York solar company like Sunrun is one of the smartest moves you can make to get outage protection, control your electricity bills and reduce your carbon footprint.
Why Sunrun?
As the nation's leading residential solar, storage and energy services company,5 we work so everyone can create and store their own solar power at home. Check out which of our solar plans is the best match for your budget and energy needs.
Brightbox™
More than 18 million New York residents were impacted by power outages in the last 10 years.
Extreme weather events continue to affect the East Coast. With Brightbox, you can prepare for the unexpected.
Our NY solar battery storage service can keep your devices and appliances running when the power goes out for up to 12 hours.*

Brightbox stores clean, safe and affordable power for later use.
It automatically turns on during an outage and will recharge every time the sun is out until the grid is restored.
When Brigthbox is installed, you can decide what rooms and appliances will stay on during an outage.
No fuel, no fumes, no noise, no hassle. Brightbox is a superior backup energy solution compared to loud and dirty generators.
Brightbox monthly plans include 24/7 proactive monitoring and maintenance to ensure your system is working smoothly.
Brightbox is more than just a solar battery; it's a comprehensive energy storage service that puts you in control.
Brightbox Home Solar Battery is a Better Choice Compared to These Typical Fuel Options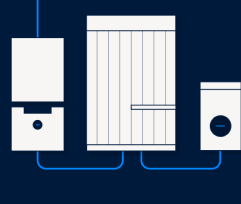 Home Solar Battery

and refueled by the sun
Provides backups automatically
No emissions
Quiet
Clean and renewable
10 or 25 year warranty
Reliability
Safety
Noise
Environment
Warranty
Generator
Requires gas
Emits hazardous gasses
Noisy
Dirty and polluting
3-5 year warranty
Give Your Roof the Power of the Sun for as Little as $0 Down
Each Sunrun solar plan has unique advantages, but regardless of whether you choose to lease or own your solar panels — with or without a home battery — we're here to ensure you can go solar in the most straightforward way. We'll even take care of the paperwork whenever possible.
Find the right solar product for your home
New York Solar Incentives, Rebates and Tax Credits
Incentive
Value
Federal Solar Investment Tax Credit**
26% federal solar tax credit is available for home solar systems installed by December 31, 2020
New York State Solar Energy
System Equipment Credit
25% of the final cost
of the home solar system.
(Up to $5,000)
NY-Sun Megawatt
(MW) Block Program
Eligible homeowners can receive
up to $1,000 for every kilowatt (kW)
of solar power installed.8
Solar Electric Generating
System Tax Abatement
(SEGS)
Property tax exemption
on the added home value
from the home solar system.9
Sales Tax Exemption
4% home solar system
state sales tax exemption.10
Learn More About New York Solar Incentives
†Customer's ability to monetize rebates, incentives, and tax credits depends on several factors, including, without limitation, continued state subsidization of these policies, the applicable Sunrun product type, and whether a customer purchases or leases a home solar system from Sunrun.
Help Us Build a More Resilient Energy System for All New Yorkers
100%
State electricity generation that will come from clean energy sources by 2040.11
85%
Cut in greenhouse gas (GHG) emissions by 2050.11
Installing solar panels and a home battery in NY won't just reduce your carbon emissions. With New York's Value of Distributed Energy Resources (VDER) program, you can earn bill credits for the excess solar energy you produce12 to boost control over your electric bills. In other states, this arrangement is known as net metering.
Want to learn more about the benefits of home solar? Start by requesting a free, personalized solar quote to see if Sunrun is a good match for you. Together, we can ensure New York's energy future is bright for everyone.
DISCLAIMERS:
* Hours reflect a full battery with a minimum 20% capacity held in reserve.
**We recommend contacting a tax professional to most accurately determine the impact of the solar Investment Tax Credit (ITC) on your federal taxes.
Sources:
New York Solar Financing OptionsNew York Solar IncentivesNew York Solar Battery Storage Incentives