New York Solar Incentives Make Going Solar Today A No-Brainer
As if locking in low rates and maximizing the value of your home weren't enough, New York solar incentives can really sweeten the deal. New York has found innovative ways to make solar tax credits and rebates available to homeowners who are looking for a sustainable way to save on their electric bills--and for a state that has some of the highest electricity rates in the country, that's a pretty big deal.These NY solar incentives won't last forever: that's why the time for going solar in New York is now.
But not to worry—we can help you understand and maximize on all the New York incentives to go solar that are available to you. We'll show you how to go solar in New York with the most money in your pocket.  
New York Solar Incentives, Rebates, & Tax Credits
| Solar Savings Types | Value of Savings |
| --- | --- |
| New York State Solar Energy System Equipment Credit | 25% of their system cost, or $5,000 (whichever is less). |
| Federal Solar Tax Credit (ITC) | 30% of the total system cost |
| New York State Solar Incentives | Rebate rates of $300-$350 per kW of total system size |
| New York City Property Tax Abatement | 20% of the total system cost (after rebate) |
**Customer's ability to monetize rebates, incentives and tax credits depends on several factors, including, without limitation, continued state subsidization of these policies, the applicable Sunrun product type, and whether a customer purchases or leases a solar system from Sunrun.
Federal Income Tax Credit
Solar system owners are eligible for the Federal Investment Tax Credit, or ITC, if you buy your own solar system outright. The tax credit amounts to 30% of the cost of purchasing your solar system, after deducting the value of your state rebates. However, ITC credits will begin stepping down from 30% at the end of 2019. The tax credit for systems in service after 12/31/19 will drop to 26%. After 12/31/20, it'll drop even further to 22%.1
New York State Solar Energy System Equipment Credit
New York offers a generous state tax credit for people who purchase solar systems. New Yorkers are eligible for a credit worth 25% of their system cost, or $5,000 (whichever is less). If you don't pay enough in taxes to claim the credit at once, the excess credit can be carried over to the next year.2
New York State Solar Incentives
New York also offers a New York State Energy Research and Development Authority (NYSERDA) rebate to homeowners who go solar in public utility territories, with current rebate rates of $350-$400 per kW.3 However, rebate rates are declining as state solar capacity goals are met, and a solar powered New York becomes a reality. Con Edison rates will soon drop by $100 per kW, while upstate rates will drop by $150 per kW. 4
New York City Property Tax Abatement
New York City homeowners who go solar can qualify for a property tax abatement equal to 20% of the total system cost (after rebate), applied against their property taxes over four years. However, tax abatement applications will only be accepted until December 31, 2018.5
Energy Resources
Solar resources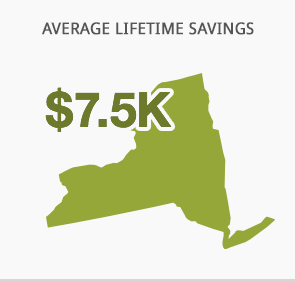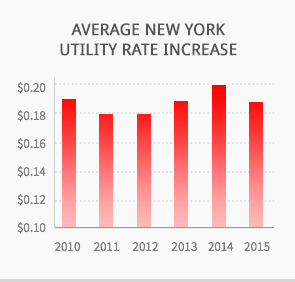 SOLAR SAVINGS ARE BIG
See if you qualify
Go solar in 3 easy steps