Protect Yourself Against Bill Spikes and Outages with Solar Panels and a Home Battery in Texas
With Sunrun, You Have the Freedom to Create and Store Your Own Clean Energy
As a Texan, you know how intense the sun is in your part of the country. In fact, the Solar Energy Industries Association (SEIA) shows Texas is one of the top 10 states to go solar. And Texas already has enough solar panels installed to power more than 350,000 homes.1
With an average of 235 sunny days per year2 and solar energy costs rapidly decreasing,3 installing Texas solar panels and a battery is now more affordable than ever. So by teaming up with a Texas solar company like Sunrun, you can get real outage protection, reduce your carbon emissions and take control of your electric bills for decades. The average monthly residential electric bill in Texas is almost 20% higher compared to other states.4
As the nation's largest residential solar, storage and energy services company,5 Sunrun has several solar plans to choose from, which have helped hundreds of thousands of families switch to solar in the smartest way possible based on their budget and unique energy needs.
Get More from Your Solar Production with TXU Energy's Renewable Buyback Plan
Sunrun has joined forces with TXU Energy to help you boost the value of the solar power you make in Texas. 
When you go solar with Sunrun, you can get paid for making clean energy when you enroll on a TXU Energy Renewable Buyback Plan. If your home solar system creates more energy than you need, you can earn bill credits with TXU Energy. And when you don't produce enough, like on cloudy days or at night, you'll pay a simple, flat rate for 100% renewable energy from the grid, made right here in Texas.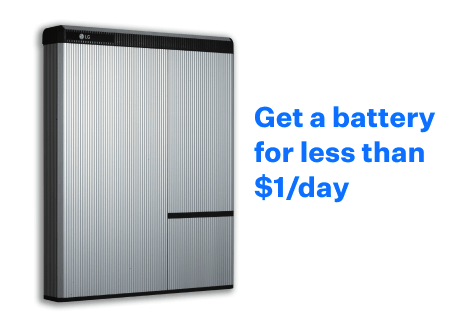 As little as 0% down, 100% peace of mind
Get safe, clean, and reliable solar energy
Take control of rising energy costs
Texas Solar Incentives, Rebates, & Tax Credits
| Solar Savings Types | Value of Savings |
| --- | --- |
| TXU Energy Renewable Buyback Plan | Get paid for excess solar |
| Federal Solar Tax Credit  | 26% of the final cost of the solar system 4 |
| Property Tax Exemption for Residential Solar Systems | Solar system property tax exemption9 |
| Solar Rebate Program | Must live in applicable service area, based on utility6  |
**Customer's ability to monetize rebates, incentives and tax credits depends on several factors, including, without limitation, continued state subsidization of these policies, the applicable Sunrun product type, and whether a customer purchases or leases a solar system from Sunrun.
Brightbox™ Home Battery: A Solution to Power Through Outages
During the past decade, almost 11.5 million households in Texas have been affected by power outages. Between 2008 and 2017, Texans have endured more than 1,600 power cuts.7 
Summer and winter high demand for electricity and unpredictable weather put the Lone Star State at risk of outages. Fortunately, now you can be prepared for any scenario at any time with a Texas home battery solution like Brightbox. 
Brightbox is available for lease or purchase in the Dallas and Houston areas for as little as $0 down. Our Texas solar battery storage service delivers clean and affordable solar power that regenerates daily. So you'll be able to continue using your devices and appliances when the next outage strikes, or at night, for approximately 8 to 12 hours.*
In addition, Brightbox comes with 24/7 proactive monitoring and maintenance for 25 years, two things that may prolong your battery's life.
Go Solar in The Lone Star State, Simply and Affordably
With BrightSave™ Monthly, our most popular solar plan, you can start creating your own power at home for as little as $0 down. When you lease Sunrun solar panels, you get the same dependable solar power as full ownership. But with the added benefits of low, predictable monthly rates along with professional monitoring, maintenance and insurance for 25 years. This is the Sunrun Guarantee.
Prefer the worry-free benefits of a lease without monthly solar payments? Check out BrightSave™ Prepaid. Just make a simple, one-time upfront payment, and you'll lock in lower electric rates than what you pay your electric company today. When you purchase your solar power upfront, BrightSave Prepaid offers the best value in solar, and it also includes our Sunrun Guarantee for 100% peace of mind.
Texas Home Solar Owners Enjoy More Benefits
Looking to own a home solar system in Texas? With Sunrun, you can pay for your system upfront with BrightBuy™ or, for $0 down and low, fixed monthly payments with BrightAdvantage™. Regardless of the solar plan you pick, both plans will put your name on the panels and the power for life while helping you build home equity.8
As a home solar owner, you're eligible for attractive Texas solar tax credits, such as a federal solar tax credit9** and a property tax exemption on the added home value from your system's cost.10 
Plus, several electric companies and local governments in cities such as Austin, El Paso and San Antonio offer solar rebate programs to purchase your system for less or get money back after installation.11 Visit your electric company's website for details and how to apply.
Switch to Solar Today and Help Shape The Texas of Tomorrow
The Texas Renewable Energy Industries Alliance (TREIA) is a network of individuals and organizations committed to modernizing the electric grid to achieve 50% renewable energy across the state by 2030.12 You can support TREIA's goal by installing home solar panels and a battery from a Texas solar company like Sunrun today. 
At Sunrun, we take  pride in helping families gain energy independence and get outage protection. If you're interested in creating and storing your own Texas solar energy, our team is here for you. See if Sunrun is right for your home by requesting a  free, personalized solar quote. Together, we can ensure Texas continues with its clean energy transformation.
Texas Solar FinancingTexas Solar Incentives