Get the Peace of Mind You Deserve with Solar and a Home Battery in Texas
Sunrun Can Keep Your Home Powered 24/7 in All Weather
+11 Mil.
Texans affected by power outages from 2008 to 2017.1
+19%
Texas's residential electricity bills vs. the national average.2
#2
Texas is one of the top three states in the U.S. for solar.3
Texas produces more power from oil and natural gas than any other state in the country,4 with Houston, Texas earning the nickname of "The Energy Capital of the World."5 Still, Winter Storm Uri just brought historic cold weather to the Lone Star State and revealed how fragile its power grid is. More than four million Texans were left in the dark due to this frigid, icy phenomenon alone.6
Snowstorm Uri's deep-freeze disaster also caused electricity prices to spike more than 10,000%.7 That's why now, more than ever, we need to work together to build a more resilient energy system that runs on clean, affordable, and renewable electricity made in Texas.
The Lone Star State basks in an average of 235 sunny days per year.8 What's more, the costs of rooftop solar panels and home batteries have plummeted,3,9 so it could be incredibly cost-effective if you decide to team up with a Texas solar company like Sunrun today.
As the nation's leading residential solar and energy storage company,10 we'll help you understand how solar can power your home during outages, how much it might save you, how your solar installation can reduce your impact on the environment, and even what the panels would look like on your roof. 
Find out in minutes which Sunrun solar plan, with or without energy storage in Texas, is the best fit for your budget and unique energy needs with our easy-to-use Product Selector. Plus, there are several solar incentives in Texas that could help you go solar for less.
How Would You Like to Start Your Solar Journey?
Each Sunrun solar plan offers unique advantages. Whether you choose a solar lease or purchase plan, with or without a Brightbox battery storage system, we'll work hard so that you can benefit from your Texas solar installation for decades to come. In fact, we're one of the best solar installers in Texas that you can team up with. When possible, we'll even take care of the paperwork for you.
Texas Solar Incentives, Rebates, and Tax Credits**
Incentive

Value

Federal Solar Investment Tax Credit (ITC)*

The 26% federal solar tax credit is available for purchased Texas solar panel installations that are installed by December 31, 2022.16

TXU Energy Renewable Buyback Plan

Bill credits for the excess solar power a home solar panel installation creates in Texas.17 (Must live in a service area)

Solar Energy System Property Tax Exemption

Property tax exemption on the added home value from installed solar panels in Texas.18

Local Utility Company Solar Rebates

Rebate to reduce solar's up-front cost or after the system's installation in Texas.19,20,21 (Varies by utility)
Solar + Brightbox™
Add Brightbox, Sunrun's battery storage service, to your solar installation in Texas. This can help keep your devices and appliances running during outages, cloudy days, rainy afternoons, or at night.
High demand for electricity in summer and winter, paired with unpredictable weather, has put Texas at a higher risk of blackouts—like the major impacts caused by back-to-back winter storms, Uri and Viola.11
To protect the whole grid from going down during snowstorms, The Electric Reliability Council of Texas (ERCOT) imposed rolling blackouts, which left millions of homes without electricity for days.12,13
Brightbox can help you back up your entire home with a Tesla Powerwall, or you can back up just the rooms you need with an LG Chem solar battery.***
When the sun is out, Brightbox can store clean and affordable back-up power for later use.
Brightbox is the Texas battery storage solution that puts you in control. It can turn on during an outage and will work to recharge until the grid's restored.
Unlike generators, Brightbox doesn't run on fossil fuels which produce carbon monoxide (CO) that's poisonous and dangerous for your health.14,15
Brightbox is fueled by the sun, so you can forget about the hassle of buying expensive gas and diesel. You can even monitor your Texas solar power production and storage daily with the online dashboard and mobile app.
All monthly plans include 24/7 proactive monitoring and maintenance to ensure your system runs smoothly. This perk sets Brightbox apart from other solar batteries in Texas.
Help Us Shape Texas's Energy Future, Starting Today
#1
Texas is the highest producer of carbon dioxide (CO₂) emissions in the nation.22
Sunrun takes pride in helping families like yours create and store their own clean energy in Texas. When you switch to solar, you can reduce your dependence on fossil fuels and protect your home during outages and rate spikes.
Ready to change the way you power your life? Try out our Product Selector or request a free quote to get one-on-one service from our expert Solar Advisors. Together we can build a cleaner and more resilient energy future for all Texans that starts today.
Solar made better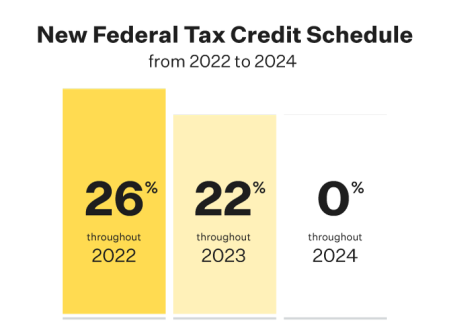 Understand how incentives work
Get your ideal system and battery
Find out your cost to go solar
SOURCES:
1. Eaton Blackout Tracker Annual Report
3. Solar Energy Industries Association (SEIA) — Texas solar state rank and solar price drop
4. NBC — U.S. oil and gas production could face weeks of delays due to cold
5. Texas Monthly — The Evolution of the Energy Capital of the World
6. The Washington Post — Texas, the go-it-alone state, is rattled by the failure to keep the lights on
7. A deep freeze sends Texas electricity prices soaring 10,000%
9. U.S. solar battery price drop
10. Sunrun ranked as leading residential solar-plus-storage vendor
11. Weather.com — Millions of Texans left without power due to winter storms
12. Tech Times — Texas Power Outage 2021 Update: Rolling Blackouts Leave Homes at -40°, People Stuck Using Car Heaters
13. The Texas Tribune — Texas was "seconds and minutes" away from catastrophic monthslong blackouts, officials say
14. Centers for Disease Control and Prevention (CDC) generator safety fact sheet
15. CNN — Texas carbon monoxide poisonings spike due to winter storms
16. Federal Solar Investment Tax Credit (ITC)
17. TXU Energy Renewable Buyback plan
18. Texas solar property tax exemption
19. Austin Energy Solar Photovoltaic (PV) Rebate Program
20. CPS Energy solar rebate incentive
21. Oncor customers solar incentives
22. U.S. Energy Information Administration (EIA) energy-related carbon dioxide emissions by state
*We recommend contacting a tax professional to accurately determine the impact of the solar Investment Tax Credit (ITC) on your federal taxes.
**Consumer's ability to monetize rebates, incentives, and tax credits depends on several factors, including, without limitation, continued state subsidization of these policies, the applicable Sunrun product type, and whether a consumer purchases or leases a home solar system from Sunrun.
***One Tesla Powerwall stores 13.5 kilowatt-hours (kWh) of usable electricity, which can be used to back up the home for a day. An LG Chem solar battery holds 9.8 kWh, which can be used to back up essential parts of the home from 8 to 12 hours. 
Texas Solar FinancingTexas Solar Incentives