Texas Solar Incentives
Bask in the Benefits of Solar and Storage in Texas
#4
Texas is one of the sunniest states in the U.S.1
-45%
Texas solar price drop over the last five years.2
#1
Texas is the highest producer of carbon dioxide (CO₂) emissions in the country.3
Residential electric bills in Texas are almost 20% higher than the national average.4 This is just one of the many reasons Texans team up with a solar company in Texas like Sunrun to create and store their own renewable energy at home. Texas also offers excellent solar incentive programs that could help you go solar for less.
Sunrun is the leading home solar and battery storage company in the U.S.5 We're here to ensure you can gain energy independence and security while getting the most out of the incentives, tax credits, and solar rebate programs Texas offers.
Tax Incentives, Tax Credits, and Rebates in Texas*
Incentive

Value

Federal Solar Investment Tax Credit (ITC)**

The 26% federal solar tax credit is available for a purchased Texas home solar system installed by December 31, 2022.6

TXU Energy Renewable Buyback Plan

Bill credits for the excess solar power a home solar panel installation creates.7 (Must live in a service area.)

Solar Energy System Property Tax Exemption

Property tax exemption on the added home value from the installed solar panels in Texas.8

Local Utility Company Solar Rebates

Rebate to reduce solar's up-front cost or after system's installation.9,10,11,12 (Varies by utility.)

Find out if You Qualify for Texas Solar Incentives
Learn the Details of Texas Solar Incentives
Texas's Solar Potential Is at Reach
Aside from these excellent state incentive programs, our home solar and energy storage plans in Texas start at $0 down. If you're interested in creating and storing your own solar energy in Texas, our team is here to answer all your solar questions. Rest easy knowing that we're one of the best solar installers in Texas. Discover if Sunrun is right for you and your family's energy needs. Use our Product Selector or request a free quote today to get one-on-one service from our expert Solar Advisors.
Go solar today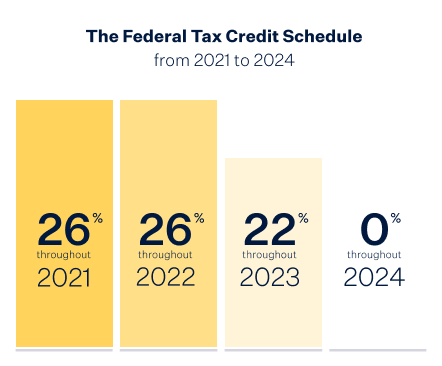 Learn about the federal tax credit
Find your ideal system and battery
Get your energy usage and solar cost
DISCLAIMERS:
*Consumer's ability to monetize rebates, incentives, and tax credits depends on several factors, including, without limitation, continued state subsidization of these policies, the applicable Sunrun product type, and whether a consumer purchases or leases a home solar system from Sunrun.
**We recommend contacting a tax professional to most accurately determine the impact of the solar Investment Tax Credit (ITC) on your federal taxes.