Economics of Solar Energy
Solar Panels Can Save You Thousands on Electricity Bills
Going solar can be a big a decison for some, and understanding the economics of solar is critical. To determine whether installing solar panels on your roof is a smart financial move for you and your family, start by considering these three essential solar economic factors:1
The electricity rates you currently pay to your utility
The cost related to the installation of your residential solar system
The available solar incentives in your state
Since studies have proven rooftop solar is now more accessible and affordable than ever,2 your electricity bill is the crucial factor in determining how much you can save by switching to solar energy; an amount that varies greatly depending on the state you live in.
And if you are fortunate to live in a state offering solar incentives, such as Net Energy Metering (NEM) programs;3 which allow you earn credits for the excess energy your solar system produces and later exchange them for an equal amount of energy — or in some cases for bill or cash credits — your projected solar savings might be even greater over the next 20 to 30 years.     
Average Electric Price Hikes by State 2008 -  2018
According to the Energy Information Administration (EIA), the average U.S. home consumes a monthly average of 897 kilowatt hours (kWh)4 and pays roughly 12.57 cents per kWh5 (March 2018), translating to approximately $113 per month.
It is no secret residential electricity prices in our country have been rising steadily over the past 10 years. With the exception of Texas and Delaware were prices have actually declined. In fact, the EIA predicts electricity generation from natural gas-fired power plants will increase from 32% in 2017 to 34% in both 2018 and 2019.6
Average Electricity Price increases by State
U.S State

% of Average Electricity Price Increase

(Cents per kWh) since 20087

Arizona
32%
California
46%
Colorado
25%
Connecticut
13%
Delaware
-5%
Florida
5%
Hawaii
7%
Illinois
22%
Maryland
1%
Massachusetts
34%
New Hampshire
34%
New Jersey
11%
Nevada
0.7%
New York
3.5%
Oregon
26%
Oregon
26%
Pennsylvania
30%
Rhode Island
20%
South Carolina
39%
Texas
-3%
Utah
33%
Vermont
22%
Washington, DC
10%
Wisconsin
30%
Going Solar Protects You From Rising Utility Costs
Residential solar systems protect you and your family against rising energy costs, hidden fees, and surprise hikes from your utility; while giving you access to clean, affordable, renewable energy. Plus, you will also reduce your carbon footprint.
In the U.S., almost 29% of carbon dioxide (CO2) emissions come from the electricity sector, and the majority are fossil-fuel based, like natural gas and coal. In comparison, most renewable energy sources, like solar, produce little to no CO2.8
There Are Several Ways to Go Solar — Some for Little to $0 Down  
Regardless if you choose to lease, prepay, purchase, or finance your new home solar system, at Sunrun  we make it our goal to help you go solar completely hassle-free. One of the main reasons we offer solar plans and residential energy storage products to match just about any budget. And if you choose a plan as BrightSave™ Monthly or BrightAdvantage™, you could switch to solar for no money down.
Save More with Home Solar Battery Storage Service
If your home is located where electricity prices are considerably higher vs. the rest of the nation and or experience from frequent power outages due to extreme weather; then adding a home solar battery storage service to your home solar system can grant you access to bigger savings and peace of mind.9 Always ave power when and where you need it most. 
Introducing, Sunrun Brightbox™. Brightbox is not just solar battery storage. It's a holistic service created to give you maximum control on your electricity bill and reliable backup power during blackouts, along with professional maintenance and monitoring that may extend the life of your battery unit.
Solar ROI: What Are the Returns of a Home Solar Investment?  
Leasing or prepaying for the power a solar system generates will undoubtedly transform into serious, long-term energy savings. However, when you purchase your own solar system, the positive economic impact of solar energy is experienced to a greater degree.
Today's solar systems are highly efficient and produce more power. Meaning, their payback periods have decreased significantly.10 In general, residential solar payback usually ranges between 5 to 10 years, depending on your property's unique location and sun exposure time frames.11
Average Solar Payback Period in Years by State
| U.S State | Avg. Solar Payback Period in Years |
| --- | --- |
| Arizona12 | 10 |
| California | 6.4 |
| Colorado | 9 |
| Connecticut | 7 |
| Delaware | 10 |
| Florida | 9 |
| Hawaii | 6 |
| Illinois13 | 13 |
| Maryland | 7 |
| Massachusetts | 5.6 |
| Nevada14 | 11 |
| New Hampshire | 6 |
| New Jersey | 5 |
| New Mexico | 10 |
| New York | 6 |
| Oregon | 7 |
| Pennsylvania15 | 12 |
| Rhode Island | 6 |
| South Carolina | 5.8 |
| Texas | 10 |
| Utah | 5.6 |
| Vermont | 10 |
| Washington, DC16 | 6 |
| Wisconsin17 | 12 |
Installing Solar Panels May Increase Your Property Value
It's difficult to talk about solar economics, and not bring up home value. According to the Lawrence Berkeley National Laboratory (LBL), homes with solar panels sell for $15,000 (outside of CA) to $20,000 (CA) more than those without them.18
There Are Additional Solar Benefits When You Go Solar
To encourage a larger number of homeowners to invest in solar energy, governments, electric utilities, and other organizations offer attractive financial incentives, rebates, and tax credits to make solar more affordable. Incentives include the federal solar tax credit,19 Net Energy Metering (NEM) programs, Solar Renewable Energy Credits (SRECs),20 residential property & sales tax exemptions,21 among others.
Take Advantage of the Economic Benefits of Solar Energy Today
Now that you are familiar with how the economics of solar works, find out how much you could save with Sunrun by requesting your free solar quote today. Our solar advisors are here to help you every step of the way.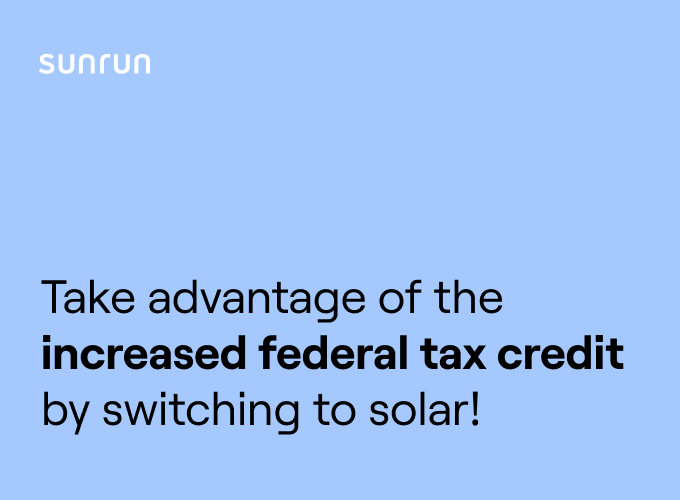 See if you qualify for the
26% federal tax credit