Purchase Solar Panels from Sunrun
Gain Energy Independence When You Buy Solar Panels
When you choose BrightBuy, you choose pure energy independence. With Brightbuy you can purchase an entire solar system up front. That means you own your system and your savings, on your terms. No monthly payments—just clean, renewable energy that puts you in control.
What's even better? When you buy solar panels for your home, we'll walk you through everything from creating a custom system design to approvals to installation so you can count on a solar system that's tailor-made just for you.
Why BrightBuy?
Solar that Puts You First
Solar isn't easy—we know. That's why Sunrun is here to guide you along the way. We'll tailor a solar system to fulfill the needs of your home and lifestyle. We'll even take care of any paperwork, permits, and handle all aspects of your battery and solar panel installation.
Comprehensive System Service
Sunrun offers best-in-class solar and batteries with the highest quality workmanship. When you buy batteries and solar panels for your home, you'll also enjoy industry-leading equipment and roof warranties.
Solar Incentives and Added Value, Directly to You
Purchase a solar system from Sunrun and you'll own your system and your savings for life. As a solar system owner, generous incentives like the 26% federal solar tax credit1 will go directly to you and offset some of the price of solar panels. Plus, you may be able to get additional local incentives like solar rebates, sales and property tax exemptions, and more. Studies also show that a wholly-owned solar system could add at least $15,000 on average to your home's value.2 With numbers like that, it's no wonder that a new solar project is being installed every 100 seconds.3
Find out if Purchasing a Solar System is right for you!
$1/mo. of solar for 6 months.
Limited time offer.†
Solar Battery
Keep the energy you produce, and use it when electricity rates are highest or during a power outage.
A Holistic Solar Battery Storage Service for Your Home

Brightbox offers you clean, safe, reliable backup power, optimizes your savings, and keeps your home running during power outages. Get it today!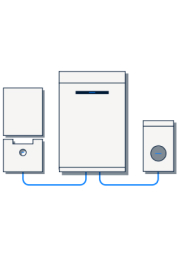 Solar Lease
Lock in low energy rates and enjoy 100% peace of mind with Sunrun's Lease or PPA Plans.
Our Most Popular Solar Energy Plan

Lock in low electricity rates with BrightSave Monthly while receiving free maintenance and monitoring. Lease it today!
Lock in Years of Power at Today's Prices

BrightSave Prepaid gives you the worry-free benefits of a lease and no monthly bills by making one simple upfront payment. Maximize your savings today!
Solar Purchase
Own your system and your savings for life, while avoiding rising energy costs.
Solar Ownership + Serious Long-Term Savings

BrightBuy lets you own the system, save more, and keep solar tax credits by making a one-time upfront payment. Become a solar owner today!
Solar Ownership + Instant Savings

BrightAdvantage offers you all the benefits of solar ownership for low, fixed monthly payments and competitive rates. Own a home solar system for $0 down today!
How to Buy Solar Panels
Want to learn more about buying solar panels near you? We'll walk you through every step of the way.
First, get started and fill out our free quote form. You'll hear back from one of our knowledgeable Solar Advisors, they will provide you with a complimentary energy consultation along with your free quote. We'll then design a solar system tailored to meet your unique energy needs and maximize energy production in your home.
After you receive your custom solar system design, you'll get to review your Sunrun proposal. You can also opt to add our comprehensive Sunrun Service Warranty to your equipment's existing hardware warranty. Here at Sunrun, we give you the power of choice.
Planning for a brighter tomorrow starts at home today. Whenever you're ready, our team of Solar Advisors is standing by to help you explore which options are right for you.
The Time for Solar is Now
Now's your chance to take control with a clean energy solution that puts you first. See why over a quarter million households across the country have gone solar with Sunrun and get your free quote today.
Frequently Asked Questions