Arizona Electric Company Resources
Learn How Sunrun Works with Electric Companies in Arizona
Sunrun solar lease and PPA plans are available to roughly 50% of Arizona's population, and solar purchase and finance plans are available throughout several areas in the state. See below for the full list of Arizona electric companies that Sunrun works with — or contact us to discuss your available options to generate your own clean, affordable, reliable energy in AZ every day.
Switching to Solar and Staying Connected
When you switch to solar with Sunrun in Arizona, you stay connected to the electric grid.1 This allows you to make the most of the electricity your solar panels generate by net metering your solar power. And if your home solar system produces more energy than you need, the excess is exported back to the electric grid, and you receive a credit for this energy — which you can use to offset your future electricity bills — and get more out of your home solar system.
Join Us to Create a Planet Run by the Sun
At Sunrun, we believe in combining the power of the sun with the power of people, because when communities go solar, the environment stays stronger and healthier for current and future generations.
Yet, our role in Arizona isn't just to help you control your electric bills, reduce your carbon footprint, and potentially save you thousands in energy costs.* We're also committed to providing you with information, guides, and advice in all things solar — so you can learn about your electric company's NEM bill, Time-of-Use (TOU) rates, sustainable initiatives; as well as any other things you want to know of as an Arizona solar consumer. This way, together, we can create a planet run by the sun.
Sunrun Electric Company Resources
Learn more about your local Arizona electric company, today.
---

Arizona Public Service Company is the largest and longest-serving electric company in Arizona. To date, APS delivers clean, safe, and reliable electricity to more than 2.7 million customers in 11 of the Arizona's 15 counties — with an energy mix that is already 50% carbon-free.
---

Tucson Electric Power is part of a family of companies owned by Fortis, Canada's largest investor-owned electric and gas utility holding company. In Arizona, TEP is expanding its use of clean energy resources, while serving more than 400,000 customers in the Tucson metropolitan area.
---

Salt River Project is one of the largest public electric companies in the U.S., and they're constantly working toward a more sustainable future for communities in the Phoenix metro area. To date, SRP delivers electricity and water to more than 2 million people living in central Arizona.
---
Generate Your Own Renewable Energy in Arizona and Enjoy More Peace of Mind
Arizona is one of the best states to go solar in the U.S. thanks to a combination of plenty of sunshine, the nation's leading solar property tax exemption, and solid net metering programs.2
Plus, with us Sunrunners, you have several solar plans and solar battery options to choose from. And, with our BrightSave™ Monthly and BrightAdvantage™ plans, you could switch to solar as little as $0 down.
From owning your home solar system to buying your solar energy, at Sunrun, we're here to help you start your solar journey in The Grand Canyon State on the right foot.
Your home, your solar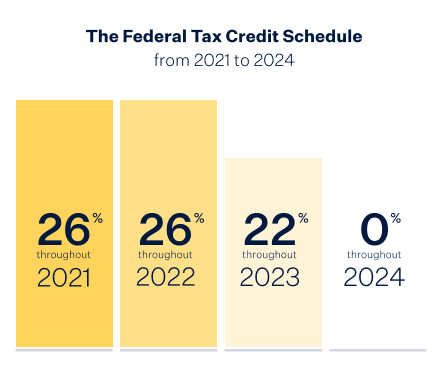 Learn about the 26% federal tax credit
Find your system size and battery
Get your energy usage and solar cost