Arizona Public Service Company (APS)
APS Bill Too High? Sunrun Can Help Put Your Mind at Ease
Learn How To Take Control & Lower Your APS Bill with Solar Panels & a Home Battery
It's no secret energy bills in Arizona have been rising over the last years. Since the most-recent electricity rate increase, some APS customers are seeing monthly electric bills 3 times higher than what they were expecting.1
Thankfully, solar system prices in the U.S. continue to fall2, and going solar today is one of the smartest moves you can make to put a stop to surprise hikes on your future APS bills — and potentially save thousands of dollars during the next couple of decades*3 — while also reducing your carbon footprint.
With a solar plan from Sunrun, you'll have better control of your home energy usage and the price you pay for it. Plus, if you add a home solar battery, your home will be prepared for power outages in case the electric grid fails.
Before diving into the details of how solar puts you in control of your energy, let's take a couple of minutes to get to know APS a little better, as well as the actions they're taking to keep your community cleaner, healthier and safer.
Who Is APS and How Many Customers Do They Have?
Arizona Public Service Company is Arizona's largest and longest-serving electric company. To date, APS delivers clean, safe, and reliable energy to more than 2.7 million customers in 11 of Arizona's 15 counties; and by 2030, APS is expecting to add 700,000 new customers.4
Not an APS Customer? Find your Arizona electric company here.
6 Simple Ways APS Customers Can Cut Back on Their Energy Costs5
Turn your home's thermostat down a few degrees. An ideal money-saving temperature is around 78 degrees when you're in, and 85 degrees when you're out.
Use portable or ceiling fans instead of your central air conditioner whenever you can
Cover your water heater with a special blanket or an insulating kit
Install occupancy sensors which automatically turn lights off in rooms that aren't regularly in use. Occupancy sensors don't cost much, and they could help you reduce your lighting costs by up to 40%.
Consider replacing your light bulbs with LEDs, they provide greater energy efficiency and save you money.
Seal gaps around your doors and windows. A DIY home energy checkup can help you pinpoint some of the easier areas to address before reaching out to a professional. Check out this simple guide for a DIY home energy audit.
There are many ways to save on your electricity bill, yet, none of these saving tips come close to the energy savings and environmental benefits you and your family will experience by installing a home solar system.
How Many Benefits Do You Really Get From Solar Energy?6
At Sunrun, we strive to make solar affordable to more Arizonans day after day, because we believe having access to clean, reliable energy improves people's lives in numerous ways. Here are 10 of them:
Solar could save you thousands of dollars on your future billing cycles.*
Solar protects you against rising energy rates for years to come.
Solar reduces carbon emissions, which fuel extreme weather events.
Solar is a free and renewable energy resource, unlike fossil-based fuels like coal and natural gas.
Home solar systems work year-round — yes, even on cloudy days!
You can store solar energy for later use with a solar battery service like Brightbox™, to keep your devices and appliances running at night or in the event of an outage for approximately 8 to 12 hours.** You'll also forget about being tied to Time-of-Use rates and having to shift your energy use to off-peak hours to save money.
Buying solar panels in Arizona may increase your home value by 3% or more.7
Home solar systems are designed to last 30 years or longer.8
Solar creates thousands of good American jobs.9
As an Arizona solar consumer, you'll be eligible for some excellent state and federal incentives. Like the nation's leading solar property tax exemption and net metering program, as well as a fantastic 30% solar tax credit if you choose to buy your home solar system.10
Understanding Net Energy Metering and Your APS Bill
With a bi-directional meter, also known as a billable meter, APS will measure the difference between the number of kilowatt-hours your solar panels generate and the amount of electricity you consume from the grid. This difference is called Net Energy Metering or NEM, which APS uses to calculate your solar bill.
And when your solar panels generate more energy than you need, the excess power will go back to APS' electric grid, and depending on the solar rate you're in, you'll receive an energy credit for your next APS bill, or you could even choose to get paid by check.11Learn how to read your APS NEM bill.
Have You Heard About APS' Environmental Commitments?
APS has a crystal-clear vision of the role clean energy plays in meeting the needs of Arizona's communities and the environment now and in the future.
Here are 4 things APS is doing to ensure Arizona stays healthy:
Reducing Arizona's carbon emissions. To date, APS serves customers with an energy mix that's already 50% free of carbon emissions.12
Replacing their fleet of vehicles for electric vehicles to reduce carbon emissions in the state13, and they're also boosting the accessibility of electric vehicles to Arizona residents through their Energy Efficiency program and a special partnership with Nissan.14
Successfully implementing a wildlife protection program to minimize the dangers of active power lines to air and land animals in Arizona.15
Pruning, removing and replacing trees to avoid potential safety hazards without impacting the benefits trees bring to Arizona's urban environment.16
The Time To Go Solar is Now
Sunrun is the nation's largest residential solar and battery storage company providing clean, reliable electricity to households with little to no upfront cost. We're here for you every step of the way from design and installation to maintenance. Plus, you receive predictable pricing and energy security for 25 years or more.  If you would like to go solar, and protect yourself from rising electricity rates and potential long term outages in your area, contact Sunrun today. Get a free quote, see if you qualify. 
Go solar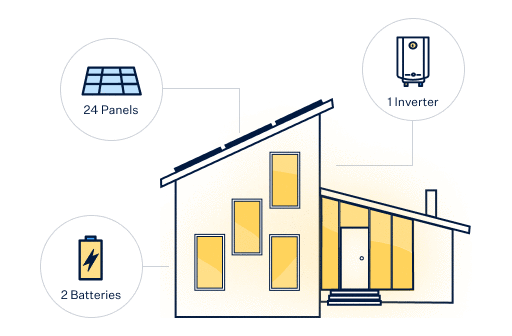 Take control over rising energy costs
Get your system size and battery details
Learn about the incentives in your state