Tucson Electric Power (TEP)
TEP Bill Too High? Gain Energy Independence with Sunrun in Arizona
Learn How to Lower Your TEP Bill & Take Control of Your Electric Bills with Solar Panels & a Home Battery
Any type of electric bill increase, regardless of how small, means you'll end up paying more for your home energy compared to previous billing cycles.1
Fortunately, home solar system prices have reached an all-time low in the U.S.2, and switching to solar, today is one of the smartest ways to control your electric bill — and potentially increase your energy savings by the thousands3* — while efficiently reducing your home carbon emissions.
Plus, with a home solar battery plan from a company like Sunrun, you'll be prepared against electric grid failures. But before we go through the benefits of solar, let's discuss who TPS is, as well as the things they're doing to keep communities in Tucson, Arizona cleaner, healthier and safer.
Who Is TEP and How Many Customers Do They Have?
Tucson Electric Power and its sister company, UniSource Energy Services, are part of a family of companies owned by Fortis, Canada's largest investor-owned electric and gas company. In Arizona, TEP serves the Tucson metro area — and to date, they deliver safe, reliable energy to more than 400,000 customers.4
Not a TEP customer? Find your AZ electric company.
5 Simple Ways TEP Customers Can Save Energy at Home5


If you're looking to increase your air conditioner's energy efficiency, the U.S. Department of Energy (DOE) recommends setting your thermostat to 78 degrees (or higher) in the summer, and to 68 degrees (or lower) during winter. Or better yet, upgrade to a smart thermostat so it can adjust your cooling and heating patterns automatically depending on if you're home or not.
Use ceiling and floor fans to move the cool air inside your home during summer and to pull the warm air down during winter. This way, your home will stay comfortable year-round while helping you save money on your energy bills. Just remember that fans should rotate counter-clockwise in the warm months and clockwise in the cold months to do the trick — so make sure your fans' switches are in the right position according to the season.
Weatherstrip your doors and windows to prevent drafts and air leaks. If you suspect your home is losing energy, a DIY home energy checkup may help you pinpoint some of the easier areas to address before reaching out to a professional. Check out this simple guide for a DIY home energy audit.
Replace your light bulbs with LEDs. LEDs last up to 10 times longer than regular bulbs, and although they're a little more expensive, LEDs pay for themselves by saving you energy over their lifetime.
Plant shade trees around your home to reduce solar heat gain during summer and to create a wind-break during winter.
For additional tips, download DOE's "Energy Saver Guide."
While all these energy-saving tips are smart and relatively low-cost ways to save on your electricity bill, studies show, installing a home solar system will give you more financial and environmental advantages now and in the years to come.
How Solar Benefits You, Your Community, and the Environment6
At Sunrun, we work hard to make solar affordable to more Arizonans day after day, because we believe having access to clean, renewable energy improves people's lives in many ways. Here are 10 data-backed reasons why the time to go solar is now:
Solar could save you thousands of dollars on your future utility bills.*
Solar protects you against rising electricity rates for decades.
Solar reduces carbon emissions, a major contributing factor to extreme weather events.
Solar is a free and renewable energy resource, unlike coal and natural gas which are fossil-based.
Home solar systems work year-round — yes, even on cloudy days!
Solar energy can be stored for later use with a home solar battery service like Brightbox™, to keep your devices and appliances running at night, or in the event of an outage, for approximately 8 to 12 hours.** Besides, with Brightbox, you'll forget about being tied to Arizona's Time-of-Use rate schedules to use your power-hungry during off-peak times if you want to save money on your electric bills.
Purchasing a home solar power system in Arizona might boost your property's value up to 4%.7
Home solar systems are designed to last 30 years or longer.8
Solar creates thousands of good American jobs.9
As an Arizona solar customer, you'll be eligible for some attractive state and federal incentives. These incentives inlcude the country's leading solar property tax exemption and a money-saving net metering program, along with a 30% federal tax credit if you choose to buy your solar panels.10
And, if during a billing month your solar production is higher than the electricity used by your home, the excess energy will be exported back to the grid and TEP will give you a credit for your next billing period.11Learn how to read your TEP NEM bill.
How TEP Is Making a Difference in Tucson Communities and the Environment
TEP's commitment to the communities they serve goes beyond providing safe, reliable energy; that's why TEP remain focused on improving and preserving the local environment to ensure current and future generations of southern Arizonans can enjoy a cleaner, healthier and safer future.12


For more than 15 years, TEP has been working with wildlife biologists at the University of Arizona (UA) to identify, evaluate and resolve the parts of their electrical system that need protection to reduce the danger of electrical wires to animals and birds in the area.13 If you see any raptor nests, or injured or dead animals, please report them by messaging TEP Customer Care or by calling them at 520-623-7711.
TEP regularly and carefully prunes trees and other plants in the Tucson metro area to avoid potential safety hazards, but without impacting the benefits trees bring to Arizona's urban environment.14 For vegetation management questions or concerns, contact TEP at 520-623-7711.
TEP is boosting the accessibility of electric vehicles to southern Arizona residents by offering lower-cost EV-charging rates through their TOU and Demand TOU pricing plans.15
TEP is offering rebates and discounts to customers who purchase ENERGY STAR® electronics and other energy-saving appliances and services, like smart thermostats, pool pumps, duct sealing, and AC tune-ups. View the list of available rebates and discounts for TEP customers. 
The Time To Go Solar is Now
Sunrun is the nation's largest residential solar and battery storage company providing clean, reliable electricity to households with little to no upfront cost. We're here for you every step of the way from design and installation to maintenance. Plus, you receive predictable pricing and energy security for 25 years or more.  If you would like to go solar, and protect yourself from rising electricity rates and potential long term outages in your area, contact Sunrun today. Get a free quote, see if you qualify.
Go solar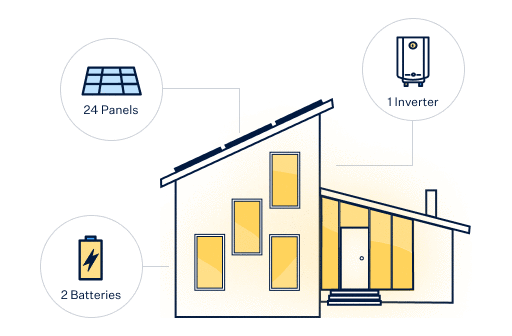 Take control over rising energy costs
Get your system size and battery details
Learn about the incentives in your state