California Electric Company Resources
Learn About Sunrun's Relationship with Your Electric Company in California
We work with several electric companies in California to bring you clean, reliable energy day after day. And we offer both solar purchase and PPA/lease options to most major California electric companies, including PG&E, SCE, SDG&E and LADWP. If you get your electricity from a different electric company than the ones below, we may offer a purchase option only. Please contact us if you want to discuss your available solar options.
Going Solar and Staying Connected
When you go solar with Sunrun in California, you stay connected to the electric grid.1 This allows you to make the most of the electricity your solar panels produce by net metering your solar power. And if your home solar system generates more energy than you need, the excess goes back to the grid, and you can receive a credit to reduce your future electric bills.
We're Here to Guide You to Solar Success
At Sunrun, we believe empowering people means empowering a cleaner, safer, and more resilient future for everyone. But our role in California isn't just to help you control your electric bill, combat extreme weather, and potentially save you thousands of dollars in energy costs.*
We're also committed to providing you with information, guides, and advice in all things solar to help you understand your electric company's NEM bill, Time-of-Use (TOU) rates, sustainable initiatives; as well as any other topics you want to know of as a California solar consumer — so together, we can change the way we power our lives.
---

Los Angeles Department of Water and Power is the largest municipal electric company in the U.S. and a leader in renewable energy acquisition and distribution. To date, they deliver safe and reliable water and electricity to more than 4 million people in Los Angeles and surrounding areas.
---

Pacific Gas and Electric Company is one of the largest power and natural gas distributors in the country, and they've been internationally recognized for their forward position on climate change. To date, PG&E serves more than 16 million residents in Northern and Central California.
---

Southern California Edison is one of the nation's largest electric companies and a leader in energy conservation and producing power from renewable sources like solar. To date, SCE supplies electricity to more than 15 million people across Central, Coastal, and Southern California.
---

San Diego Gas & Electric is a regulated public electric company that is leading the way in renewable energy. To date, SDG&E provides energy services to 3.6 million residents through 1.4 million electric meters and almost 900,000 natural gas meters in San Diego and southern Orange counties.
---

Sacramento Municipal Utility District is one of the nation's fastest-growing, community-owned electric companies — recognized for their innovative energy-efficiency programs and renewable technologies. To date, SMUD delivers energy to most of Sacramento County and a part of Placer County.
---
Create Your Own Power in CA and Prepare for the Future, Today
Great news! California is one of the best U.S. states to install a home solar system, thanks to a combination of good sun exposure, excellent solar tax credits, and a strong net metering law to receive bill credits for the excess energy your panels produce.2
So if you want to take control of your electric bill, reduce your carbon emissions, and get more peace of mind, at Sunrun, we're ready to talk about solar when you are. Besides, with our BrightSave™ Monthly and BrightAdvantage™ plans, you could start your solar journey in California for as little as $0 down.
Go solar in California!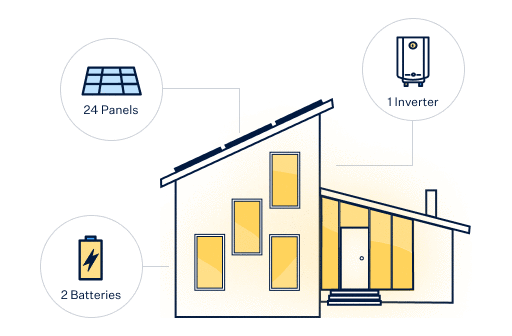 Get your system size and battery details
Find your solar cost and incentives available
Learn more about how net metering works