Los Angeles Department of Water & Power
LADWP Bill Too High? Take Control & Beat Outages with Solar Panels & a Home Battery
Los Angeles households pay around 23% more for their electricity compared to the national average.1 Thankfully, home solar system prices in America have been dropping faster than experts predicted2, and with a solar battery system from a company like Sunrun, you can now forget about rising electricity rates and power outages for years to come.
Before diving into the details of how solar boosts your home energy efficiency and potentially saves you thousands of dollars on your electric bills throughout the next 25 years3*, let's talk a little about LADWP, as well as the actions they're taking to keep your community and the environment cleaner, healthier and safer.
Who Is LADWP and How Many Customers Do They Have?
Los Angeles Department of Water and Power is the country's largest municipal water and power company. LADWP was founded more than 100 years ago, and to date, they provide water and electricity services to more than 4 million residents and businesses in Los Angeles.4
Home Energy Saving Tips for LADWP Customers5
Install a programmable thermostat, or better yet -- a smart thermostat -- and set the temperature to 78 degrees during summer, to 68 degrees during winter, and turn it off when you're not home to increase your energy savings.
Clean or replace your air conditioner's filters as needed; and if you believe your home is losing cold or hot air, a DIY home energy checkup could help you pinpoint some of the easier areas to address before contacting a professional. Check out this simple guide for a DIY home energy audit.
Turn off your lights when not in use, and replace your regular light bulbs and compact fluorescent light bulbs with LEDs. LEDs consume very little electricity and have an extremely long life.
When possible, ventilate your home in late summer evenings by opening your windows and doors to clear out the heat and allow cooler air to circulate.
Plug your non-basic electronics into power strips and turn the strip off when you're not using them If you have a pool at home, use a timer to run your pool pump for a maximum of 5 hours per day during summer, and a maximum of 3 hours per day during winter.
Consider purchasing energy-efficient devices and appliances, and recycle your old units. Always look for the ENERGY STAR(R) symbol to ensure they meet federal standards for energy efficiency.
Top 10 Benefits of Solar Energy6
At Sunrun, we strive to make solar power affordable to more Angelenos every day, because we believe having access to clean, reliable energy improves quality of life in more ways than one.
Solar could save you thousands of dollars on your future electric bills*
Solar protects you against rising energy costs for years to come
Solar reduces carbon emissions, a major contributing factor to extreme weather events.
Solar is a free and renewable energy resource, unlike fossil-based fuels such as coal and natural gas.
Home solar systems work year-round -- yes, even on cloudy days!
You can store solar energy for later use with a solar battery service like Brightbox to keep using your devices and appliances at night, or in the event of an outage, for approximately 8 to 12 hours.** Plus, you'll forget about being tied to Time-of-Use (TOU) rate schedules to save money when using power-hungry appliances.
Buying solar panels in Los Angeles could boost your home value up to 4%7
Home solar systems are designed to last 30 years or longer8
Solar creates thousands of good American jobs9
California offers many attractive incentives to switch to solar, like Net Energy Metering credits for the excess energy your home solar system produces, as well as the nation's second-best solar property tax exemption.10
Net Energy Metering and Your LADWP Monthly Bill
Using a solar meter, LADWP will measure the difference between the number of kilowatt-hours your solar panels generate and the amount of electricity you consume from the grid. This difference is called Net Energy Metering or NEM, and LADWP uses it to calculate your solar bill.
When your panels generate more energy than you need, the excess power will go back to LADWP's grid, and you'll receive a credit on your next billing cycle.11 Learn how to read your LADWP NEM bill.
Have You Heard About LADWP's Environmental Commitments?
As California's climate changes, natural disasters and extreme weather continue to challenge our preparedness; that's why LADWP is committed to environmental stewardship in all regions where they operate, own and maintain land to protect your community.
These are 5 initiatives LADWP is currently implementing to address extreme weather events:
Committing to California's clean-energy policies to reach the state's 100% clean energy goal by 204512
Promoting the use of untreated and treated greywater to maximize Los Angeles water resources while helping customers save money13
Launching Solar Rooftops, a Community Solar Program, for customers who don't own their home or can't install solar panels, and still receive their residential energy from clean and renewable sources.14
Expanding the support of electric vehicle transportation with the "Charge Up LA!" program by offering rebates of up to $500 for residential customers who purchase an EV charger.15Download LADWP's Residential EV Charger Application and Terms and Conditions.
LADWP is also offering rebates of up to $400 for residential customers who purchase ENERGY STAR(R) and energy-efficient appliances, air conditioning equipment, pool pumps, landscaping & irrigation equipment, toilets, and many others. See the list of available rebate programs for LADWP customers.
The Time To Go Solar is Now
Sunrun is the nation's largest residential solar and battery storage company providing clean, reliable electricity to households with little to no upfront cost. We're here for you every step of the way from design and installation to maintenance. Plus, you receive predictable pricing and energy security for 25 years or more.  If you would like to go solar, and protect yourself from rising electricity rates and potential long term outages in your area, contact Sunrun today. Get a free quote, see if you qualify. 
Go solar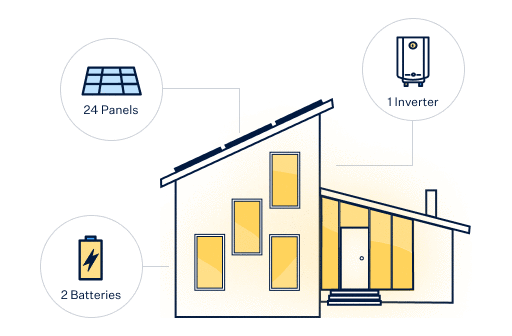 Take control over rising energy costs
Get your system size and battery details
Learn about the incentives in your state