How to Read Your LADWP NEM Bill
Questions About LADWP and Your Net Energy Metering Bill, Answered
Los Angeles Department of Water and Power is the largest municipal water and electric company in the U.S. To date, LADWP provides clean, safe and reliable water and electricity to more than 4 million residents and businesses in Los Angeles.1
How to Read Your LADWP Net Energy Meter Bill
We've created a quick and simple way to read your LADWP NEM Bill. See our PDF for more details.
Common Questions About Your LADWP Bill
1. How Do I Read My LADWP Bill Once My Solar Panels Start Producing Power?
LADWP will measure the difference between the number of kilowatt-hours your home solar system produces and the amount of energy you use from the grid. This difference is called Net Energy Metering or NEM, and LADWP uses it to calculate your solar bill.
Under NEM, when your panels generate more energy than you need, the excess goes back into the grid, and LADWP gives you a credit for your future electric bills.2 
Since solar energy only changes the electricity charges on your LADWP bill, some elements will stay the same, like your minimum use charge, taxes, and any special programs and subsidies. Watch LADWP's "Understanding Your Solar Bill" video. 
2. What Residential Rate Options Does LADWP Offer?
As a homeowner, you have two different rate options to choose from: the Standard Home Rate (R-1A) and the Time-of-Use Home Rate (R-1B).3
Here's a quick breakdown to help you understand the differences between LADWP's home rates.
Solar solutions that fit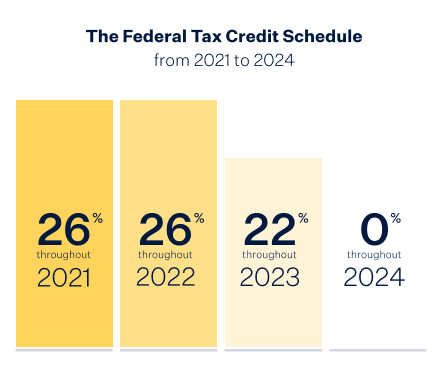 Learn about the 26% federal tax credit
Find your ideal system size and battery
Get your energy usage and solar cost
Standard Residential Rate (R-1A)
The R-1A is the standard rate for all LADWP residential customers, and it's based on the location of your home, the season of the year, and the amount of electricity you use in each tier.  
A1. Location
Download LADWP's residential service map
A2. Season
High Season (June - September)
Low Season (October - May)
A3. Tier*
| kWh | Tier 1 | Tier 2 | Tier 3 |
| --- | --- | --- | --- |
| Zone 1 | First 350 kWh | Next 700 kWh | Above 1,050 kWh |
| Zone 2 | First 500 kWh | Next 1,000 kWh | Above 1,500 kWh |
*The amounts of kWh in each tier are based on a 30-day billing cycle.
B. Time-of-Use Residential Rate (R-1B)
The R-1B Time-of-Use (TOU) rate is based on the time of day and the day of the week you use electricity, and it has three time periods: High Peak, Low Peak, and Base.4
Time Period
Days of the Week
High Peak

20 Hours Per Week
Monday to Friday

1:00 p.m. - 4:59 p.m.
Low Peak

30 Hours Per Week
Monday to Friday

10:00 a.m. - 12:59 p.m.

5:00 p.m. - 7:59 p.m.
Base

118 Hours Per Week
Monday to Friday

8:00 p.m. - 9:59 a.m.
If you can control your electricity habits, LADWP's TOU rate plan is a great option to help you reduce your home energy costs.
For example, by using your power-hungry appliances like your dishwasher or washing machine during base or low-peak periods (early mornings or at nights), you'll pay less for electricity with LADWP's Time-of-Use Home Rate (R-1B) than with their Standard Home Rate (R-1A). Check if LADWP's R-1B TOU rate is right for you.
See the below TOU chart for further explanation on high-peak rates.
TOU Visualized: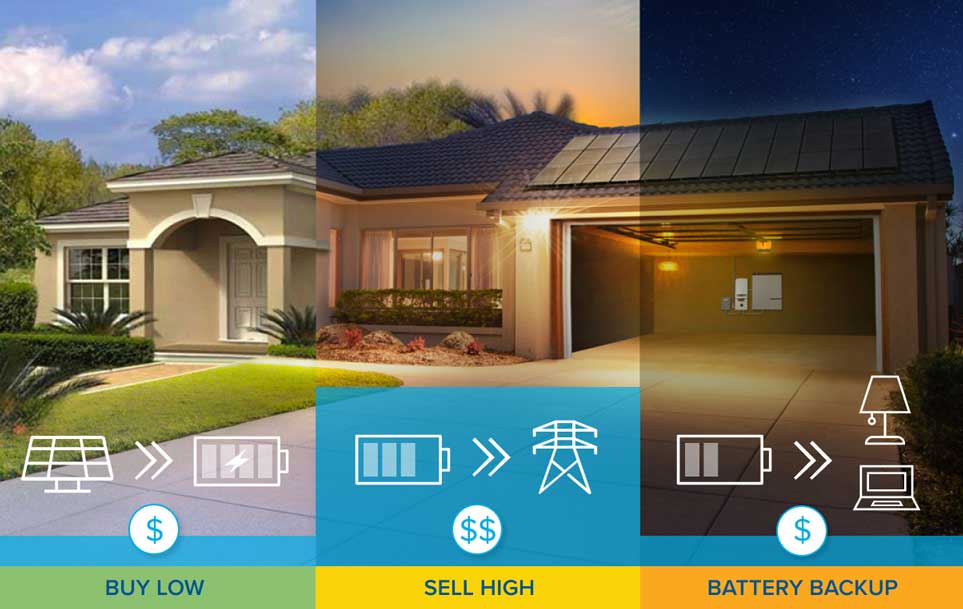 3. Am I Eligible for LAWPD's TOU Rate If I Have Rooftop Solar?
Yes. If you have solar panels with a home battery — and you're eligible for LADWP's R-1B TOU rate — you can enjoy more benefits of solar energy under a Time-of-Use rate schedule. Yet, since TOU rates change during the day, if you get solar credits, their value will vary depending on the time of day and day of the week you produced that excess energy.
For example, one kilowatt-hour of solar electricity that your system exports back to the grid at 9:00 a.m. (base period) will be worth less than one kilowatt-hour exported back to the grid at 2:00 p.m. (high-peak period).
4. What Happens to My Solar Service If I Move?
If you decide to move, at Sunrun, we have a team of Service Transfer Specialists standing by to help you transfer your solar contract to the new owner. As soon as you let us know you're selling your home; you'll be assigned to a Service Transfer Specialist who'll work with you exclusively through the entire transaction.
From educating realtors and potential home buyers to working with home inspectors, escrow officers, title agents, and anyone else who should know about your home solar system and solar contract, at Sunrun, we'll always have your back. Learn helpful solar contract transfer tips
Haven't Gone Solar Yet?
If you're thinking about starting your solar journey in Los Angeles, our team is ready to guide you every step of the way. Making the switch to solar can potentially save you thousands of dollars on energy bills over the next 25 years.5* See if you qualify today!