Pacific Gas & Electric (PG&E)
Is Your PG&E Bill Too High? Sunrun Can Help.
Learn How to Lower Your PG&E Bill with Solar Panels & a Home Battery Today
It's no secret Pacific Gas and Electric Company (PG&E) bills have skyrocketed in recent years. To dig a little deeper, at the end of 2015 an average home monthly PG&E bill was roughly $138, but by the end of 2016, customers with similar natural gas and electricity usage were already paying around $152 per month — that's a yearly increase of approximately 10%!1
Unfortunately, electric bill price jumps haven't stopped since then. In 2017 alone, PG&E energy bills reached an average of $165 per month; and now in 2018, customers are seeing electricity rates 14% higher compared to 2015.2
Before we dive into the details of how a solar plan from Sunrun can help lower your PG&E for the next 25 years or longer, let's take a couple of minutes to get to know PG&E a little better, as well as the things they're doing to keep your community and the environment cleaner, healthier and safer.
Who Is PG&E and How Many Customers Do They Have?
PG&E is one of the largest electricity companies in the United States. Based in San Francisco, it provides electricity and natural gas services to nearly two-thirds of Northern California households, and almost all the way up to Oregon's border. Adding up to a portfolio of 5.4 million electric and 4.3 million natural gas customer accounts.3
How to Save on Your Electric Bill as a PG&E Customer
While doing a home energy checkup, upgrading your old thermostat to dial up your home's energy efficiency or changing your energy habits are smart ways to save on your electricity bill4; when you go solar in California with a company like Sunrun, you'll have the power to create your own energy.
Clean, affordable, reliable home energy that lets you control your summer billing cycles even better, boost your year-round energy savings, and reduce your carbon emissions. Plus, installing solar panels in the U.S. is now more affordable than ever!5 And with us Sunrunners, you have several solar and home battery plans to choose from regardless of your budget or home energy needs.
Go solar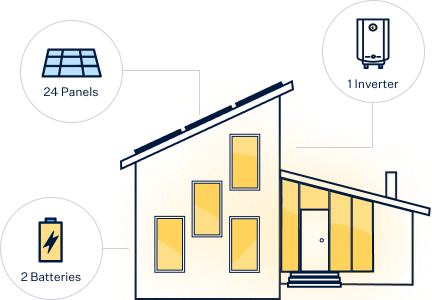 Take control over rising energy costs
Get your system size and battery details
Learn about the incentives in your state