How to Prepare for PGE Power Outage
Learn How Sunrun Can Help You Take Control of Your Energy When You Need It Most 
Recent wildfires exposed the frailties of California's electric grid in providing reliable and safe energy to consumers. The state's expanding urban-wilderness interface is especially susceptible to the devastating consequences of high-power electric lines passing through high-fire threat areas. The 2018 wildfires, started by active Pacific Gas and Electric (PG&E) high power lines,3 affected millions of Californians and killed 86 people in Paradise, Calif.2
PG&E is taking preemptive measures to reduce the risk posed by destructive wildfires. These include implementation of preemptive rolling blackouts, also known as a Public Safety Power Shutoff (PSPS),1 which can disrupt power to millions of customers. During these events, households have limited control over their property and communities, and may be without power for days at a time.4
The sun is our most reliable and resilient renewable energy source. Today, it's powering more homes than ever. During wildfire season, households are placing increasing value on its vital role as a backup electricity source in the event of power outages.
Sunrun residential solar systems with a Brightbox battery can power your home through blackouts, whenever they occur. Our battery storage can keep your home supplied with electricity and give you peace of mind.5 Having backup solar energy is a smart investment for a household's emergency plan.
What is a Public Safety Power Shutoff (PSPS)?
Utility companies are granted general authority by the California Public Utilities Commission (CPUC) to periodically de-energize the grid as a preventative measure to protect public safety and maintain the grid's viability.7 To do this, PG&E has implemented Public Safety Power Shutoff (PSPS) events, or rolling blackouts, as a last line of defense against electric service disruption and possible harmful events caused by utility equipment to communities.
Here are four important aspects of a PSPS outage:8
1. Both distribution and transmission lines may be shut off. Consumers are more likely to be affected by a power outage if their community or work area depends on electric lines that pass through high-fire risk areas. Electric lines most likely considered for shut off will be those designated by the CPUC to be at elevated (Tier 2) or extreme (Tier 3) risk for wildfire.
2.  Any PG&E customer may be impacted by a PSPS outage. While PG&E customers in high-fire-threat areas are most likely to be affected, any of their more than 5 million electric customers may experience a power outage if their community relies on a line in a high fire-threat area. Weather forecasts and the specific PG&E circuits needed for shut off will determine the areas and number of people affected.
3. PSPS outages could last two to five days and potentially impact more than 1 million customers per event. To restore power after the wildfire or extreme weather has passed, PG&E crews will visually inspect power lines, and repair them as necessary, to ensure they're damage free and safe to re-energize. Although most customers will have power restored within 24 to 48 hours, outages may last much longer.
4. PSPS outages could occur several times per year. With the greater frequency and intensity of wildfires, PG&E anticipates safety-related blackouts may impact communities multiple times. The PSPS outages are not a safety drill, but a precautionary measure taken during actual threat conditions. It pays to take precautions in advance of these unpredictable events.
Wildfires Are Now Year-Round Events
Wildfires are now occurring year-round. PG&E will monitor wildfire conditions and, when possible, notify customers of an impending blackout.  However, PSPS events will generally occur with minimal warning and may last for days. With our aging energy infrastructure,17 outages in general are becoming more frequent and longer lasting. Consumers should prepare today for an uncertain energy future.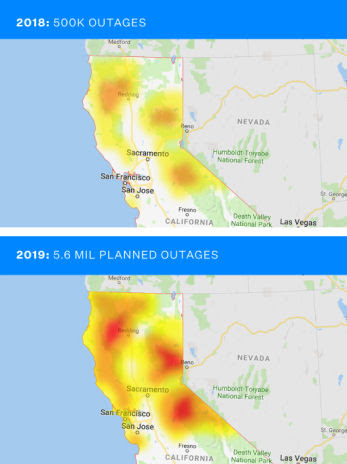 PREPARE FOR OUTAGES WITH BRIGHTBOX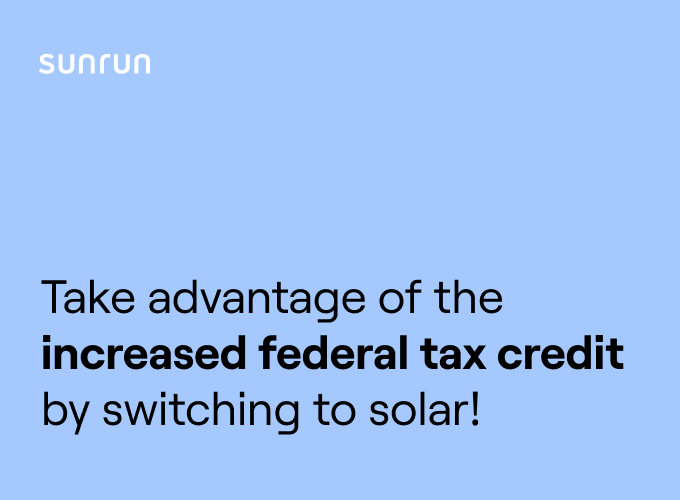 See if you qualify for the
26% federal tax credit
Plan for the Future with Sunrun
To protect your home energy supply, be prepared with a safe, reliable backup plan. Sunrun's solar panels with battery storage is a proven solution that lets you take control of your energy. You can rest assured that critical appliances in your home such as home security systems, water pumps and refrigerators continue running when the grid goes down.
Sunrun solar batteries give you greater freedom over your energy  during PSPS and other outages. Unlike noisy, polluting generators, home batteries provide clean energy for an extended period and refuel on their own every morning when the sun rises.
Home battery installations in the United States have increased more than 200% annually during the past four years, and rapid growth is expected going forward. Residential battery installations even exceeded utility scale deployments for the first three quarters of 2018.16
When a power outage occurs, your solar battery turns on as backup and diverts electricity to important appliances in your home. 
Advantages to a residential solar system and Brightbox battery include:
1. Control of your home energy use. Sunrun's solar batteries store electricity produced by your solar panels so you can use it when you need it most — during power outages and extreme weather.
2. Lower electric bills. You may experience lower utility bills, as you draw less electricity from the grid.10 Investing in battery storage is financially beneficial on a regular basis by providing electricity after sundown and during peak-rate hours.16
3. Reduced strain on energy infrastructure. Use of solar energy lowers the amount of electricity pulled from the grid.11 This reduced power load maintains safer circuit tolerances for a longer time, giving grid operators, line workers and emergency responders more time to handle outages and the impact of wildfires.9 The result is a lowered risk of future wide-spread outages.
4. Reduced wildfire risk. Less consumer dependence on the grid can lower the chance of electric sparks from overhead lines potentially resulting in wildfires. According to PG&E, the estimated cost on their system to mitigate the risk of future events like the Camp Fire could exceed $30 billion.16
5.  A cleaner environment. Going solar gives you the freedom to create your own clean energy and protect the planet for future generations. Sunrun has prevented 3.7 million metric tons of greenhouse gas emissions, equivalent to eliminating 9 billion passenger vehicle miles or recycling 1.3 million tons of waste. Solar technology provides a way to decarbonize our electricity system.3
Contact Sunrun to learn how to protect yourself during a blackout. Check out our report: Building A More Resilient Grid.14 When you're ready to talk home solar, we're here to help.