Southern California Edison (SCE)
SCE Bill Too High? Get Peace of Mind with Solar Panels and Solar Battery Storage Today
If you're among the California homeowners who were recently impacted by a substantial electricity rate increase,1 or if you simply want to stop wasting so much money on your Southern California Edison (SCE) bills, we're sure the following information will pique your interest.
According to recent data, solar panels prices have dropped to an all-time low,2 which means, switching to solar power is one of the smartest moves you can make today to shrink your electric bills — and your carbon footprint — while saving thousands of dollars throughout the next 25 years or longer.*3
With a solar battery storage plan from Sunrun, you'll have more control over your home energy usage, and you'll also be better prepared for power outages due to unforeseen circumstances. Yet, before diving into the details of how solar energy benefits your wallet, let's go through who SCE is, as well as the initiatives they're working on to ensure your community and the environment stay clean, healthy and safe.
Who Is SCE and How Many Residential Customers Do They Have?
Southern California Edison (SCE) is one of the largest electric utilities in the nation and has been delivering power to Central, Coastal, and most of Southern California for over 125 years. To date, SCE provides electricity services to more than 15 million people across a service territory of approximately 50,000 square miles.4
Energy-Saving Tips for SCE Customers5
If you suspect your home is losing energy, a DIY (Do-It-Yourself) home energy checkup may help you pinpoint some of the easier areas to address before reaching out to a professional. Such as locating air leaks in doors and windows, examining your home's light bulbs, or unplugging your devices and appliances when they're not in use to avoid phantom loads. Check out this simple guide for a DIY home energy audit.
Cooking with your microwave or grill can keep your home cooler in the summer.
Give your air conditioner a rest whenever you're able to cool your home with fans or open windows.
Replace your light bulbs with LEDs (light-emitting diodes), which provide greater energy efficiency and save you money.
Close your blinds during summer afternoons to keep the heat out.
Plug your non-basic need electronics into power strips and turn the strip off when you're not using your devices and appliances.
If the weather allows it, hang-dry your clothes instead of using your dryer.
Upgrade to a smart thermostat and set the temperature to 78 degrees when you're home and to 85 degrees or "off" when you're away.
There are many ways to save on your electricity bill, but only with a solar battery storage system, you'll protect yourself from rising energy prices and power outages while helping the environment.
Need Further Proof? Here Are 10 Reasons Why You Should Go Solar, Today
At Sunrun, we strive to make solar affordable to more Californians day after day, because we believe having access to clean, reliable energy improves lives in more ways than one.
Solar can save you thousands of dollars on your future energy bills.*6
Solar protects you against SCE's rising energy rates for years to come.
Solar reduces greenhouse gas (GHG) emissions, a major contributing factor to climate change.
Solar is a free and renewable energy resource, unlike dirty, fossil-based fuels like coal and natural gas.
Solar systems work year-round — yes, even on cloudy days!
Solar energy can be stored for later use with a battery storage service like Sunrun Brightbox™, to keep your devices and appliances running at night or in the event of an outage. Plus, you'll forget about California's Time-of-Use (TOU) rates pressuring you to use your power-hungry electronics when grid demand is low and still save money.
Purchasing solar panels in California could increase your home value up to 4%.7
Solar systems are designed to last 30 years or longer.8
Solar helps create thousands of good American jobs.9
California offers plenty of attractive incentives to switch to solar today, like Net Energy Metering (NEM) credits for the excess energy your panels generate and the second-best solar property tax exemption in the U.S.10
Understanding Net Energy Metering (NEM) and Your SCE Monthly Bill
Once your solar panels are interconnected, SCE will use a smart meter to measure the difference between the number of kilowatt-hours (kWh) generated by your panels and the amount of kWh you consume from the grid. This difference is known as Net Energy Metering or NEM, which SCE uses to calculate your bill.
If your panels happen to generate more energy than you need in a particular month, under NEM, the excess energy will be exported back to the grid, and you'll receive a credit for it. This credit will be applied to your annual billing statement to offset some — or all — of the costs related to the electricity you consumed during your 12-month billing cycle.11 Learn how to read your SCE NEM bill.
Have You Heard About SCE's Green and Sustainable Initiatives?
SCE has a long history of industry leadership in environmental stewardship that demonstrates just how committed they are to protecting your community and the environment.
Here are some of the actions SCE is taking to combat climate change:
Committing to California's clean-energy policies to reach the state's 100%-clean-energy goal by 2045.12
During the past five years, SCE has partnered with utility customers to save nearly 7.6 billion kWh. That's enough energy to power over 1.1 million homes for a year. These energy savings reduced GHG emissions by more than 3 million metric tons (MMT), or the equivalent of removing almost 700,000 cars from California roads.13
SCE is supporting the goals set by the California Global Warming Solutions Act, known as Assembly Bill (AB) 325, to fight global warming.14
SCE is also protecting species, habitats, and ecosystems everywhere they operate to minimize their impact as they build towards the future.15
Learn more about SCE's environmental commitments.
The Time To Go Solar is Now
Sunrun is the nation's largest residential solar and battery storage company providing clean, reliable electricity to households with little to no upfront cost. We're here for you every step of the way from design and installation to maintenance. Plus, you receive predictable pricing and energy security for 25 years or more.  If you would like to go solar, and protect yourself from rising electricity rates and potential long term outages in your area, contact Sunrun today. Get a free quote, see if you qualify. 
The content on this page has not been reviewed or approved by Southern California Edison.
Go solar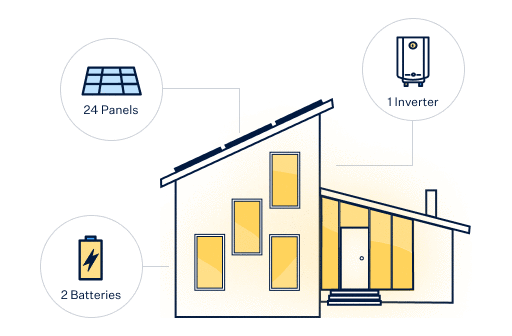 Take control over rising energy costs
Get your system size and battery details
Learn about the incentives in your state