How to Read Your SCE NEM Bill
Questions About Your SCE NEM Bill Answered
Southern California Edison is the largest subsidiary of Edison International and also one of the largest electric companies in the nation. SCE has been delivering power to Central, Coastal, and most of Southern California for more than 125 years; and to date, they provide safe, reliable electricity to more than 15 million people.1
How to Read Your SCE Net Energy Meter Bill
We have created a quick and easy way to read your SCE Net Energy Metering Bill. See our PDF for more details!
Common Questions About Your SCE Bill
1. How Do I Read My SCE Bill If I Have a Home Solar System?
SCE will use a smart meter to track the difference between the number of kilowatt-hours produced by your solar panels, as well as the amount of electricity you consume from the electric grid each month.2 This difference is known as Net Energy Metering or NEM, and SCE uses it to calculate your solar bill.
Under SCE's NEM program, every time your panels generate more energy than your home needs, the excess goes back into the grid, and you'll receive a credit for it; which you can use to offset some — or all — of your future energy costs.3
NEM works a little different than other types of energy rates, so once you're enrolled, SCE will send you two types of bills:
NEM Bill (Monthly):
Delivered each month, and it includes your monthly electricity charges and solar credits, as well as non-energy charges, like city & county fees. Although all non-energy charges have to be paid in full each month, homeowners enrolled in NEM don't need to pay their electricity charges month to month.4 See a sample SCE NEM statement.
Relevant Period Bill (Yearly):
Delivered every 12 months, and it includes your electricity charges and solar credits for the entire year. Any solar credits will be applied to your account, and if you have a balance, it'll be due at that time. Yet, if you still have solar credits at the end of these 12 months, you can choose to receive a cash payment or roll over your remaining solar credits to your next Relevant Period.4
2. What Are Time-of-Use (TOU) Rate Plans?
SCE's TOU plans are a smart way to control your electric bill because they're based on the time of day and amount of electricity you use each day.5
Since electricity prices usually cost less early in the day and at night; if you use of your power-hungry appliances, like your washing machine and dishwasher, during these off-peak hours — you'll be able to reduce your electricity costs. You can use SCE's Appliance Energy Use Cost Estimator to see your potential savings
See the below TOU chart for further explanation on peak rates.
TOU Visualized: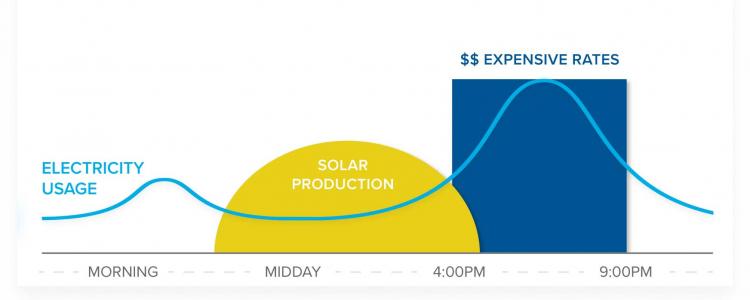 3. Am I Eligible for SCE's TOU Plans If I Have a Solar System at Home?
Yes. If you have solar panels with a home battery, with SCE's TOU plans you can get a credit worth the exact cost of one kilowatt-hour for each one you generate beyond your energy needs. But since electric rates change during the day, the value of these credits is also variable. For example, one kilowatt-hour sent back to the grid in the morning during off-peak hours, will be worth less than a kilowatt-hour sent back to the grid in the afternoon or during evening peak hours.
4. What Happens to My Solar Agreement If I Move?
If you're thinking about moving, at Sunrun, we have a team of Service Transfer Specialists standing by to help you transfer your solar contract to the new owner. As soon as you let us know you're selling your home; you'll be assigned to a Service Transfer Specialist who will work with you exclusively through the entire transaction.6
From educating realtors and potential home buyers to working with home inspectors, escrow officers, title agents, and anyone else who should know about your home solar system and solar contract, at Sunrun, we'll always have your back. Learn helpful solar contract transfer tips here. 
If You Haven't Gone Solar Yet, Well What Are You Waiting For?
This is a move that can potentially save you thousands of dollars on electric bills over the next 25 years.* And if you are yet to start your savings journey with the power of the sun, request a complimentary quote today. Our solar advisors are ready to help you every step of the way. Best part? Some plans let you go solar for as little as $0 down.
The content on this page has not been reviewed or approved by Southern California Edison.
Personalized solar solutions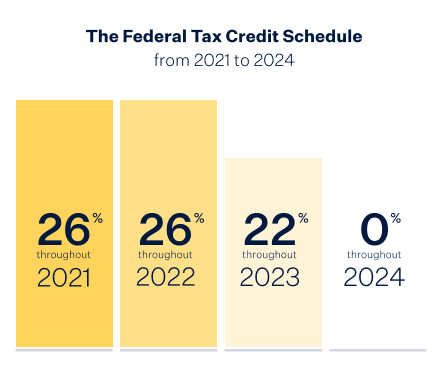 Learn about the 26% federal tax credit
Find your system size and battery
Get your energy usage and solar cost