Solar and Home Batteries Provide Power During SCE Rolling Blackouts
California depends on the state's electric grid to provide safe, reliable energy. But recent wildfires have exposed its frailties. High-power electric lines passing through fire-prone areas can create hazardous conditions that put life and property at risk.
To reduce wildfire threats and manage electrical service during emergencies, Southern California Edison (SCE) has initiated a Public Safety Power Shutoff (PSPS) policy. PSPS outages are designed to keep communities safe,3 but these preventative blackouts also disrupt power to millions of customers and may last for days.4 About 35% of SCE's service area is located in high-fire risk zones.15
Home solar power serves as a line of defense against the disruptions caused by wildfires. Households are increasingly turning to residential solar panels and a battery for continuous electricity and peace of mind during PSPS outages.5 Backup solar energy can be a smart addition to your household's emergency plan.
What is a Public Safety Power Shutoff (PSPS)?
The California Public Utilities Commission (CPUC) grants utility companies authority to de-energize the electric grid and shut off power as a preventative measure of last resort to protect public safety during severe wildfire threat conditions.6 
PSPS outages are also known as preemptive rolling blackouts. SCE circuits affected in a blackout will be in areas with the highest fire risk. Outages may last for days and occur with little warning.7
SCE Customers and PSPS Blackouts
Various factors influence SCE's decision to impose a blackout, including wind speed and direction, humidity level, temperature and vegetation. SCE's criteria for implementing a PSPS outage include:3
Red flag warnings in and near SCE service areas.
Assessments of weather conditions from SCE meteorologists.
Input from SCE's fire scientists on the potential for fire.
Real-time awareness from local positions in risk areas.
Concerns from authorities regarding potential fire consequences in select locations.
Mandatory or voluntary evacuation orders.
Expected impact of de-energizing circuits on community essential services.
Other operational considerations to minimize potential wildfire ignitions.
Wildfires Are Year-Round Events
​Today, extreme weather is becoming more frequent. Year-round high-fire-risk conditions are the new "normal."3 Homeowners and communities must be prepared for power outages.7 Up to 10% of California wildfires are started by power lines.8
Trees and vegetation may hit power lines during high winds, creating sparks that ignite fires and cause blackouts.5 To reduce wildfire risk, SCE has incorporated robust construction standards, aggressive vegetation control, stringent operations and advanced monitoring.7  
Here are three SCE efforts to reduce PSPS outages:8
Building Resilience
SCE is replacing overhead power lines in high-fire-risk areas with insulated wire. The company is also installing fire-resistant composite poles.
Increasing Awareness
SCE has improved monitoring by increasing the number of weather stations and employing advanced modeling tools. In some areas, they have added high definition cameras to improve response times.
Enhancing Operational Practices
The company is expanding field inspections of equipment and reducing vegetation that may fuel fires. 
Protecting customers from wildfires is SCE's highest priority, the company states, "You and your family should be prepared for all types of emergencies."9 Since SCE does not provide generators to customers except in limited cases, customers are urged to explore safe, alternative power sources. 
Plan For The Future 
To safeguard your home's electricity supply, it makes sense to have a proven backup energy solution. Solar panels and a home battery provide clean energy to help keep you safe.10 Installations have increased more than 200% annually during the last four years. Batteries are a viable alternative to noisy, polluting generators.11
Installing a reliable solar system before a blackout occurs gives you control of your energy.  When a power outage occurs, your solar battery turns on as backup and diverts electricity to the important appliances in your home. You can rest assured that critical appliances, such as home security systems, water pumps and refrigerators, will receive power. And batteries recharge every morning with the sunrise to keep your home life secure.
Solar offers energy freedom during a PSPS outage. Advantages of a residential solar system and Brightbox battery, include:
Greater freedom. Solar batteries store electricity produced by your solar panels so you can use it when you need it most -- during power outages and extreme weather. 
Lower electric bills. Households can expect lower utility bills by drawing less electricity from the grid.12 A battery provides an alternative source of electricity during peak-rate hours and keeps working even after the sun goes down.13
More robust energy infrastructure. Solar reduces strain on the grid and maintains safer circuit tolerances.10 Home solar installations can expand safe, resilient electricity distribution.
Reduced wildfire risk. Taking pressure off the grid lowers the risk of wildfires caused by electric sparks from overhead lines.
A cleaner environment. Solar helps decarbonize our electricity system.11 
Contact Sunrun to learn how to protect yourself during a blackout. Check out our report: Building A More Resilient Grid.14 When you want to talk about home solar, we're ready to help.​
The content on this page has not been reviewed or approved by Southern California Edison.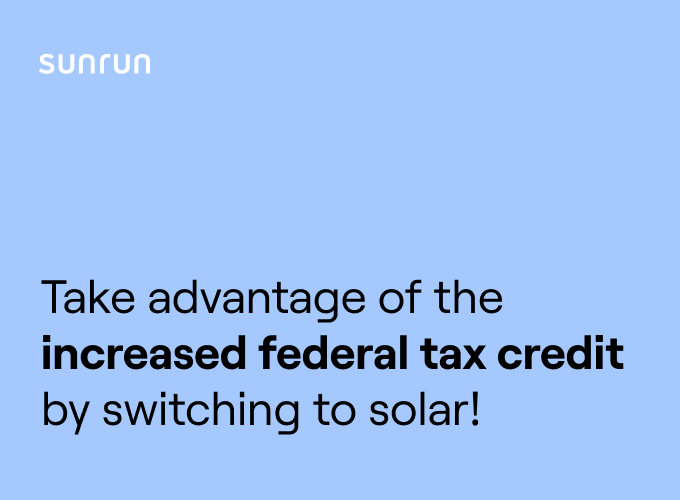 See if you qualify for the
26% federal tax credit
SCE Resources