San Diego Gas and Electric (SDG&E)
SDG&E Bill Too High? Get Peace of Mind When You Switch to Solar Energy Today
Learn How To Lower Your SDG&E Bill with Sunrun Solar & a Home Battery
If you're among the many San Diegans reporting skyrocketing power bills despite best efforts to reduce their energy use,1 we've got great news for you. Because solar panels prices have been dropping faster than experts predicted,2 and going solar today is one of the smartest moves you can make to shrink your San Diego Gas & Electric (SDG&E) monthly energy bills — and your carbon footprint — while preparing for the future.
According to studies, choosing a solar battery storage plan from a company like Sunrun can lock you to low, predictable electricity rates and save you thousands of dollars over the next 25 years or longer.3 But before going through the details, let's talk about who SDG&E is, as well as the actions they're taking to keep your community and the environment clean, healthy and safe.
Who Is SDG&E and How Many Residential Customers Do They Have?
San Diego Gas & Electric Company (SDG&E) is a regulated public utility, owned by Sempra Energy, that provides natural gas and energy services to more than 3.6 million residents in San Diego and southern Orange counties. To date, SDG&E has installed over 1.4 million electric meters and almost 875,000 natural gas meters throughout a 4,100-square-mile service area.4
Low-Cost Savings Tips for SDG&E Customers5
If you suspect your home is losing energy, a DIY (Do-It-Yourself) home energy checkup could help you pinpoint some of the easier areas to address before contacting a professional. Such as locating air leaks in doors and windows, examining the light bulbs in your home, or unplugging devices and appliances when they're not in use to avoid phantom loads. Check out this simple guide for a DIY home energy audit. Tips include:
Increase your energy savings by upgrading your old use thermostat to a smart thermostat, so you can easily adjust your air conditioning equipment temperature regardless of where you are and continue saving energy.
Regularly clean or replace your air conditioner's filter to help it run more efficiently.
Use portable or ceiling fans instead of your central air conditioner whenever you can comfortably do so
Replace your light bulbs with light-emitting diodes (LEDs) and compact fluorescent lamps (CFLs), which give you the same amount of light, yet, consume up to 75% percent less energy and can last up to 10 times longer vs. regular bulbs.
Consider installing occupancy sensors. These are relatively inexpensive devices that could reduce your lighting costs by up to 40%.
Plug your non-basic need electronics into power strips and turn the strip off when you're not using your devices and appliances
Invest in more energy-efficient devices and appliances. Always look for the ENERGY STAR® symbol to ensure they meet federal standards for energy efficiency.
If you have a pool or spa, using a cover may reduce heat loss by up to 90%.
Go solar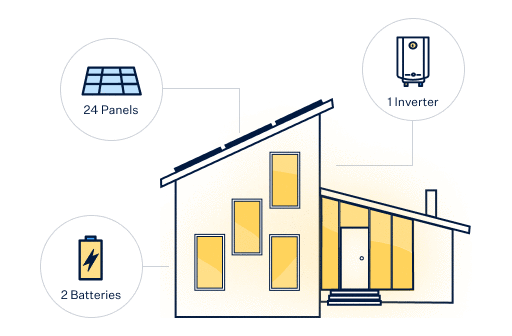 Take control over rising energy costs
Get your system size and battery details
Learn about the incentives in your state