Sacramento Municipal Utility District (SMUD)
Is Your SMUD Bill Too High? Beats Rising Rates with Solar Panels & Home Battery Storage
As if electricity bills weren't already high enough; according to the new pricing structure recently rolled out by Sacramento Municipal Utility District, the average SMUD electric bill will likely jump up to 16% by this summer.1 But there's no need to panic, because home solar system prices have reached an all-time low in the U.S.2, and going solar today is one of the most effective ways to protect yourself from rising electricity rates
A solar and battery service plan from a company like Sunrun could save you thousands of dollars on energy costs over the next 20 to 30 years.*3 However, before we dive into the details, let's go through who SMUD is, and the things they're doing to keep your community and the environment cleaner, healthier and safer.
Who Is SMUD and How Many Customers Do They Have?
Sacramento Municipal Utility District has been delivering power to Sacramento County, California since 1946 and is now the sixth largest community-owned electric company in the nation. To date, SMUD provides electricity services to most of Sacramento County and parts of Placer and Yolo Counties.4
SMUD's service area spans 900 square miles with a population of approximately 1.5 million, which translate to more than 600,000 home and business accounts.5
Not a SMUD customer? Find your California electric company here.
10 Energy-Saving Tips for SMUD Customers6
If your house is 15 years or older, check the insulation in the attic, floor, doors, and windows. A DIY home energy checkup can help you pinpoint some of the easier areas to address before contacting a professional. Check out this simple guide for a DIY home energy audit.
Boost your energy savings by upgrading your old thermostat to a smart thermostat, and set the temperature to 78 degrees during summer and to 68 degrees during winter. Small temperature tweaks could save you up to 10% on cooling and heating costs.
Clean or change your air conditioner's filter regularly. An A/C with dirty filters can use up to 10% more energy.
Use fans instead of your air conditioner when possible during summer. Fans consume around 90% less energy than a central A/C.
Replace your traditional light bulbs with energy-efficient LEDs. LEDs give you the same amount of light, but use up to 75% percent less energy and last up to 10 times longer than regular bulbs.
Install light-sensitive controls or timers to turn off your lights when they're not needed. These are relatively inexpensive devices that could reduce your lighting costs by up to 40%.
Consider upgrading your old devices and appliances to energy-efficient ENERGY STAR® models — which offer up to 40%-higher energy efficiency. If there's an old, inefficient refrigerator or freezer in your garage right now, SMUD will pick it up for free and give you a cool $75 rebate. Learn the details of SMUD's refrigerator and freezer recycling program.
Wrap your water heater with a special blanket to keep your heated water warm
Plug your non-basic electronics into power strips and turn the strip off when you're not using them
Use your microwave to cook or reheat your meals during peak hours. Microwaves consume around 50% less energy vs. conventional ovens.
There's no question all these tips are simple ways to save on your electricity bill, yet, installing solar panels is one of the smartest moves you can make today to offset your high-cost billing cycles and prepare for your energy future.
Why Switching to Solar Is a No-Brainer for You and Your Community7
At Sunrun, we work day in and day out to make solar power affordable to more Americans, because we believe there's a better, cleaner and less-expensive way for families to power their homes. Here are 10 reasons why we love solar:
Solar could save you thousands of dollars on your future electricity bills.*
Solar protects you against rising electricity costs for years to come.
Solar reduces your carbon emissions, a major contributing factor to extreme weather events.
Solar is a free and renewable energy resource, unlike fossil-based fuels such as coal and natural gas.
Home solar systems work year-round — yes, even on cloudy days!
Solar can be stored for later use with a home battery service like Brightbox™ to keep your devices and appliances. running in the event of an outage, at nights, or when electric rates are higher, for approximately 8 to 12 hours.** Besides, with Brightbox, you'll forget about Time-of-Use (TOU) rate schedules pressuring you to use your power-hungry appliances when grid demand is low to save money.
Buying solar panels in California may increase your home value from 3 to 4%.8
Home solar systems are designed to last 30 years or longer.9
Solar creates thousands of good American jobs.10
California offers plenty of attractive incentives to switch to solar. Like Net Energy Metering credits for the excess energy your home solar system generates, and the nation's second-best solar property tax exemption.11
Understanding How Net Energy Metering Works with Your SMUD Bill
SMUD will measure the difference between the kilowatt-hours your home solar system produces each month and the power you draw from the electric grid. This difference is called Net Energy Metering, or NEM, which SMUD uses to calculate your new monthly bill.
If your home solar system produces more energy than you need in any given month, SMUD will issue a retail-valued credit for the excess power your system exports back to the grid.12Learn how to read your SMUD NEM bill.
Have You Heard About SMUD's Environmental Commitment?
Environmental leadership is one of SMUD's core values. That's why SMUD is always looking for ways to reduce their impact on the environment, improve air quality in the region, and conserve natural resources for future generations.13
Here are 5 activities SMUD is currently working on to prepare for extreme weather and protect your community:
Committing to California's clean-energy policies to reach the state's 100% clean energy goal by 2045.14
Reducing the use of gas-fueled vehicles by offering free charging for two years or a free Electric Vehicle charger to new EV owners, as well as lower EV-charging rates during off-peak hours. Apply for a SMUD EV incentive.15
Offering rebates and incentives to customers who improve the energy efficiency of their homes and businesses
Giving SMUD customers who don't own their home or can't install solar panels the opportunity to receive the benefits of solar without upfront costs or equipment installation through SMUD's SolarShares program.16
Protecting, inspecting and pruning more than 200,000 trees across a 900-square-mile service area to deliver electricity safely and reliably to all SMUD customers. And if a SMUD crew needs to remove a tree from your property, you may qualify for a free replacement through SMUD's Tree Replacement program.1
Go solar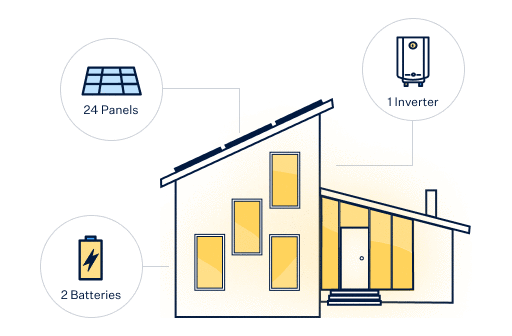 Take control over rising energy costs
Get your system size and battery details
Learn about the incentives in your state