Eversource
Eversource Bill Too High? Join Massacchusetts Clean Energy Revolution & Take Control with Surun Solar Power
Learn How to Lower Your Eversource Bill in MA with Solar Panels & a Home Battery
If you're an Eversource customer, you may already know about the almost 20% electricity rate increase that impacted many homeowners in Massachusetts.1 And although there are many things you can do to try to reduce your home energy costs, the truth is, going solar is of the smartest and most efficient ways to do it.
Besides, solar panels prices in the U.S. continue to fall2, and with a home solar system you won't only see greater energy savings and reduce your carbon emissions — you'll also have access to reliable power for years to come.
Before we discuss how a solar home battery system from a company like Sunrun can potentially save you thousands of dollars during the next 25 years*3, let's quickly dive into who Eversource is, as well as the things they're doing to build a cleaner, stronger and healthier future for your community.
Who Is Eversource and How Many Customers Do They Have?
Eversource is New England's largest energy provider. To date, Eversource delivers safe, reliable electricity and natural gas to more than 3.7 million customers in Massachusetts, Connecticut, and New Hampshire — across a 13,220 square-mile service area. In Massachusetts, Eversource's electric service territory includes 140 towns and covers 3,192 square miles, and their natural gas service territory includes 51 towns and covers 1,067 square miles.4
Plus, at the end of 2017, Eversource reached an agreement to buy Aquarion Water Company, making Eversource the only energy company in the U.S. that also owns a water company.5
Not an Eversource customer? Find your MA electric company.
Year-Round Energy Saving Tips for Eversource Customers
When you're home, set your thermostat no higher than 68 degrees during winter and no lower than 78 degrees during summer. Or better yet, upgrade to a smart thermostat so it can adjust your cooling and heating patterns automatically depending on if you're at home or not.
If you suspect your home is losing warm or cool air, a DIY home energy checkup could help you pinpoint some of the easier areas to address before contacting a professional. Controlling air leaks may help reduce the average home monthly energy bill by 10% or more. Check out this simple guide for a DIY home energy assessment.
During winter, keep your shades and curtains open during the day to allow solar heating, and close them at night to retain heat. During hot summer days, keep your shades and curtains closed to avoid the strong sunlight from overheating your home.
Consider using your microwave or countertop appliances to cook and reheat your meals. Microwaves and countertop appliances use up to 50% less energy than a conventional oven.
Replace your home's light bulbs with LEDs. LEDs provide greater energy efficiency and save you money, too.
Consider upgrading your old appliances to energy-efficient ENERGY STAR® models, which reduce your energy costs by 20%.
Don't forget about your body's own energy. Wearing heavier or lighter clothing inside your home helps you warm up or cool down quickly without having to use your cooling and heating system all day and night.
Click here for more Eversource energy saving tips..
There's no question all these energy saving tips are smart and relatively simple ways to save on your electricity bill. But if you want to control your home's cooling and heating costs while reducing your carbon emissions — considering installing a home solar battery system as see prove how it will benefit you, your family and your community in more ways than one.
10 Reasons to Switch to Solar in MA6
Want to say goodbye to unpredictable electricity rates? Protect the environment? Help create new jobs? Well, the perfect time to go solar with Sunrun is now! And the benefits of a Sunrun home solar system don't end there. Here are 10 reasons, backed by research, that prove why putting solar panels on your roof is smart:
Solar could save you thousands of dollars on your future billing cycles.*
Solar protects you against electricity price hikes for many years.
Solar reduces carbon emissions, a contributing factor to extreme weather.
Solar is a free and renewable energy resource, unlike dirty fossil-based fuels such as coal and natural gas
Home solar systems work year-round. Yes, even on cloudy days!
Solar can be stored for later use with a home solar battery service like Sunrun Brightbox™, to keep your home's devices and appliances running at nights, or in the event of a power outage, for approximately 8 to 12 hours.** And, you'll also forget about Massachusetts' Time-of-Use rate schedules pressuring you to use your power-hungry electronics during off-peak hours to save money.
Buying solar panels in Massachusetts may increase your home value by 3% to 4%.7
Home solar systems are designed to last 30 years or longer.8
Solar creates thousands of good American jobs.9
As a Massachusetts solar consumer, you'll be eligible for attractive solar incentives. Here are some of them: One of the nation's best property tax and sales tax exemptions, as well as solar power performance payments and financial compensation by Eversource's Net Energy Metering (NEM) program.10
How Does Net Energy Metering Affect Your Eversource Bill?
Eversource will measure the difference between the kilowatt-hours generated by your solar panels and the energy you consume from the grid. This measuring process is commonly known as Net Energy Metering or NEM, and it's used to calculate your solar bill.
Under Eversource's NEM program, when your home solar system generates more energy than you need, the excess will be exported back to the grid, and you'll receive compensation for it.11
Eversource's Commitment to the Environment12
Eversource is recognized as one of the cleanest energy companies in the U.S. And their commitment to environmental sustainability is an important part of Eversource's vision for how they do business now and in the future.
Here's are four strategies Eversource is implementing to ensure your community and the environment stay cleaner, healthier and safer:
Eversource is bringing cleaner, more affordable and more sustainable energy into the region with projects like Northern Pass, Bay State Wind, and Access Northeast. Eversource is also building significant solar projects across the areas they serve to enhance this effort further.
Eversource understands the value of the region's natural resources. That's why they're committed to maintaining the integrity and long-term vitality of the lands they manage, as well as to restore and sustain wetlands, forests, and rivers, which provide habitats for an array of native bird and freshwater fish populations.
Eversource continuously offers programs and information to help customers use less energy and save money while lowering their carbon emissions
Eversource is boosting the accessibility of electric vehicles to customers by offering a $5,000 incentive in the purchase of a new Nissan Leaf, in addition to the federal tax credit of up to $7,500 — that's $12,500 in savings!13See Eversource's Nissan Leaf promotional flyer.
The Time To Go Solar is Now
Sunrun is the nation's largest residential solar and battery storage company providing clean, reliable electricity to households with little to no upfront cost. We're here for you every step of the way from design and installation to maintenance. Plus, you receive predictable pricing and energy security for 25 years or more. 
If you would like to go solar, and protect yourself from rising electricity rates and potential long term outages in your area, contact Sunrun today. Get a free quote, see if you qualify. 
Go solar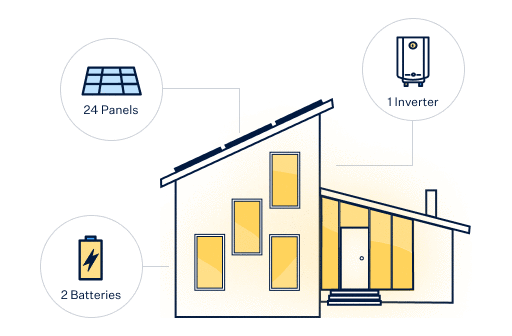 Take control over rising energy costs
Get your system size and battery details
Learn about the incentives in your state