National Grid
Learn How to Lower Your National Grid Bill & Get Clean Backup Power with Sunrun in MA
National Grid Bill Too High? Take Control with a Custom Sunrun Solar Plan
According to a recent study, the average home electricity rate in Massachusetts is over 25% higher vs. the national average.1 Thankfully, solar panels prices in the U.S. continue to fall2, and installing a home solar system today is one of the smartest ways to control your home energy and reduce your carbon emissions — while also enjoying clean, safe, and reliable power for years to come.
With a solar battery system from a company like Sunrun, you'll have better control of your home energy costs. Yet, before we dive into the details of how solar can potentially save you thousands of dollars on energy bills during the next 20 to 30 years*3, let's go through who National Grid is, as well as the actions they're taking to keep your community and the environment cleaner and healthier.
Who Is National Grid and How Many Customers Do They Have?
National Grid is one of the world's largest investor-owned energy companies in the world. They're based in the U.K and the northeastern U.S., and in America, National Grid supplies electricity to approximately 3.4 million customers4 — a service area covering Massachusetts, New York, and Rhode Island.5
Not a National Grid customer? Find your MA electric company here.
Energy Saving Tips for National Grid Customers6


In the summer, set your air conditioner's thermostat to 78 degrees when you're in and to 80 degrees when you're out; and in the winter, to 68 degrees when you're in and to 69 degrees when you're out. Or better yet, upgrade to a smart, programmable thermostat so it can adjust your cooling and heating patterns automatically depending on if there's someone inside your home or not.




In the summer months, use plants, solar screens, and blinds to prevent the sun from making your home too hot. In the winter months, do the opposite: raise blinds and shades to let the sun warm your home.7




If you suspect your home is losing energy, a DIY home energy checkup could help you pinpoint some of the easier areas to address before reaching out to a professional. Check out this simple guide for a DIY home energy audit.




Replace your traditional bulbs with LEDs, which give you greater energy efficiency and save you money, too.




Consider washing your clothes in cold vs. hot water — this could save you around $9 a month.




Dry only full loads of laundry and save up to $7 a month




Wrap your water heater with a special blanket to keep your heated water warm longer
Consider upgrading your old appliances to energy-efficient ENERGY STAR® models — and save up to $24 a month for the life of each appliance.
Click here for additional National Grid energy saving tips.
While all these energy efficiency tips are great ways to save on your electricity bill and require relatively small changes in your daily activities, if you're looking to get more energy savings, a home solar battery storage system can benefit you and your community in more ways than one.
Reasons Why National Grid Customers Should Go Solar in Massachusetts8
Regardless if you're considering going solar in Massachusetts to save money on your future billing cycles, reduce your carbon footprint, or both; at Sunrun, we believe all families should experience the benefits of solar power. Here are 10 reasons why we think switching to solar is a smart option:
Solar could save you thousands of dollars on your future billing cycles.*
Solar protects you against unpredictable electricity price hikes for years to come.
Solar reduces carbon emissions, a contributing factor to extreme weather.
Solar is a free and renewable energy resource, unlike dirty fuels — such as coal and natural gas.
Home solar systems work year-round. Yes, even on cloudy days.
Solar can be stored for later use with a battery service like Brightbox™, to keep your devices and appliances running at night or in the event of a power outage for approximately 8 to 12 hours.** Besides, you'll forget about being tied to Massachusetts' Time-of-Use rates to use your power-hungry electronics during off-peak hours to save money.
Purchasing a home solar system in Massachusetts may increase your home value by 3% or more.9
Home solar systems are designed to last 30 years or longer.10
Solar creates thousands of good American jobs.11
As a Massachusetts solar consumer, you'll be eligible for attractive solar incentives. Like one of the nation's best property tax and sales tax exemptions, along with solar power performance payments and bill credits through National Grid's Net Energy Metering program.12
How Does National Grid's Net Energy Metering Program Work?
National Grid will measure the difference between the kilowatt-hours generated by your solar panels and the electricity you consume from the grid. This measuring process is called Net Energy Metering or NEM, and National Grid uses it to calculate your solar bill.
When your panels generate more energy than you need, under a NEM program, the excess will be exported back to the electric grid, and you'll qualify for a bill credit. The value of the bill credit depends on the size of your home solar system.
For example, most residential systems have a 20 kilowatt or lower capacity, so if we consider National Grid's current home rates, this will add up to around 24¢ for each kilowatt-hour you export back to the grid.13
National Grid's Environmental Policies and Programs14
National Grid has integrated robust environmental considerations into their business decisions and everyday operations to help keep the communities they serve, cleaner, healthier and safer. Here's a quick list:
National Grid takes recycling very seriously. From scrap copper to aluminum wire, and from electric equipment to contaminated soils, National Grid is committed to reduce pollution and create a cleaner and healthier environment for families like yours.




National Grid's dedication to wildlife is proven by their integrated vegetation management program, as well as their support to special programs to protect the bald eagle, the western osprey, and the blue-spotted salamander. Plus, National Grid is also helping in the preservation of a 306-acre wildlife preserve in Salisbury, Massachusetts.




Since each unit of saved energy reduces the impact on extreme weather events, National Grid is continuously offering a wide range of programs and information to help customers use their electricity and natural gas more efficiently.




National Grid is an active participant in the Corporate Wetlands Restoration Partnership (CWRP), a group aiming to preserve, restore, enhance and protect aquatic habitats throughout the U.S.
National Grid supports the use of clean and efficient transportation options by adding electric vehicles to their fleet and building an EV charging infrastructure. National Grid is also promoting insightful information of available federal and state incentives to encourage customers to get EVs and reduce carbon emissions.15Apply for a rebate to purchase or lease an EV in Massachusetts.
The Time To Go Solar is Now
Sunrun is the nation's largest residential solar and battery storage company providing clean, reliable electricity to households with little to no upfront cost. We're here for you every step of the way from design and installation to maintenance. Plus, you receive predictable pricing and energy security for 25 years or more. 
If you would like to go solar, and protect yourself from rising electricity rates and potential long term outages in your area, contact Sunrun today. Get a free quote, see if you qualify. 
Go solar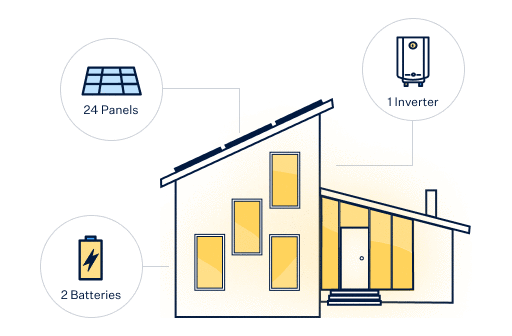 Take control over rising energy costs
Get your system size and battery details
Learn about the incentives in your state