Con Ed Bill Too High? Here's How to Lower It
Con Edison Bill Too High? Gain Energy Independence with Sunrun, Starting Today
Learn How to Lower Your Con Ed Bill with Solar Panels & A Home Battery
New York's electricity rates don't seem to go anywhere but up, do they?1 In fact, the national trend predicts electricity prices will continue to rise in the upcoming years.2 But lowering your Con Ed bill is completely possible. Thankfully, solar panels prices have dropped to an all-time low in the U.S.3, and switching to solar energy, today is one of the best — and cleanest — ways to get peace of mind when it comes to your energy bill.
A solar plan from Sunrun offers you better control of your home energy use and the price you pay for it. With a solar battery system, your home will have backup energy during pesky power outages. Plus you can potentially save thousands of dollars on your electricity bills during the next few decades.4
Before we go through how solar power can benefit you and your family; let's talk about who Con Edison is, as well as the work they're doing to keep your community and the environment healthier and safer.
Who Is Con Ed?
Consolidated Edison, Inc., commonly known as Con Edison or Con Ed, is one of the world's largest energy delivery companies. It was founded in 1823, and to date, Con Edison provides electricity and natural gas to over 10 million residents in New York City and Westchester County.5
Not a Con Ed customer? Find your New York electric company here.



Con Ed is seriously committed to the safety and health of your community and the environment.13 They aim to produce clean, renewable electricity using resources like solar and wind power.14 They support customers who own electric vehicles (EV) and have money-saving incentives for this that charge their EVs during off-peak hours.16 They also have several ongoing projects to minimize their water footprint, like how they saved over 38 million gallons of water.17 These are just a few examples of Con Ed's service to protect the environment.
Learn the details about Con Edison's environmental commitments.
5 Simple Tips for Con Ed Customers to Cut Back on Their Energy Bills6
Lower your thermostat - Each degree above 68 F may increase your energy usage by around 3%.
Consider doing your laundry with cold instead of hot water - This could slash your energy costs in half!
Swap out your shades according to the season to boost your home's energy efficiency. Light-colored shades reflect the sun's rays, while dark-colored shades absorb and release heat.
Keep your vents and ducts clean - Perform a DIY home energy checkup to make sure your home doesn't have air leaks. Check out this guide for a simple DIY home energy audit.
Consider upgrading your A/C unit. If your A/C is 10 years or older, maybe it's time for an upgrade. A high-efficiency A/C unit will help you run a more budget-friendly, comfortable, and energy-efficient home. How Con Ed can help you upgrade your heating-and-cooling equipment.
These are all smart ways to save on your electricity bill, and that require relatively small changes, yet, if you want to see more significant energy savings while reducing your carbon footprint, you should consider installing a home solar battery system. Need proof? Here are 10 reasons why we Sunrunners love solar:
10 Reasons to Go Solar in New York7
At Sunrun, we believe all New Yorkers should experience the benefits of solar power. That's why we're working hard to ensure more people have access to clean, affordable, and reliable energy year after year.
Solar could save you thousands of dollars on your future electric bills.*
Solar protects you against unpredictable electricity rates for years to come.
Solar reduces carbon emissions, which fuel extreme weather events.
Solar is a free and renewable energy resource, unlike coal and natural gas which are fossil-based.
Home solar systems work year-round. Yes, even on cloudy days.
You can store solar energy for later use with a home battery service like Brightbox™ to keep your devices and appliances running in the event of a power outage, at times when electric rates are higher, or at nights — for approximately 8 to 12 hours.**
Purchasing solar panels in NY State could increase your home value by 3% or more.8
Home solar systems are designed to last 30 years or longer.9
Solar creates thousands of good American jobs.10
As a New York State solar consumer, you'll be eligible for some excellent state and federal incentives. These incentives include the nation's second-best solar power tax credits, substantial solar property and sales tax exemptions, and solid net metering programs, along with a 30% solar tax credit if you decide to buy your home solar system.11
How Does Net Energy Metering Work with Your Con Ed Bill?
With the help of a net meter, Con Edison will measure the difference between the kilowatt-hours produced by your panels and the power your home draws from the electric grid. This measuring process is called Net Energy Metering or NEM, which Con Ed uses to calculate your solar bill. This allows you to get credits for future billing cycles when your panels produce more energy than you need.12 Lowering your electricity bill is much easier with net metering and since solar power and Con Ed share the electricity production.
Learn how to read your Con Edison NEM bill.
Con Ed's Sustainable Initiatives
Having well-defined environmental and safety management systems means Con Edison is seriously committed to the safety and health of your community and the environment.13
Con Edison is working hard to produce half of New York's electricity using clean, renewable resources like solar and wind by 2030.14
To date, Con Ed has helped reduce New York State's carbon emissions by 48% percent — the equivalent of removing more than 500,000 cars off the road each year.15
Since 2014, Con Edison has been part of the Fleet Electrification Initiative, a national commitment toward the use of electric vehicles. Con Ed has been growing their vehicle fleet by adding thousands of clean-powered cars and trucks. Plus, Con Edison also supports customers who own EVs by letting them earn money-saving incentives when they charge their EVs during off-peak hours.16
Con Edison has several ongoing initiatives to minimize their water footprint. In 2016 alone, Con Ed saved over 38 million gallons of water, and they're expecting even greater results in the upcoming years.17
Con Ed continuously inspects and carefully prunes trees to avoid potential safety hazards, and when needed, they use restitution fees to remove trees and plant replacements. After all, who doesn't want New York's parks and streets to look beautiful?18
The Time To Go Solar is Now
Sunrun is the nation's largest residential solar and battery storage company providing clean, reliable electricity to households with little to no upfront cost. We're here for you every step of the way from design and installation to maintenance. Plus, you receive predictable pricing and energy security for 25 years or more.  If you would like to go solar, and protect yourself from rising electricity rates and potential long term outages in your area, contact Sunrun today. Get a free quote, see if you qualify. 
Go solar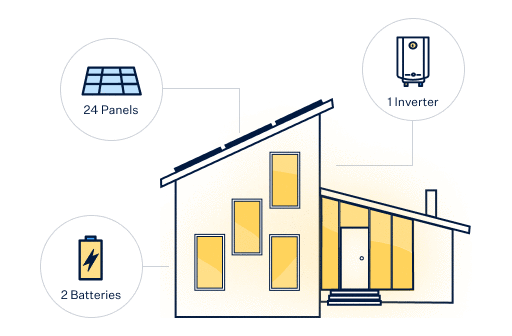 Take control over rising energy costs
Get your system size and battery details
Learn about the incentives in your state