How to Read Your Con Edison NEM Bill
We've created a quick and simple way to read your Con Edison NEM Bill.
See our PDF for more details.
Questions About Your Con Edison Bill, Answered
If your home solar system doesn't produce excess energy, your Con Edison bill will look exactly the same. But if you generate more electricity than you need, it'll include a detailed page showing your solar credits. Your solar credits left from your last billing period will be applied to your new billing period, yet, regardless of the number of solar credits you have, each month you'll have to pay a basic service charge to support the maintenance of Con Edison's grid.4See a sample Con Edison bill.
Once a year, Con Edison will pay you for any unused solar credits, which will make your solar credit count reset to zero. By default, you'll get paid each January. However, you can choose to cash out your credits any other month. Most customers prefer to do it in a month when they anticipate producing less solar credits, like in the winter months. Con Edison recommends solar consumers to monitor their home energy use during a full year before changing their cash-out month.5
How Do I Read My Con Edison Bill Once My Solar Panels Are Working?

Once your home solar system installation and inspections are complete, your solar provider will notify Con Edison to request a net meter to track your solar production. Your net meter will measure the difference between the energy generated by your solar panels and the electricity you consumes from Con Edison's grid2

The measuring process is called Net Energy Metering or NEM, and it allows you to export any excess energy you generate back to Con Edison's grid — which causes your net meter to run in reverse and get credits for your future billing periods.3

What Are Time-of-Use Rate Plans?

Con Edison's TOU plans are a smart way to control your electric bill because they're based on the time of day and amount of electricity you use each day.

So if you're able to control your energy habits and shift the use of your power-hungry appliances to off-peak periods when electricity costs are lower (early mornings or at nights) — you'll pay less for your electricity than if you continued with one of Con Edison's standard electric rate plans.6

Is It Possible to Enroll in Con Edison's TOU Plans If I Have a Home Solar System?

Although Con Edison's TOU rate plans are available to all customers, these types of plans aren't recommended for solar consumers, because any solar credits you get from producing excess energy can only be used to offset consumption during the same rate period you generated the credits.

For example, if you produce excess energy during a peak period, you won't be able to use them to offset your electricity use in off-peak hours. Still, Con Edison encourages solar consumers to carefully consider their home electricity habits before enrolling in a TOU rate plan.

What Happens to My Solar Agreement If I Move?

If you decide to move, at Sunrun, we have a team of Service Transfer Specialists standing by to help you transfer your solar contract to the new owner. As soon as you let us know you're selling your home; you'll be assigned to a Service Transfer Specialist who will work with you exclusively through the entire transaction.7

From educating realtors and potential home buyers to working with home inspectors, escrow officers, title agents, and anyone else who should know about your home solar system and solar contract, we'll always have your back. Learn helpful solar contract transfer tips.
Plan for a Brighter Tomorrow, Starting Today
Aside from having control over your electricity and reducing your carbon emissions, installing a home solar system in New York can potentially save you thousands of dollars on electric bills during the next 25 years.8* Besides, with some of our solar plans with a home battery, you could go solar for little to $0 down.
Whenever you want to talk about solar, our team is ready to help you every step of the way. You can start by requesting your free, personalized quote.
Made-to-fit solar solutions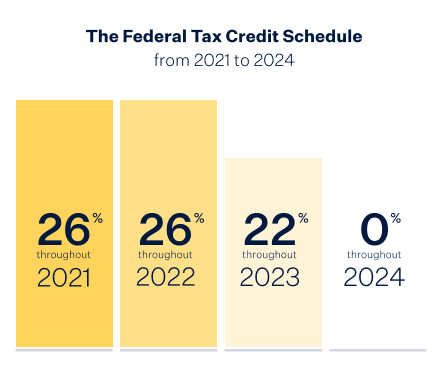 Learn about the 26% federal tax credit
Find your system size and battery
Get your energy usage and solar cost