Public Service Enterprise Group Long Island (PSEGLI)
PSEGLI Bill Too High? With Sunrun, You'll Be the One in Control
Learn How to Lower Your PSEG Bill in Long Island & Protect Yourself from Outages with Solar Panels and a Home Battery
Many Long Island residents are constantly dealing with high electric bills.1 Add to this the fact that electricity rates in New York State were already almost 50% higher versus the national average2, and you'll understand why taking control of your utility bill is now more important than ever if you want to secure a positive energy future.
According to recent data, a home solar battery plan from a solar company like Sunrun can potentially save you thousands of dollars during the next decades3* — while protecting your home from power outages and reducing your carbon emissions. Besides, home solar system prices have dropped to an all-time low in the U.S.4, so the best time to go solar in Long Island is now.
Before we talk about how solar can benefit your wallet and the environment, let's go through who PSEG is, as well as the things they're doing to keep your community and the environment cleaner, healthier and safer.
Who Is PSEG and How Many Customers Do They Have?
For over a century, Public Service Enterprise Group (PSEG) has been working to deliver reliable energy to the people they serve.5 PSEG Long Island (PSEGLI) operates the transmission, distribution, and supply system of the Long Island Power Authority (LIPA), with 1.1 million customers6 living in Nassau and Suffolk counties on Long Island, as well as on the Rockaway Peninsula in Queens.
Not a PSEGLI customer? Find your NY electric company here.
10 Ways to Save Money as a PSEG Customer7
In warmer months, set your air conditioning equipment's thermostat to 78 degrees when you're home, and to 83 to 88 degrees when you're out. In cold months, set your thermostat to 68 degrees when you're in, and to 55 to 65 degrees when you're out. Or better yet, upgrade to a smart thermostat so it can adjust your cooling and heating patterns automatically depending on if you're home or not.
Seal your doors and windows to keep the outside air out and the inside air in. If you suspect your home has air leaks, a DIY home energy checkup could help you pinpoint some of the easier areas to address before contacting a professional. Check out this simple guide for a DIY home energy audit.
Replace your regular light bulbs with LEDs. LEDs last up to 10 times longer vs. regular bulbs, and although they cost a little more, they pay for themselves by saving you energy over their lifetime.
Install motion sensors to automatically turn the lights off in rooms that aren't regularly in use. Motion sensors are relatively inexpensive devices and could help you reduce your lighting costs by up to 40%.
Consider using your microwave or other countertop appliances to cook or reheat your meals. Microwaves and countertop appliances can give you up to 50%-greater energy efficiency compared to a regular oven.
Limiting how often and how long you open your refrigerator will save you energy and protect your appliance, too. The same thinking applies when opening your oven if you're cooking or baking. Plus, if your oven is kept closed when in use, this will also help speed up your cooking times.
Air dry your dishes instead of using the heated drying setting on your dishwasher and save a few extra dollars each year.
If your clothes are not very dirty, wash them in cold instead of hot water. Up to 90% of the energy your washer uses is just for heating water, so switching from a warm to cold cycle could save you a significant amount of money each year.
Clean your dryer's lint filter after every load to improve air circulation and efficiency. If there's lint buildup, this will block your dryer's airflow and lengthen drying times — and you'll end up with a pricer energy bill.
Upgrade your old devices and appliances to energy-efficient ENERGY STAR® models. Electronics that have the ENERGY STAR® label can be up to 40% more efficient compared to regular ones.
Learn more ways to reduce your power usage in Long Island.
As you can see, there are many ways to save on your electricity bill. Yet, if you truly want to take control your utility bill and get more energy savings while lowering your carbon emissions, installing a home solar battery system will benefit you, your family, and your community in more ways than one.
Data-Backed Benefits of Solar Energy on Long Island8
At Sunrun, we believe the benefits of solar energy should be experienced by everyone. That's why we work hard to make sure more Long Islanders have access to clean, affordable, and renewable energy year after year. Here are 10 facts:
Solar could save you thousands of dollars on your future billing cycles.*
Solar protects you against unpredictable electric rates for years to come.
Solar reduces your carbon emissions, a major contributing factor to extreme weather.
Home solar systems work year-round. Yes, even on cloudy days.
Solar energy can be stored for later use with a home battery service like Brightbox™, to keep your devices and appliances running in the event of a power outage, at times when utility rates are higher, or at night — for approximately 8 to 12 hours.** And, with Brightbox you'll forget about being tied to Long Island's Time-of-Use rate schedules to use your power-hungry appliances when there's less grid demand if you want to cut down on your electric bill.
Purchasing solar panels in New York State might increase your home equity by 3 to 4%.9
Home solar systems are designed to last 30 years or longer.10
Solar creates thousands of good American jobs.11
As a New York State solar customer, you'll be eligible for some attractive state and federal incentives. Like the nation's second-best solar power tax credits, great solar property and sales tax exemptions, and money-saving net metering credits; along with a 30% federal solar tax credit if you decide to become a solar owner.12
 
How Does PSEG's Net Metering Work with Solar Power?
Using a net meter, PSEG will measure the difference between the kilowatt-hours created by your home solar system and the electricity your home consumes from the grid. This difference is called Net Consumption or Net Energy Metering (NEM), which PSEG uses to calculate your solar bill.
And, if your solar panels happen to produce more energy than you need, the excess will be exported back into the electric grid, and PSEG will give you a credit to use on your future electric bills.13.
PSEG's Commitment to Your Community and the Environment
PSEG Corporate's (PSE&G NJ, PSEGLI, and PSEG Power LLC) community role remains is very important. That's why they're focused on sustainable and social initiatives that bring environmental, safety, and financial benefits for current and future generations in New York and New Jersey.14
PSEG is reducing their carbon emissions by creating and using renewable and zero and low-carbon energy resources, like solar and wind15 — and this has positioned PSEG as a national leader in producing clean energy.16
PSEG continuously inspects and carefully prunes trees to prevent potential power interruptions in Long Island. And although PSEG's goal is to maintain healthy trees whenever they can, based on the experience during Superstorm Sandy, PSEG's contractors will sometimes need to remove trees that are weak or at risk of falling onto power lines.17
PSEG offers Long Island residents free informational material to plan ahead for severe weather and how to get back to normal after the event clears.18Get tips for taking action before, during and after a storm.
Through the Residential Energy Affordability Partnership (REAP) PSEG Long Island is offering income-eligible customers to have energy-saving appliances installed in their homes for free. See how REAP works.
PSEG Long Island offers attractive rebates for customers who purchase ENERGY STAR®-certified appliances for their home, like air purifiers, clothes dryers, heat pump water heaters, advanced power strips, and other electronics. View the list of available residential rebate programs for PSEGLI customers.
The Time To Go Solar is Now
Sunrun is the nation's largest residential solar and battery storage company providing clean, reliable electricity to households with little to no upfront cost. We're here for you every step of the way from design and installation to maintenance. Plus, you receive predictable pricing and energy security for 25 years or more. 
If you would like to go solar, and protect yourself from rising electricity rates and potential long term outages in your area, contact Sunrun today. Get a free quote, see if you qualify. 
Go solar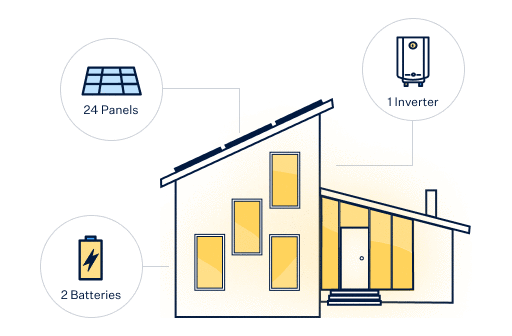 Take control over rising energy costs
Get your system size and battery details
Learn about the incentives in your state